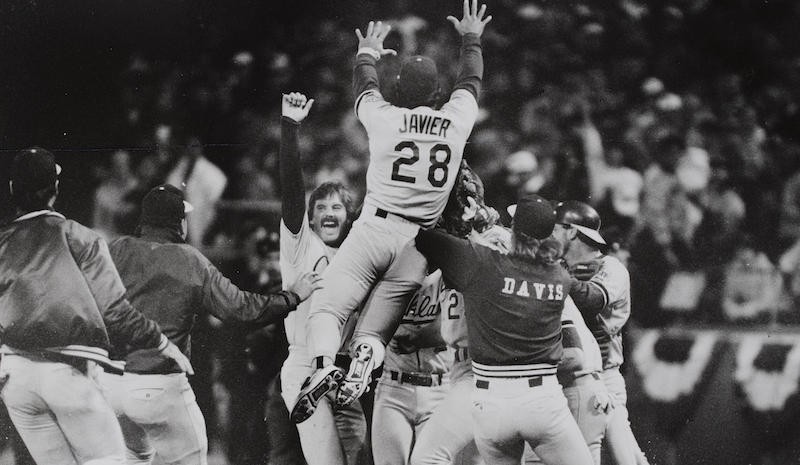 The A's' unlikely march to the playoffs this year has become baseball's best story, much to the delight of East Bay fans. The team's hot streak also has been a reminder of the team's incredibly rich history since the A's began calling Oakland home in 1968.
We've split our Top 50 list of greatest A's moments into three parts.
Part One
looked at No. 50 to No. 34, while
Part Two
counted down from No. 33 to No. 16.
Now, we're ready for Part Three. Below is the third and final installment, which counts down from No. 15 to No. 1. Here it is:
15 — Dave Stewart hurls no-hitter in 1990:
Any old-school local fan can tell you, no A's player better symbolized this city more than Dave Stewart, who was born and raised in Oakland. He commandeered the mound with swagger and a menacing presence featuring a grave "death stare" that intimidated opposing batters. He was a tough guy on the field, and a soft-spoken good guy off of it. He was a fan favorite, in part, because his story was about comebacks. Stewart bounced around MLB for several years and his once-promising career was on the skids until mid-1986, when he found new life with a new team in a familiar setting — the Oakland Coliseum. Under the tutelage of manager Tony La Russa and pitching coach Dave Duncan, Stewart became the ace starter on dominant A's teams that made three consecutive World Series appearances.
Stewart earned four consecutive 20-win seasons, from 1987 to 1990. And one of his biggest highlights came in Toronto on June 29, 1990, when he hurled a no-hitter against a formidable Blue Jays lineup. It was fitting that Stewart became an All-Star pitcher for the A's because, as a kid, he'd spent so many afternoons at the Coliseum that he eventually befriended A's legend Reggie Jackson, who reportedly served as a mentor of sorts to the youngster in the early 1970s. Speaking of Reggie …
14 — Reggie Jackson wins AL MVP and World Series MVP in 1973:
When people call Reggie Jackson "Mr. October," they often refer to his heroics with the Yankees. But his reputation as a clutch playoff performer actually was forged in Oakland, when A's teams made the playoffs each season from 1971 to 1975. Reggie was rarely better than in 1973, when he was voted Most Valuable Player in the American League and again in the World Series. As he led the A's, Reggie's MVP-wining regular season numbers were gaudy. He swatted 32 homers, knocked in 117 RBIs, and had a .293 average; and he even flashed some speed by stealing 22 bases. He enjoyed similar success in the team's World Series victory, batting .310 and leading the A's in RBIs and extra-base hits. Yes, Reggie's ego was enormous, and he often rubbed people the wrong way. But that's all part of the legend of Mr. October, a legacy that was born in Oakland.
13 — Seven Rookie of the Year Award winners:
The Oakland A's farm system has long been a franchise strength, rich with prospects today who become stars tomorrow. So, it's not surprising that the A's have produced the American League's most Rookie of the Year Award winners — a total of seven — since moving to Oakland. The A's have the second-most in all of MLB; only the Dodgers have more, with 12. Oakland's first rookie award winner was slugger Jose Canseco in 1986, and the most recent was closer Andrew Bailey in 2009. The other five were Mark McGwire (1987), Walt Weiss (1988), Ben Grieve (1998), Bobby Crosby (2004), and Huston Street (2005).
12 — The Cinderella A's in 2012:
This is probably my favorite season in franchise history. On June 30, nearly halfway through the year, the A's were 37-42, trudging toward what assuredly seemed to be their sixth consecutive subpar season. And then, just like that, a switch flicked, and a team made up mostly of castoffs and nobodies joined the pennant race by winning 17 of their next 19 games. They won, and won, and kept winning through early October, when the A's stormed past the Texas Rangers to capture the AL West on the final day of the season. The division clincher came on a sun-kissed autumn afternoon; and when centerfielder Coco Crisp caught the final out to seal the 12-5 victory, it was pure bedlam in the sold-out Oakland Coliseum. This A's squad was led, improbably, by Cuban slugger Yoenis Cespedes, the ageless Bartolo Colon, and Grant Balfour, a profanity-screaming Aussie closer with a rubber arm.
The young A's memorably cultivated a carefree atmosphere best captured by their teamwide embrace of a novelty rap song and dance called the "Bernie Lean." The players and fans rallied around the tune and its accompanying dance moves, which were inspired by the 1989 hit B-movie, "Weekend at Bernie's." All of which, admittedly, barely makes any sense. In other words, it was the perfect rallying cry for a 2012 squad whose success defied all common sense. This season was so unforgettable, the Oakland fans gave the team an emotional, four-minute ovation after Detroit eliminated the A's from the playoffs, giving the boys one last thank-you before heading home for the winter.
11 — BillyBall in 1981:
Billy Martin was one of baseball's most fascinating figures. East Bay fans loved the Berkeley-raised Martin for being a scrappy, scrawny overachiever, even as far back as his PCL-title-winning days with the Oakland Oaks in the late 1940s. As a manager, he was known for turning teams around quickly, squeezing every last win out of ordinary talent, until his edgy, tortured personality and hard-drinking lifestyle eventually wore out his welcome. This happened with Martin in Minnesota, Detroit, Texas, and several times in New York.
Martin's meteoric three-year stint in Oakland was no different. The 1981 season, however, was pure magic. The A's set a then-record by starting the year with 11 consecutive wins, on their way to winning 17 of their first 18 games. The team captured the nation's attention through a playing style that the Oakland Tribune's Ralph Wiley dubbed, "BillyBall." The team, Wiley argued, took on the personality of its manager: unpredictable, speedy, tough, volatile, undertalented but overachieving, and, most importantly, a winner. This was all occurring during the first year of the Walter Haas ownership, and new A's marketing guru, Andy Dolich, took the BillyBall image and ran with it. Oakland officially caught A's fever again. This squad won the American League West before being swept by the hated Yankees in the American League Championship Series. It was a short-lived era, but the BillyBall years remain one of the most memorable in franchise history.
10 — Charlie Finley's Kelly Green and Fort Knox Gold uniforms:
The A's owner from 1960 to 1980 was an innovator and a winner, equal parts eccentric genius and belligerent madman. He always had his eye on the future and constantly called for new ideas, such as playing night games during the World Series. Baseball eventually agreed with him on that one. Unfortunately for Finley, baseball is a sport that loathes change.
Some of his innovations — such as the Designated Runner and orange-colored baseballs — did not catch on. But he was ahead of his time with other ideas, such as his eye-catching green and gold A's uniforms that became a big part of Oakland A's tradition. Finley was criticized by baseball insiders at first in the early 1960s, when he tossed out the then-Kansas City A's' color scheme of blue, red, and white, and replaced it with green, gold, and white. Ever the salesman, he actually called the new colors Kelly Green, Fort Knox Gold, and Wedding Gown White. Finley later added white shoes to the A's' uniform scheme, another MLB rarity. The bright, attention-grabbing uniforms were perfect for the rising sales of color televisions in the 1960s.
When the A's moved to Oakland in 1968, Finley continued to tinker with the team's uniforms. Each year, there would be variations, both big and small. But the bright green, gold, and white jersey colors remained, along with white shoes and white pants with a green-and-gold side stripe. By the mid-1970s, nearly every baseball team had adopted Finley's loud, two-tone uniforms. Not only did Finley build a World Series dynasty that dominated the early 1970s, he revolutionized sports business and marketing with A's uniforms that are still popular to this day. These are big accomplishments and it is high time for Finley to be voted into the Hall of Fame for achieving them.
9 — Dallas Braden throws perfect game in 2010:
A's ace Dallas Braden threw a perfect game on May 9, 2010, putting him on a list of just 23 pitchers to ever achieve the feat during 140 years of MLB baseball. That's special enough. But he did it on Mother's Day and held an emotional on-field celebration with his grandmother, who had taken care of Braden after his mother died when he was a teenager. It was one of the most thrilling, heart-tugging moments, and it etched Braden's performance into franchise lore.
8 — Dave Stewart named 1989 World Series MVP:
Dave Stewart did it all during the 1989 Bay Bridge World Series, when the Loma Prieta earthquake killed dozens and marred the battle between the Oakland A's and the San Francisco Giants. Stewart won two games as the A's swept the Giants in four games, but his athletic feats were fast overshadowed by his humanitarian work. Stewart was seemingly everywhere around town in subsequent days, providing comfort and raising funds to help victims. He was the team MVP on the field on and the Bay Area's MVP off the field, during one of this region's most trying times.
7 — Dennis Eckersley wins both MVP and Cy Young awards in 1992:
Former All-Star hurler Dennis Eckersley came back home to the East Bay in 1987 and immediately reinvented himself. He ditched his reputation for being a talented but unreliable starting pitcher with a drinking problem. Instead, he got clean and sober with the A's and became one of the greatest closers in MLB history. Eckersley, born in Oakland and raised in Fremont, had several outstanding years during his A's tenure from 1987 to 1995. His 1992 season was one of his best. His A's won the American League West for the fourth time in five years. And Eckersley won the American League MVP and Cy Young awards, after going 7-1 with 51 saves and a 1.91 ERA. Eck is now in the Hall of Fame, having excelled as both a starter and a relief pitcher.
6 — A's win 1973 World Series:
This seven-game battle between Oakland and New York City was a classic series, filled with controversy and drama. The Mets, led by manager and former Yankee star Yogi Berra and 42-year-old legend Willie Mays, harkened back to vintage New York City baseball. The Oakland A's, known as the Mustache Gang because of their flowing locks and counterculture-like facial hair, were the new guard. The future won in 1973, as the A's beat the Mets 4 games to 3. A euphoric East Bay crowd stormed the field and surrounded the celebrating players when the A's won decisive Game Seven and their second consecutive World Series at the Oakland Coliseum.
5 — Vida Blue's 1971 season:
It is difficult to overstate how instantly famous A's pitcher Vida Blue became as he took the American sports world by storm in 1971. Let's start with his amazing stats: 24 wins and 8 losses, 1.82 ERA, 301 strikeouts, 24 complete games, and 8 shutouts. Blue's pitching was electric and dominant, and he won the MVP and Cy Young awards that year. Young, handsome, and charismatic, he made the cover of Time magazine. A catchy R&B song about him — titled "Vida Blue," of course — hit the music charts. The pitcher's superstar status was so bright, President Richard Nixon invited Blue and his A's teammates to the White House during the season — even though they hadn't yet won anything of significance. That soon would change. The A's, in fact, won 101 games and the American League West later that season, with Blue's star wattage leading the way.
4 — A's win 1974 World Series:
It was Oct. 17, 1974. Game Five of baseball's first-ever All-California World Series between the Oakland A's and the Los Angeles Dodgers. L.A.'s Bill Buckner stepped to the plate in the 8th inning and swatted a single to center that outfielder Billy North misplayed. No worries. Right fielder Reggie Jackson chased down the ball, threw it to his cutoff man, A's second baseman Dick Green, who fired a strike to third baseman Sal Bando, who tagged out Buckner at third.
Jackson to Green to Bando. They were three big-time A's players who had played together for years and started on all of the Mustache Gang's World Series titles. The trio combined to throw out Buckner in what is one of MLB's most underrated defensive gems. The pivotal play preserved the A's' 3-2 lead. After that, closer Rollie Fingers cruised through the 8th and 9th innings to seal the win and nab Oakland's third consecutive World Series title. It was official: the Oakland A's were now the only non-Yankees championship dynasty in MLB history.
3 — Rickey Henderson breaks the all-time stolen base record in 1991:
Rickey Henderson had already broken Lou Brock's single-season stolen base record by swiping 130 bases in 1982. On May 1, 1991, Rickey bested another Brock feat, breaking the all-time record by stealing the the 939th base of his career. With the late broadcasting legends Bill King and Lon Simmons calling the game action on the radio, Rickey stole third base against the Yankees and then lifted it up in exultation, as 36,139 fans roared at the Oakland Coliseum.
Rickey would go on to steal a total of 1,406 bases in his Hall of Fame career — a record that will never be broken. Rickey, who grew up in Oakland and played youth sports in the city's Bushrod Park, played 14 years with the A's. Almost two decades after his last game with the team, he remains one of the most popular players ever to don the Green and Gold.
2 — A's win 1972 World Series:
This seven-game matchup between the A's and the Cincinnati Reds — arguably the two best teams of the 1970s — was an instant classic. The Reds were clean-cut and uptight, while the A's wore loud uniforms and long hair, in a series billed as The Hairs vs. The Squares.
There are so many on-field memories from this series: Jackie Robinson throwing out the first pitch of Game Two just nine days before passing away. A's catcher Gene Tenace blasting two home runs in Game One, on his way to being voted World Series MVP. A's outfielder Joe Rudi climbing the left-field wall in Cincinnati to make a tremendous catch in Game Two. A's reliever Rollie Fingers pulling a bit of trickery in Game Three by pretending to intentionally walk the Reds' Johnny Bench before striking him out. And Fingers retiring Pete Rose on a fly ball to left-center for the final out and the wild scrum of A's players, decked out in their pullover Fort Knox Gold jerseys, mobbing each other in celebration.
This A's World Series win was the Bay Area's first major professional league championship. The Warriors would be next in 1975, followed by the Raiders in early 1977, the 49ers in early 1982, and the Giants in 2010. [No disrespect to the Oakland Clippers, which won the National Professional Soccer League title in 1967, or to the Oakland Oaks, which won the ABA title in 1969, when the upstart hoops league was in its little-watched infancy.]
The A's' title in 1972 was Oakland's time in the sun, a never-ending source of pride and glory. In many ways, looking back on it nearly five decades later, the franchise was just getting started.
1 — A's sweep Giants to win 1989 World Series:
Sometimes the Baseball Gods take good care of you. Sometimes they rip out your heart and put it in a blender. The Bay Area got an unforgettable taste of both in October 1989, when the Oakland A's defeated their cross-bay rivals, winning the World Series by sweeping the San Francisco Giants four games to none. The A's dominated the first two games at the Oakland Coliseum, riding the arms of starting pitchers Dave Stewart and Mike Moore to capture Game One by a score of 5-0, and Game Two by a 5-1 tally. Then, a natural disaster hit. The magnitude 6.9 Loma Prieta earthquake struck the Bay Area at 5:04 p.m. on Oct. 17 — minutes before Game Three was to start at Candlestick Park. The quake killed 67 people, with many of the deaths coming when a double-decker portion of Interstate 880 collapsed in West Oakland. The World Series was delayed but resumed 10 days after the deadly quake. The A's picked up in Game Three right where they'd left off. They jumped out to a 13-3 lead before winning 13-7. In Game Four, the A's led 8-0 at one point, before hanging on for a 9-6 win. The A's had swept the Giants and won their fourth World Series title since 1972. The A's held a subdued clubhouse celebration and decided not to hold a parade, all out of respect for the quake victims.
Nearly 29 years later, the A's are still trying to win their next World Series. Their last championship in 1989 was unforgettable for so many good reasons, and for some truly tragic ones. This bittersweet moment was part of larger pattern found in the history of the A's in Oakland. It's rarely easy but it's always memorable.
---
The only hard part in writing this fun series was whittling the list down to just 50 entries. Half a century of A's baseball in the East Bay has produced so many incredible moments. The present looks pretty good, too, as the surging 2018 A's have been piling up more thrilling memories this summer.
After three consecutive depressing seasons, optimism suddenly abounds. A new Oakland ballpark site might be announced later in the year. The franchise is a legitimate World Series threat and is positioned to remain a playoff contender for the foreseeable future. As rosy as the franchise's past appears in the rearview mirror, the A's' future looks equally bright.
Here's to 50 more years of A's baseball in Oakland.
Chris De Benedetti, a co-founding member of Baseball Oakland, writes a regular sports column for the
Express.