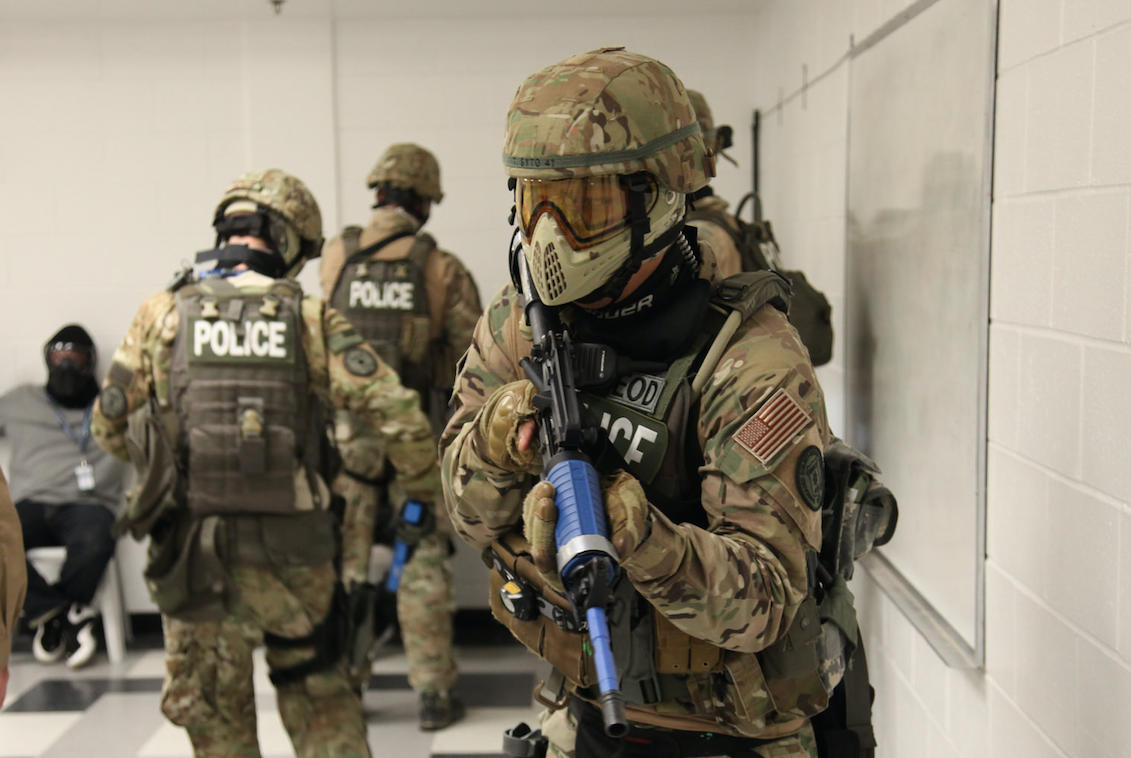 Multiple Berkeley police officers have warned the city's leaders they'll resign from the department's "Special Response Team," or SWAT, if they're not allowed to participate in the 2018 Urban Shield training,
according to a memo
Police Chief Andrew Greenwood sent to the city council and mayor last week.
The city council is scheduled to vote
today at 4 p.m.
on whether or not to allow BPD to participate in Urban Shield this year.
The regional police training run by the Alameda County Sheriff has been hotly debated in Berkeley for several years.
Supporters say the training provides crucial skills to respond to emergencies, including natural disasters, active shooter scenarios, and terror attacks.
But critics say Urban Shield has further militarized police departments. They point to the
weapons expo
 that features military-style equipment, aggressive SWAT team exercises, and a questionable list of attendees, including police from nations with poor human rights records and
federal agencies like ICE
, as some of the reasons why they think Berkeley cops should not take part.
Last month, a city council subcommittee voted to withdraw Berkeley's SRT unit from the Urban Shield SWAT competition.
Greenwood wrote in his memo that within hours of the subcommittee's vote "it became immediately apparent that staff were deeply dispirited."
The attempt to bar Berkeley cops from taking part in the SWAT team exercises and weapons show has increased tensions between BPD and the city's elected leaders.
Despite having higher pay and dealing with a much lower crime rate than nearby cities like Oakland and Richmond, Berkeley's police say they are suffering a crisis of morale. They complain that their department is understaffed and that they don't have the same opportunities to work in specialized units like gang task forces and drug squads. The department also denies engaging in racial profiling and has pushed back against city council efforts to address racial disparities in policing. With Urban Shield, the police officers feel the council is politically interfering in their work.
Mayor Jesse Arreguin later reversed his subcommittee vote to pull the city from Urban Shield, citing a claim by the city manager and police that the council doesn't have the authority to set policies for police training. The police chief and city manager claimed complete control over these areas.
That claim was knocked down, however, by a legal memo produced by an outside law firm working for the Berkeley city attorney. The attorneys from the Renne Public Law Group stated that "the city council has sufficient authority to make the decision on whether the Berkeley Police Department participates in Urban Shield."
That hasn't stopped the police from objecting, though.
"A decision to prohibit BPD from participating in Urban Shield tactical scenarios would be viewed as a political, rather than a data-driven decision based on outcomes and benefits," Greenwood explained to the city council in his memo.
At today's meeting, the council will debate several possible courses of action.
Councilmember Susan Wengraf would like the city to allow its police to participate in "all elements" of Urban Shield, including the SWAT team competition and vendors show.
Mayor Arreguin and Councilmembers Kate Harrison and Cheryl Davila are recommending that the city suspend the police department's participation in this year's SWAT competition and the vendors show pending a reevaluation. The police could possibly participate in the 2019 event if the sheriff makes changes that address the concerns of critics. But the three want the city's police and fire department's to participate in Urban Shield training exercises focused on responding to natural disasters and a community preparedness exercise.
In March, the Alameda County Board of Supervisors
voted to end Urban Shield after this year's event
, and to work with Sheriff Gregory Ahern to reconstitute it in a way that
responds to the concerns of critics
.
[pdf-1]