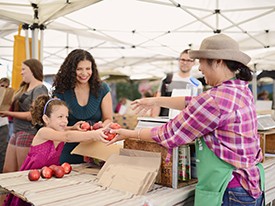 The federal government announced today that it has awarded $3.7 million to the Ecology Center in Berkeley as part of a national effort to increase low-income people's access to fresh fruits and vegetables. The two-year grant comes from the US Department of Agriculture's so-called Food Insecurity Nutrition Incentive program, which is providing funding to organizations across the country that make it easier for food stamp recipients to purchase healthy foods.
The Berkeley grant will allow for the expansion of
Market Match
, a program that encourages shoppers to buy produce at farmers' markets by providing additional spending money for fruits and vegetables. Market Match allows recipients of the CalFresh Program — California's version of the Supplemental Nutrition Assistance Program (SNAP) — to receive vouchers at certain farmers' markets. For example, when a customer spends $10 of CalFresh benefits at a participating market, he or she then receives a $10 voucher to buy fruits and veggies. 
[jump]
See Also: 
Can I Recycle That?
Crop of Dreams 

Now, many more low-income residents across the state will have access to these matching funds through the USDA's grant to the Ecology Center. With this award, the Ecology Center said it expects to connect nearly 240,000 shoppers with 2,200 of the state's small farms — which will stimulate an estimated $9.8 million in sales of fruits and vegetables. The federal Food Insecurity Nutrition Incentive program, which was authorized as part of the 2014 Farm Bill, announced a total of $31.5 million in awards today, with the Ecology Center receiving roughly 10 percent of the funds.  
In its 
announcement
, the USDA also said it has awarded $422,500 to Mandela MarketPlace in West Oakland. On a recent tour in Oakland,
USDA officials promoted Mandela MarketPlace
, a nonprofit dedicated to food security that runs the Mandela Foods Cooperative.
The Ecology Center — which runs three Berkeley farmers' markets (Adeline Street and 63rd Street; Center Street and Martin Luther King Jr. Way; and Shattuck Avenue and Rose Street) — has already expanded Market Match significantly since 2013. The program not serves thirty partners at 234 different outlets, which include traditional farmers' markets, farm stands, mobile markets, and community supported agriculture (CSA) outlets. 
In a statement, Karen Ross, secretary of the California Department of Food and Agriculture Secretary, noted that this kind of funding is critical for California now given the ongoing drought-related challenges. "This award is great news for our state. Making sure all Californians can access California-grown fresh, healthy fruits and vegetables is a top priority for our state, especially during this prolonged drought." 
In its announcement today, the Ecology Center pointed out that California's low-income residents, who receive a total of $7.5 billion in SNAP benefits each year, suffer disproportionately from diet-related diseases due to low fruit and vegetable consumption. And chronic diseases, which are often related to inadequate diets, now account for more than 75 percent of all deaths in the state, the organization said. Xavier Morales, executive director of Latino Coalition for a Healthy California, further noted in a statement that meals containing more fruits and vegetables cost 41 percent more than meals with lower nutritional quality. Market Match and the USDA program are designed to increase affordability of nutritious foods while also boosting sales of local farmers — many of whom are struggling in California due to the drought. 
Market Match found in a 2013 survey that 80 percent of farmers reported an increase in sales after joining the program and that 18 percent were increasing their acreage as a result of the program. You can read more about the
Ecology Center's plans here
and about the
USDA's program here
.