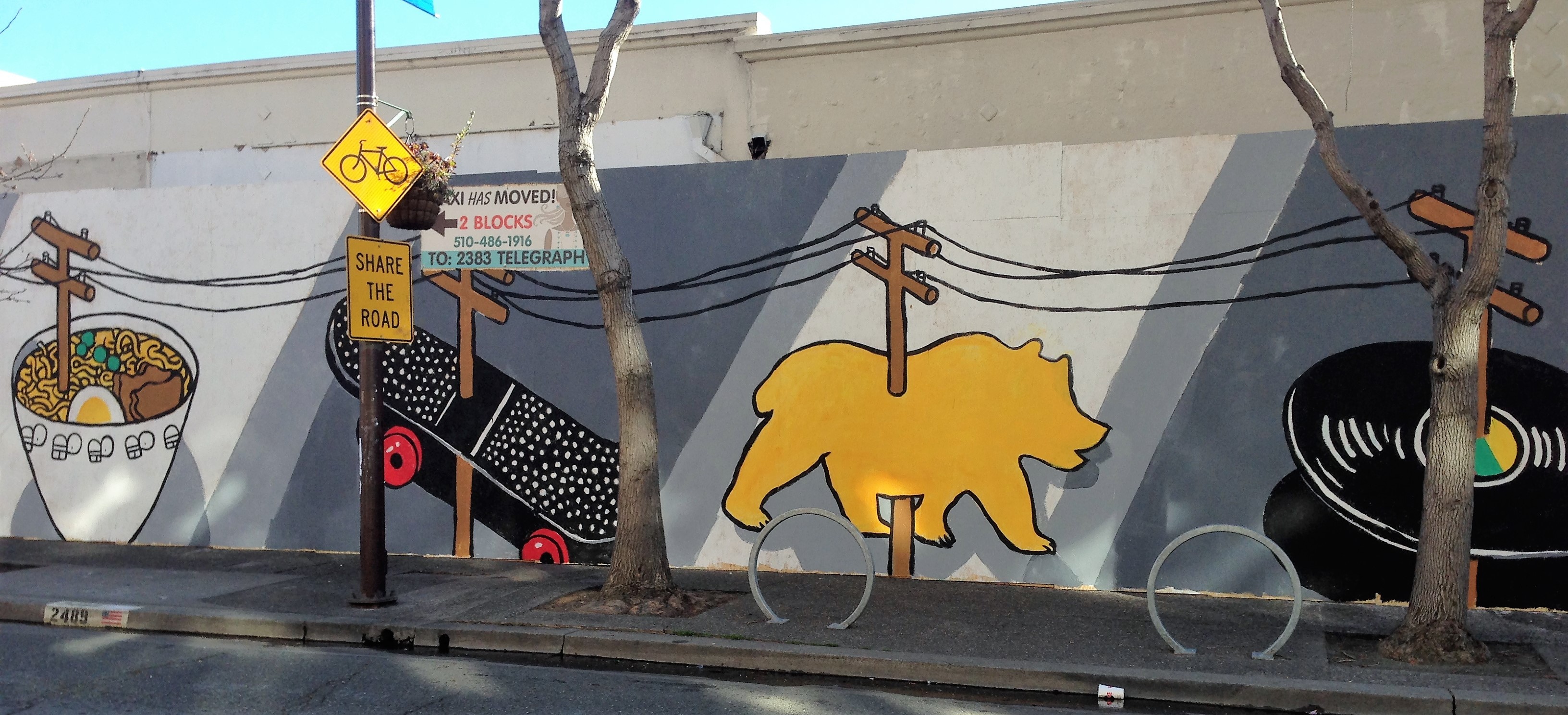 For the last ten months, blank plywood has covered the once iconic Berkeley bookstore, Shakespeare & Co., which for 51 years stood at the corner of Telegraph Avenue and Dwight Way. Now, passersby have a captivatingly silly, insightful, and even mouth-watering mural called "Wired" to look to in remembrance of both the closed bookstore and the overall spirit of Telegraph Avenue.
[jump]
Nigel Sussman
, the artist who completed "Wired" late last month, said he was hoping to capture the history and character of the street in the piece. "The overall theme is Telegraph — it's history and the name of street," Sussman said. The mural depicts a telegraph receiver on one end and a transmitter on the other. Between them, a wire ties together what Sussman refers to as the "urban iconography that exemplifies the district."
That iconography includes a record to highlight both the record stores along the stretch of street and its strong music history. There's a book, an homage to the lamented Shakespeare & Co., as well as a skateboard that Sussman says captures the street-culture, youth, and energy of the corridor. Then there's the pizza and ramen, both a nod to the city's diverse food culture. "I could have picked many other foods, but I went with my gut," Sussman said with a laugh. There's even a turtle by popular Bay Area artist
Turtle Wayne
, who completed his own segment of the mural beside Caffe Mediterraneum.
An East Coast native, Sussman moved to the Bay Area in 2003 when he decided to transfer to California College of the Arts (CCA) from Carnegie Mellon University. At CCA, where he graduated with a BA in illustration, Sussman says he found the community and approach to art he was looking for.
"I was jonesing to find somewhere else to move to. I'm from Maryland originally, so there was some exploration part that was attractive to moving here. I also didn't like how gallery-focused [Carnegie Mellon] was. There was no way of taking the art and applying it to something more practical." The craft focus of CCA, which was then California College of Arts and Crafts, is what drew him in thirteen years ago.
As far as snagging the wall space, Sussman said he responded to a Craigslist ad in the "creative gigs" section asking for muralists in Berkeley. The ad came from a post made by the
Telegraph Business Improvement District
(TBID), a Berkeley nonprofit that aims to create a positive pedestrian experience on Telegraph. TBID commissioned Sussman for the piece, but Sussman said the group gave him full freedom in terms of determining what the mural would look like.
"Most of my murals are for businesses because it's easier to justify spending time on something that I am getting paid for. I'm an illustrator and muralist, that's all I do," said Sussman. "This was a bit more casual and I was given some creative freedom, and that's worth something. The tradeoff for creative freedom is worth not getting paid as much and saying something publicly that people can enjoy."
More of Sussman's art can be seen at Lanesplitter Pizza (4799 Telegraph Ave.), where there will be an art opening and pizza party on April 1 from 6-9 p.m..