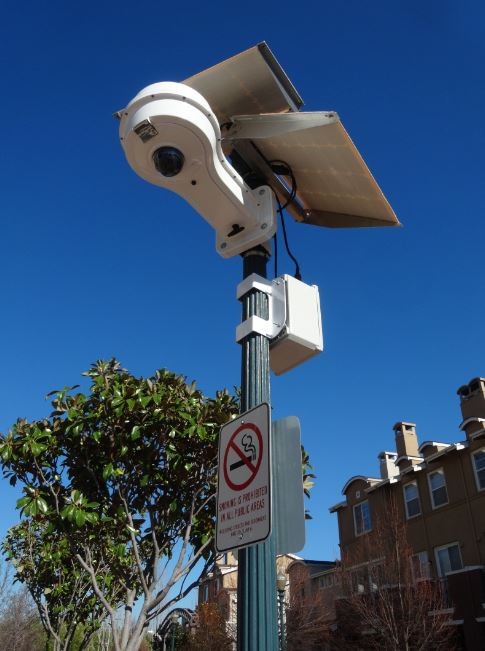 Despite recent uproars over drones in San Jose and Alameda County, Bay Area law enforcement agencies are racing to acquire controversial surveillance technologies.
On Tuesday, the Santa Clara County Board of Supervisors
will decide
whether or not to accept a cellphone tacking system that the Sheriff's Office has requested. Called a "Stingray," the device is manufactured by Harris Corporation, and is being offered to Santa Clara County at no cost thanks to a half-million-dollar grant from the State Homeland Security Grant Program. However, the cellphone tracker will cost the county $42,150 a year to operate and maintain.
According to the San Jose Mercury News
, the Santa Clara County sheriff's effort to obtain the cellphone tracker was a virtual secret until last week. And Harris Corporation maintains non-disclosure agreements with the law enforcement agencies that have purchased similar devices, therefore the equipment's technical capabilities, and how police officers use it, are topics shrouded in secrecy.
The Oakland Police Department, among other agencies in the Bay Area, already owns a Stingray. But Oakland wants a upgrade. The Oakland police, in partnership with the city of Fremont and the Alameda County District Attorney,
are hoping to obtain Harris Corporation's latest "Hailstorm" model.
[jump]
Orinda's city council is considering a proposal to use surveillance cameras to track automobiles throughout the city. After meeting with the chiefs of the Piedmont and Lafayette police departments and executives of Vigilant Solutions, a surveillance technology vendor, Orinda Police Chief Mark Nagel recommended at
Orinda's January 13 city council meeting
that the city equip at least one police vehicle with mobile license-plate-reader cameras, and set up motion sensing cameras on various streets around the city. Last Thursday, the cities of Orinda, Lafayette, and Moraga held a joint meeting to discuss the use of cameras to track automobiles.
Chief Nagel's proposal in Orinda has run into some opposition though. "This could be very expensive," Don Fukushima, an Orinda resident told the
Express
.
Orinda resident
Jack Paulus
worries that the license-plate-reader technology will allow Orinda's police to track the movements of all residents, not just criminal suspects. "The privacy concern with motion-activated cameras is far less," said Paulus in an interview. According to Paulus, the motion-activated cameras being discussed as one option in Orinda are similar to the red light enforcement systems used by many cities today. "With those, the data is under local control and the police get the footage only after the fact, when something has happened and they want to run plates," said Paulus. "It'd be harder for police to track a citizen with that." Automated license-plate-reader systems, on the other hand, scan license plate numbers of passing cars and run the numbers through databases, storing the comings and goings of motorists in the cloud for long periods of time.
The cities of Berkeley, Piedmont, Oakland, Alameda, San Leandro, Hayward, Milpitas, Fremont, Emeryville, Pleasant Hill, Lafayette, Antioch, Concord, Pittsburg, San Francisco and many others already use automated license plate readers to track vehicles. Policies regarding how long a police agency retains license plate data, who they share it with, and how it's used vary from city to city.
Other types of surveillance camera systems are popping up in Bay Area cities to watch pedestrians in public and private places.
Last year, the Hayward City Council approved a pilot program to install security cameras in public spaces.
V5 Systems, Inc.
, a Fremont surveillance technology company, has provided Hayward with six cameras at not cost, giving Hayward the option to purchase the equipment later. The surveillance cameras run on solar power and send data over wireless networks, therefore they can constantly be redeployed to new outdoor locations without needing to access electrical power from the grid.
According to meeting minutes
of Hayward's Council Technology Application Committee, the V5 Systems cameras come with built-in video analytic software capable of alerting police officers in real time as objects enter the field of vision. Police officers can access camera video feeds remotely through smartphones.
In Oakland, the city council is considering a registry program for private owned and operated cameras that would allow the police to know where residential and commercial surveillance cameras are located, and how to quickly obtain footage. Similar registries have already been created by the cities of San Ramon and Fremont.
A staff report
prepared by the Oakland police noted that cities with existing private camera registries have not allowed the police to instantly and remotely tap into the footage of residential and commercial surveillance systems. "Therefore, video recovery is subject to delay," reads the report. "The ability to immediately access video would be a valuable investigative step and should be considered as an option for any program implemented by the Oakland Police Department," OPD concludes.