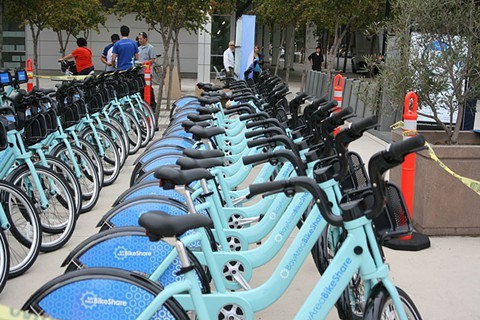 Bay Area Bike Share will expand to Oakland, Berkeley, and Emeryville next year, with more than 1,300 bikes planned for the East Bay, transportation officials announced today. The bike share program, which is currently in place in San Francisco and San Jose, allows residents with annual memberships to check out bikes from stations throughout those cities for short periods. East Bay bike advocates have long pushed for the expansion of the program here, arguing that bike share stations can be
transformative for urban cycling
, enabling many more people to travel by bike and utilize public transportation. 
The Metropolitan Transportation Commission (MTC), the Bay Area agency that coordinates regional transportation planning, announced today that it is working with five cities to expand the bike share program to a total of 7,000 bikes by 2017. That includes target goals of 850 bikes in Oakland, 400 in Berkeley, and 100 in Emeryville. The East Bay rollout will begin in 2016 and will coincide with a significant expansion of the pilot programs in San Francisco and San Jose. San Francisco, which currently has 328 bikes, will increase to 4,500 bikes, and San Jose will jump from 129 to 1,000 bikes.
See Also: 
Top Ten Bike Projects Coming to Oakland
Shifting Gears: Oakland's Bicycling Future 
[jump] Across all of
Bay Area Bike Share
's cities — which include Redwood City, Mountain View, and Palo Alto — the system currently has 700 bikes. After the total regional expansion is complete, the Bay Area will have one of the largest bike sharing systems in the nation, officials said today. 
Notably, the expansion includes two equity initiatives aimed at making the bikes accessible to low-income people. First, the five cities have agreed that 20 percent of new stations would be placed in low-income areas (based on MTC's so-called "communities of concern," which are
areas
with high rates of poverty, minority residents, households without cars, and other socioeconomic disadvantages).
Additionally, Bay Area Bike Share will be offering discounted memberships to people enrolled in local utility lifeline programs (which are accessible to low-income residents who benefit from public-assistance programs, like Medicaid and food stamps). The MTC did not announce specifics of the discount. At
current prices
, an annual $88 membership gives residents 24/7 access to take 30-minute trips, with a $4 overtime fee added for a 30-60 minute trip, and $7 added for every subsequent half hour. There are also 24-hour memberships for $9 and three-day memberships for $22.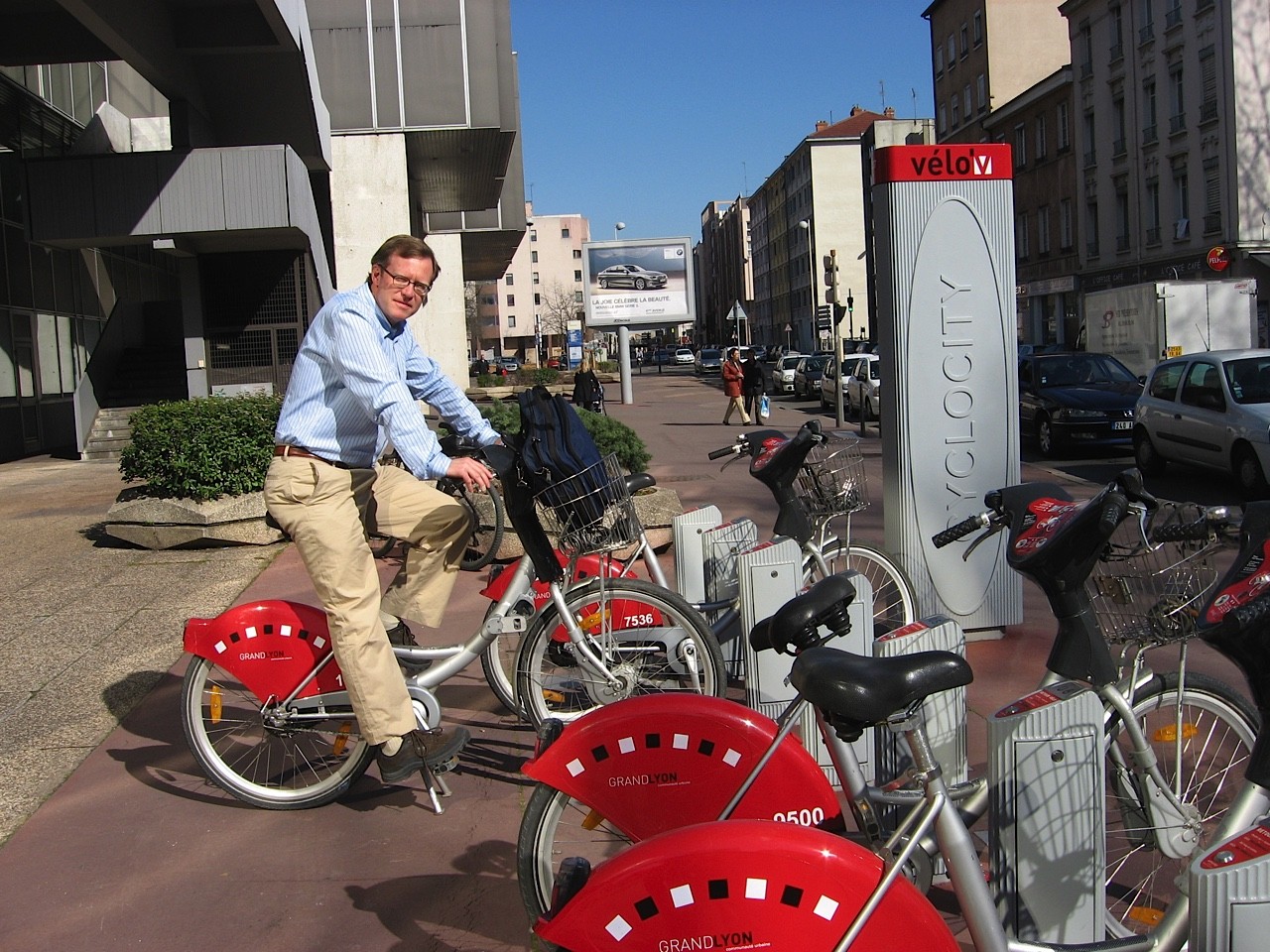 In Oakland, bike share could go along way to allowing residents to drive cars less frequently — or not at all — by making it easier for residents to access BART and AC Transit stops. Bike and public transit advocates have often pointed out that many residents choose to drive to work instead of taking public transit simply because they have long walks from transit stops to their home or office. Bike share stations can eliminate that barrier. Oakland Mayor Libby Schaaf, who is also an MTC commissioner, alluded to this in her statement on the expansion today, saying, "Oakland is at the center of the BART and AC Transit systems, and bike sharing can effectively extend the reach of those services. I can't wait to bring the benefits of bike sharing to Oakland to serve neighborhoods and residents from our downtown corridor to East and West Oakland." 
Berkeley Mayor Tom Bates, who is also an MTC commissioner, added in a statement: "It is a major step forward not only in making our city one of the greenest and most bike-friendly communities in the nation but also in strengthening the Bay Area's regional network of accessible and sustainable public transit options." And Emeryville Mayor Ruth Atkins noted that the bike share expansion will complement the services provided by Emery Go-Round, the city's free shuttle. "Bike share is a critical and timely service for our more active population, allowing flexibility and complimentary routes to the shuttle, while allowing overcrowding on shuttles to be reduced," she said in a statement, adding, "With no hills, attractive destinations, and large residential, employment and shopping centers, we are well situated to embrace bike share." 
The expansion will be completed as part of a public-private partnership with Motivate, the largest bike share operator in the country which has been operating Bay Area Bike Share since 2013. MTC said it plans to host forums and outreach events that will allow residents and local businesses in each city to weigh in on the specific bike share station locations. The administration committee of MTC will consider the expansion proposal on April 8 with a vote before the full commission expected later this spring.
For more on biking in Oakland, check out our recent cover story, "Shifting Gears."