The Bay Area officially embarked on an ambitious plan to reduce greenhouse gas emissions with the unanimous adoption of a climate protection resolution by the Bay Area Air Quality Management District (BAAQMD) yesterday. The resolution commits the BAAQMD to a goal of reducing the region's greenhouse gas emissions to 80 percent of their 1990 level by 2050, mirroring the statewide goal, as well as to developing a regional climate protection strategy and a work plan to implement it. Many BAAQMD board members and staffers praised environmental groups, especially 350.org, 350 Bay Area, and the Sierra Club for promoting this policy and working with staff to shape it.
[jump]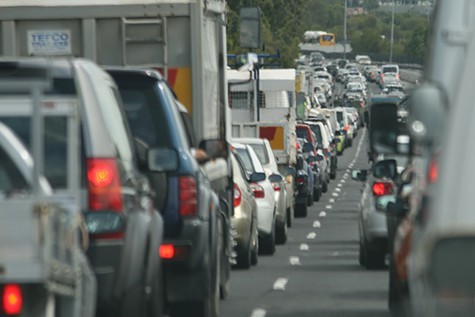 The board did not vote on the ten-point draft work plan submitted by the Climate Protection Committee, but encouraged the staff to develop it further with input from "stakeholders." The draft work plan includes monitoring emissions, developing a regional action strategy, and expanding enforcement. Staffers said they hoped to have it ready for a vote before the end of the year.
Many speakers from both the public and the board emphasized the health impacts of emissions control, pointing out that a reduction in greenhouse gases would at the same time reduce emissions of other environmental pollutants, which especially affect children, seniors, and low-income residents. Alameda County Supervisor Scott Haggerty pointed out that middle-class people also die of lung disease and that in his eastern Alameda County district, kids who live near freeways also have higher rates of asthma.
Another board member, Sonoma County Supervisor Shirlee Zane, told environmental groups, "You guys rock!" She pointed out that another health impact, directly related to climate change, is the skyrocketing growth in the incidence of malignant melanoma, which she has had three times.
At times the meeting sounded like a love-fest, with the BAAQMD and environmental groups congratulating each other on developing this policy. Several board members and Sierra Club organizer Jess Dervin-Ackerman joked about the thousands of emails board members had received from members of environmental organizations, but at least one board member expressed appreciation for these messages "encouraging us to act consistent with our mission."
The only note of disagreement came when two board members, Contra Costa County Supervisor Mary Piepho and Solano County Supervisor Jim Spering, pushed for the resolution to include a statement of intention to studying the economic impacts and benefits of greenhouse gas reduction. But after staff promised to include that point in the final work plan, the resolution passed unanimously.