Some good news for East Bay cyclists today: The BART Board of Directors unanimously voted to permanently end the rush-hour ban on bikes. This decision comes during a pilot period that launched in July, which has allowed BART riders to bring their bikes on the train ruing all hours of operation. The trial apparently convinced the board that permitting bikes during rush hour is not a huge problem — and cycling advocates are celebrating this latest development as a major victory for commuters.
"By making full access for bikes on BART a permanent policy change, East Bay residents will have a new healthy and convenient commute option," Renee Rivera, executive director of the East Bay Bicycle Coalition said in a statement. "This particularly benefits those who commute within the East Bay on BART lines where there is ample room for bikes, but who are restricted from bringing bikes on board by the current rules."
Keep in mind, however, that there are still some restrictions!
[jump]
Here are some useful reminders from the San Francisco Bicycle Coalition, which has a helpful explainer on the rules for cyclists on BART (along with a timeline of bike policy changes over the last several decades):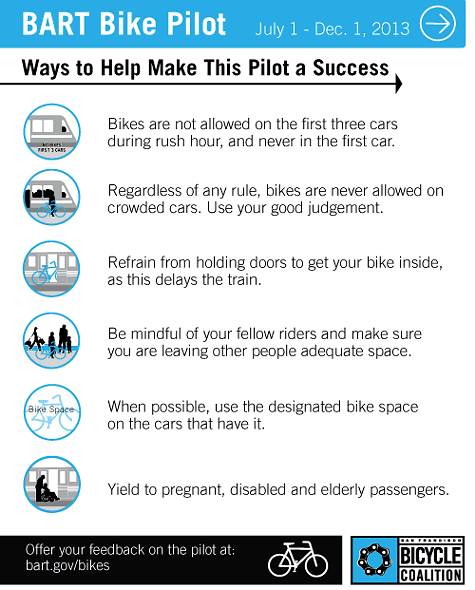 http://www.sfbike.org/?bart
The vote today follows three recent pilots allowing bikes on BART — on Fridays last August, a week-long March pilot, and then the four-month pilot that began in July. Advocates today cited a BART survey that showed 77 percent of riders were in support of eliminating the rush hour ban.
BART, cycling groups noted, is following the lead of other cities that have already eliminated public transit restrictions on bikes, such as New York City, which allows bikes on its subway lines at all times.
This is the latest victory in an apparently long history of pushing for better bike access on BART. When BART opened in 1972, bikes weren't allowed at all and a few years later, only if riders had permits. Today's vote, advocates said in a press release, marks the elimination of the "final restriction to bicycle access."