Many Americans may not be able to identify their own country on a map or fill out a ballot correctly, but ask them to talk about sex, drinking, and the relationship between the two, and everyone's an expert. In an utterly unscientific study of the state of sexual culture in the East Bay and beyond, we asked folks in Oakland, Albany, and Berkeley about whether — in the age of Match.com and mounting fears about STIs and personal safety — the bar has lost its grip as the undisputed go-to locale for sexual liaisons, and whether that perception was ever more than an urban legend to begin with. The resounding consensus, delineated in intimate detail and with almost academic conviction by bargoers all over the East Bay: the meet market is alive and well.
Rich knows. At 48, he's been going to bars and meeting women for decades. He even made a side career out of it, teaching classes to other men eager to learn his techniques. And he said, unequivocally, that the bar is as much an incubator for sex as it ever was. "This goes on absolutely all the time," he said. "It's primordial, and it's basically unchanged for fifty years."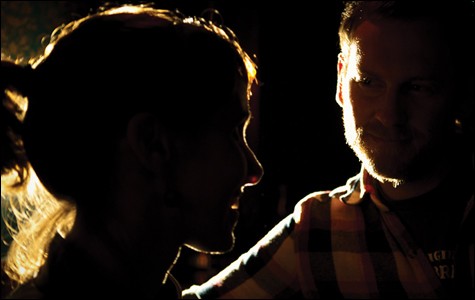 All of this is only natural given that winning combination of alcohol, strangers, and dim lighting that bars provide, said Allison, an Oaklander in her early twenties. "It makes sense: Lights are low, I've had about eight lemon drops, and if I'm dancing, I'm already doing suggestive things with my body."
Everyone has their preferred spot. Kingman's Lucky Lounge, Luka's Taproom and Lounge, The Layover, and Mua's recently departed club night come up quite a bit among older adults, and Kip's, apparently, has retained its long-standing reputation among the student set. "In Berkeley, EVERYONE knows that Kip's is a no-fail fuck zone," Carmel DeAmicis, a former sex columnist for the Daily Californian, wrote in an e-mail. "No one even bothers showing up there till midnight, and it's a glorious, unadultered meat market for finding your lay of the night. The sticky, beer-covered floors and dim lack of mood lighting simply add to its 'charm.'"
Both in the student community and beyond, she said, "bars are definitely still the go-to spot for hookups" — especially in the Bay Area, where "public make-out sessions are all part of the Sixties 'free love' aftermath."
That's not, however, to say that men and women alike aren't loath to trust people they meet in bars. "It's purely the fear factor," said a 24-year-old at Missouri Lounge in Berkeley. "If you go home and you don't know them they could be a total creep." But she also said that doesn't stop her from hooking up with people she meets in bars — she just finds a dark corner or an alley instead of going home with them. Indeed, Aaron, a 34-year-old bouncer at Club Mallard, an Albany bar and pool hall, said that on a given weekend night, he'll see five or six couples find a dark corner — and that's just in the Mallard's downstairs area, and at a bar that's not particularly known as a pickup joint. It happens so often that he and his co-workers have to operate on a three-strikes policy: they'll tell people making out — or more — to stop twice before kicking them out, which happens once every couple months.
Kevin, a 35-year-old who has been going out in the East Bay for years, said that in his experience and that of his friends, nothing can supplant the bar as the ideal place to meet other single people. "The bar is and always will be the place to meet women," he said over whiskeys at Room 389 in Oakland on a recent Saturday night. "You'll be hard-pressed to find anyone who disagrees with that."
There are a few people who do, but they were vastly outnumbered. A 21-year-old from East Oakland posited that the bar as a conduit to sex was an outdated concept. "I think that's maybe an Eighties and Seventies thing. I think in the generation that we are, you meet friends and friends of friends." And a young woman from Emeryville said that neither she nor any of her good friends had ever done more than dance with a stranger at a bar.
But if you ask Rich, anyone who says that is either lying or not trying hard enough. "People will tell you that they don't give out numbers or hook up in bar," he cautioned. "That is horseshit. This goes on absolutely all the time," he said — whether or not people will admit it.
Naturally, few will say outright that sex is their goal when heading out for the night. "I had no intention of meeting someone," said Liz, a 23-year-old. "It was literally a Dirty Dancing moment, a Patrick Swayze moment — I just saw him from across the room. But generally, if I'm looking for people I'd want to see again, I don't go to a bar." It's always, it seems, an accident — or as much of an accident that something that appears to happen to lots of people on a regular basis can be.
Dating, however, is a different story. Peter Thomas, a 45-year-old who works in Oakland, said that in the past twenty years of going out, he's only dated one girl he met in a bar, and his friend Brian Matthews, a 37-year-old Oaklander, agreed. "I think I'm going to meet the love of my life, like, next to the meat counter at the grocery store"
In fact, cautioned a 25-year-old Oaklander who was sharing a beer with a friend at the Mallard on a recent Monday, in her experience, it can go terribly wrong. "The one time I tried to date a guy I met at a bar instead of just hooking up, it was a disaster," she said. "I think when you meet someone at a bar and you feel like you have a lot in common, you're kind of painting in the numbers."
Editor's Note: About thirty women were approached to be interviewed for this video. Alas, only men agreed to be on camera.