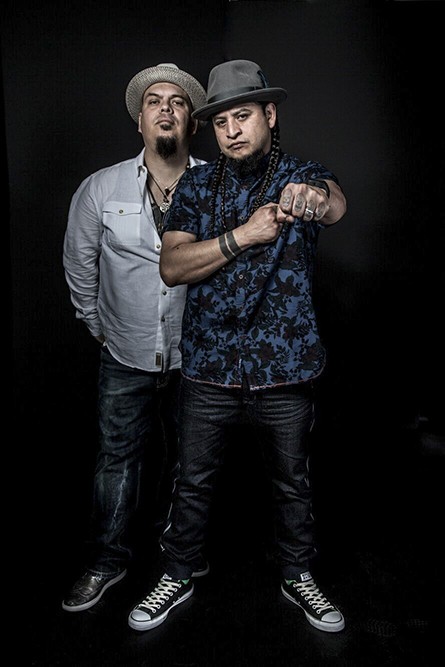 It's a busy night at the Oakland Music Complex in West Oakland. As soon as you step inside the rehearsal facility, guitar riffs, drums, and melodies emanate through the halls. In one of the rooms on the third floor, an unmistaken fusion of rhythms can be heard as you approach the door.
It's the sound of Oakland-based duo Bang Data, led by rapper/vocalist Deuce Eclipse and producer/instrumentalist Juan Manuel Caipo. On this particular night in early September, the Express got an exclusive listen to some of the tracks from the band's forthcoming third album, Loco, slated to be released in late October.
Since forming in 2008, Bang Data has been part of the Bay Area Latinx music scene. Before joining forces, the two members were already heavy-hitters locally — Deuce as an emcee for Zion I and Caipo as part of the rock en español duo Orixa.
"It was in this very room where we recorded our first EP," Caipo recalled. "We weren't supposed to record together; I was just helping Deuce with his solo project with Amp Live."
But after being in the studio together, they realized that their musical upbringings and way of experimenting with sounds were similar. They began collaborating on what would become Bang Data, and in 2009 they released an EP, Maldito Carnaval.
"Our very first show was at the Shattuck Down Low in Berkeley," said Deuce, slightly embarrassed. "We played two songs that were well received by the audience, then got off the stage. We had nothing else ready to be played live at the time."
Gig after gig, Bang Data began building a solid fan base. By the time they released their debut album, La Sopa, in 2011, Bang Data had become a household name in the Bay Area music scene. That same year, the group's self-titled track was featured on an episode of AMC's Emmy Award-winning drama Breaking Bad.
In 2014, Bang Data released Mucho Poco. One of the tracks, "Volar," features Chilean band Chico Trujillo and Wil Dog, bassist for the Los Angeles band Ozomatli.
Since the release of their last album, the guys have remained busy performing, writing, and recording. Last year, Caipo and Deuce decided it was time to dust off old unreleased tracks and hit the studio. "You feel it when it's time to start a new album," Deuce said.

[pullquote-1]

Loco has that distinct Bang Data fusion of sounds, which is heavily influenced by Deuce and Caipo's Bay Area roots and the Latinx music they grew up listening to. (Caipo's family is from Peru, and Deuce's family is from Nicaragua.) Every song is infused with Deuce's bilingual lyrics, which he both raps and sings, as well as an array of cumbia, reggae, dance, and hip-hop mixed with a heap of rock 'n' roll.
The new album also has a socially conscious message. The track "Furioso" was inspired by the "Frisco Five," a group of protesters who in 2016 went on a hunger strike in front of the San Francisco Police Department Mission Station to denounce police brutality and the killings of Alex Nieto, Mario Woods, Amilcar Perez-Lopez, and Luis Gongora — who were all gunned down by San Francisco cops. One of the protesters, San Francisco rapper and producer Ilyich "Equipto" Sato, is featured on the track.
"How can you ignore what's going on in the world," Deuce said. "It's like getting stung by a bee and not screaming from the pain."
Caipo and Deuce also pay homage to their Latinx upbringings with their cover of "Caballo Viejo," an '80s Venezuelan folk song written and composed by Simón Díaz. It features Caipo's dad playing the organ from a track that Caipo found in a batch of old files. After playing it for Deuce, they both decided that it was too special not to include in the album.
The first single off the album, "Galáctica," talks about unrequited love, trying to gain someone's love and affection only to be shut down repeatedly. Bang Data isn't necessarily known for this type of song, but, as with everything that the guys do, nothing is ever off limits.
To promote the album, Bang Data will play a hometown show at The New Parish on Oct. 6, and in November they will play at the Off Beat Music Festival in Nevada, with additional dates to be added.
Bang Data has high expectations for this album — their hope is that their music can reach people worldwide. "We care about the world and about our community," Deuce said. "If it doesn't reach someone's ears, then what's the point of doing what we do?"
Remaining socially conscious with their music is a top priority as well. The attacks on the immigrant community and the never-ending news of police brutality is something that they take seriously. "With LOCO, more than ever, we feel we want to share our music, stories and culture in a time that many call 'Trump's America,'" they stated in a press release. "We are Latinos born in the USA, we're from here and our music is a reflection of that as well as a contribution to American culture. Hopefully this album will open the mind of those people who feel that people that speak another language do not belong here."
Bang Data, Friday Oct. 6, The New Parish, 1743 San Pablo Ave. Oakland, 18+, $15, BangData.com/tour/