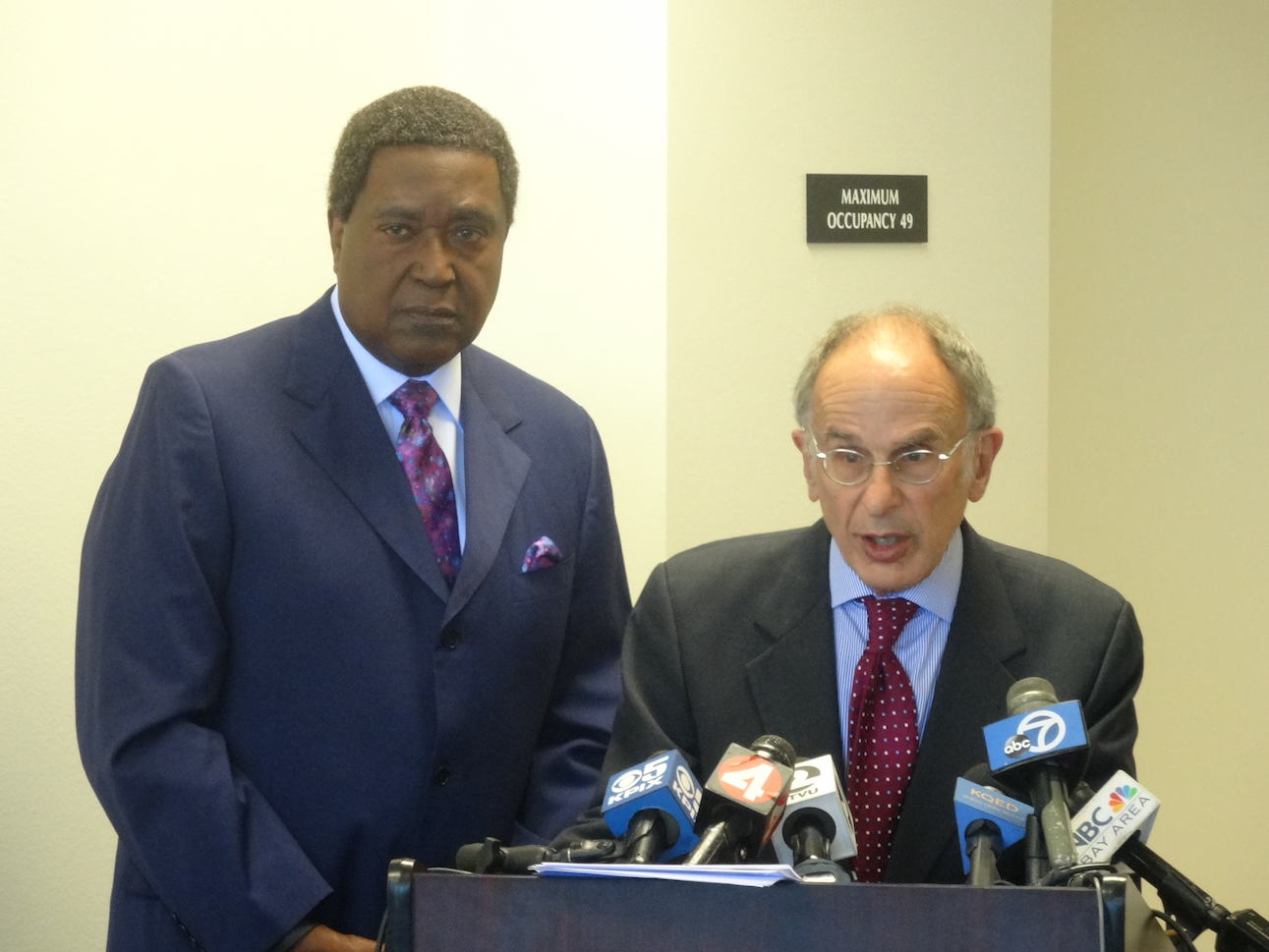 Attorneys John Burris and Jim Chanin announced today that they are "moving in the direction" of asking a federal judge to put the Oakland Police Department's recruitment and training unit under federal receivership.
Burris and Chanin
told reporters at a press conference in Oakland earlier today that they are "disgusted" by
new details emerging
about multiple Oakland police officers who appear to have sexually trafficked a teenager. The attorneys said it also appears that other cops, including supervisors, knew of the misconduct but failed to report it.
"I'm very angry and disappointed," said Chanin about the botched investigation into the sexual misconduct. "The failure by command staff to take prompt action shows that court oversight is still necessary."
"We have come to the conclusion that the supervisors have not done their jobs," said Burris about OPD's leadership. "Checks and balances were not in place."
The attorneys said most of the cops implicated in recent scandals are younger officers who joined the force since 2013.
For example, last December, Oakland police officer
Cullen Faeth allegedly forced his way into a stranger's home
in the Oakland hills and assaulted a woman. Faeth was reportedly drunk when he carried out the home invasion. Faeth joined OPD in December 2013 after graduating from a lateral police academy.
In February, 
officer Matthew Santos pulled a gun on a workman
in his apartment building while off-duty. He was arrested by the Emeryville police. Santos was a graduate of OPD's 171st Academy in 2014.
Burris and Chanin said they're most upset by the unfolding sex-crime scandal, which involves several OPD officers who may have sexually trafficked a commercially exploited minor, and other officers who had sex with the girl after she turned 18. Some officers also appear to have shared confidential law-enforcement information with the girl.
Officers Terryl Smith and James Ta'ai were
identified by the East Bay Times
as the two officers who quit OPD after being investigated for sexual misconduct. The
Express 
identified officer Giovanni LoVerde
as a third officer who has been placed on administrative leave during the investigation. The
Express
also identified officer Luis Roman as having exchanged text messages wit the girl at the center of the scandal.
Smith and Ta'ai graduated from the 168th Academy in 2013. LoVerde and Roman graduated from the 170th Academy in 2014.
"All these officers are young," said Burris. "This raises serious questions about hiring and recruitment practices."
Chanin called allowing these officers into OPD "an insult" and "affront to the rest of the hard working people at the department."
Last Friday, at a press conference announcing the removal of Police Chief Sean Whent and hiring of BART Deputy Chief Ben Fairow as interim-chief, Oakland Mayor Libby Schaaf also announced that OPD's Inspector General and the Oakland City Auditor are both conducting an audit of recruitment and training to uncover problems. (
Schaaf fired Fairow as interim-chief today
, citing information that caused her to lose confidence in him.)
Burris and Chanin said today that they want the city's recruitment and hiring audit to immediately include the Independent Monitor Robert Warshaw. They said the audit should be completed as quickly as possible, and that it should be made public. If Oakland doesn't include Warshaw in its audit, or release the audit publicly, they said they will ask U.S. District Judge Thelton Hendreson place OPD's recruitment and training sections in receivership.
"We're moving in that direction," Chanin said about receivership.
When reporters asked the attorneys to speculate on the factors that have allowed so many unfit men to join OPD over the past several years, they speculated that the city's elected officials could be pushing too fast to reach a goal of 800 sworn police officers, allowing quality to slip.
Burris said the teacher-to-student ratio for OPD academies could be too low, as well, preventing police instructors from identifying unfit cadets and removing them before they're allowed on the force.
"I don't want to play the blame game," said Chanin in response to a question about whose fault it might be. "But the push to fill Oakland up with police officers is probably a factor in this."