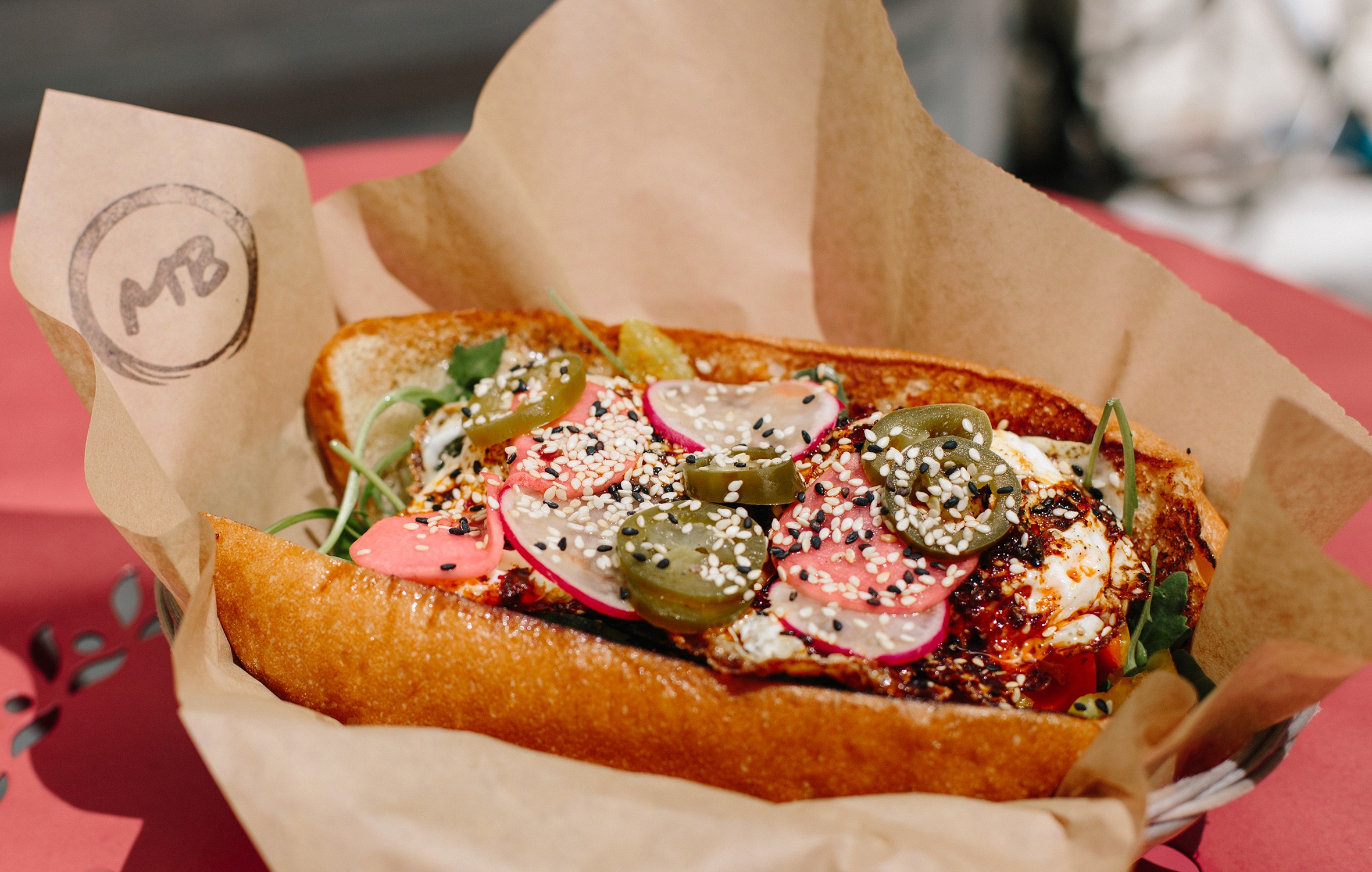 Inside Highwire Coffee Roasters on San Pablo Avenue, past the whirring espresso machine, Sincere Justice manages his domain. Specifically, his domain comprises of a few square feet with a small flat top, an oven, and little else. Yet size clearly doesn't matter — Justice creates huge, nuanced flavors out of Mister Bolenca, the permanent pop-up he launched out of Highwire last fall.
Justice describes Mister Bolenca as an Asian-inspired sandwich shop, but that's far too narrow of a description. The flavor combinations reflect Justice's unique background and perspective as the son of Chinese-Vietnamese immigrants who grew up in Baldwin Park, a predominantly Mexican neighborhood in Los Angeles. On the weekends, he feasted on birria at a friend's house. With his family, dining out usually meant Cantonese and Vietnamese restaurants. Traveling throughout Asia and Latin America broadened his palette of ingredients, and Tokyo in particular showed him how chefs can execute amazing dishes out of the smallest spaces.
Before Mister Bolenca, Justice ran Crosta Panini Bar, the last sandwich shop to operate out of Highwire. It was his friend's business, but then that friend decided to enter the cannabis industry instead. So the owners of Highwire offered the space to Justice. Last fall, he ditched the panini press and chased his own vision.
The name, "Mister Bolenca," references his roots. Baldwin Park natives often call the place Bolen Park, so Justice shortened it and added a "ca" for California. That Bolenca is a totally made-up word completely makes sense once you start eating Mister Bolenca's sandwiches. "I always say you can't play cover songs forever. You have to make your own songs," Justice said. "For me, Mister Bolenca is a step in making my own song, finding my own voice."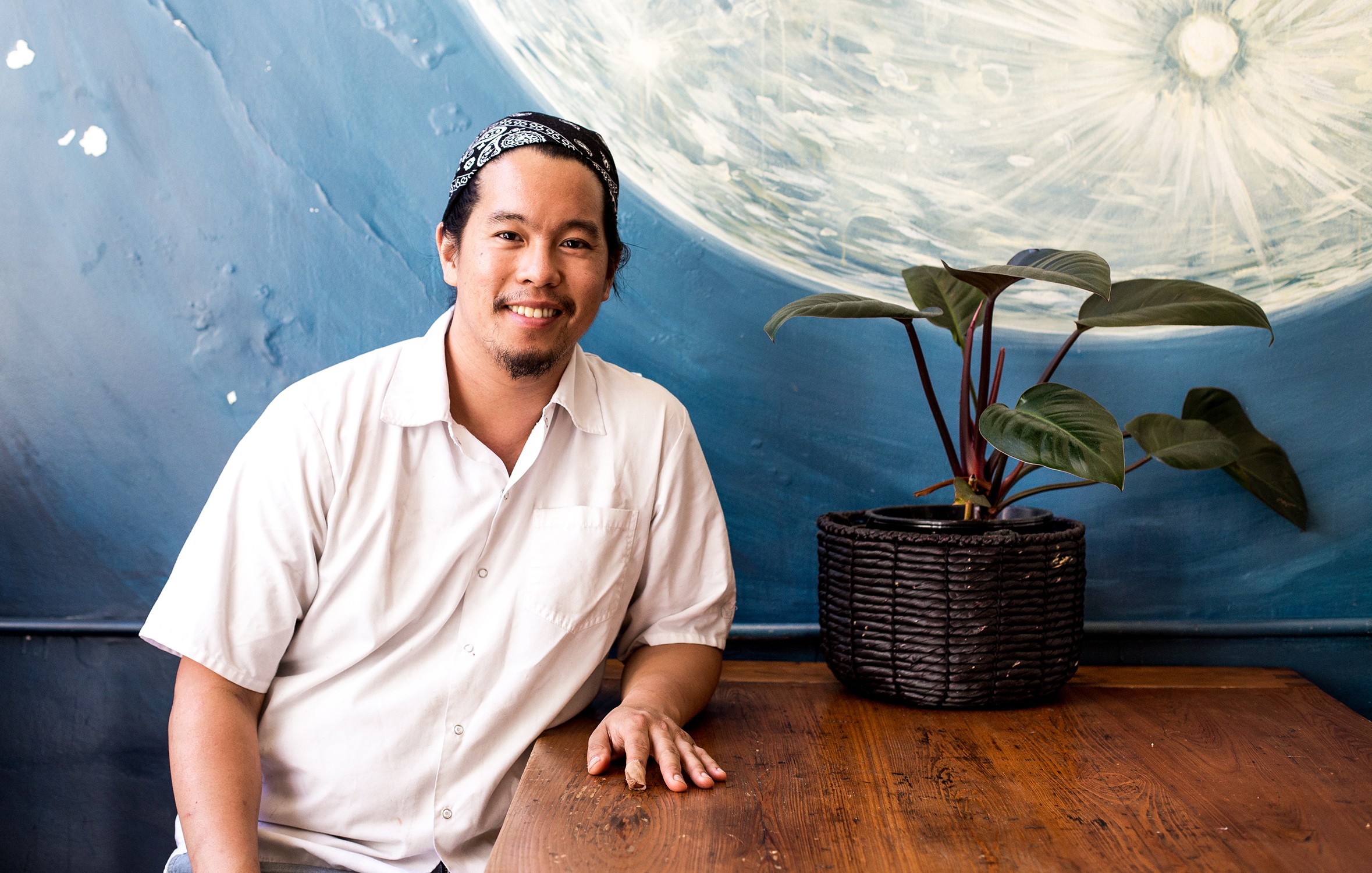 Let's first analyze the Thai beef sandwich. Justice braises brisket in a light Mexican beer and red curry — but also, that curry features guajillo, the chile pepper most common in Mexican cooking. Tucked into a toasted French loaf from Berkeley's Metropolis Baking, the beef was ideally tender with a subtle kick, lacquered in curry that reduced to an almost jam-like consistency. One side of bread was slathered with creamy, tangy, and garlicky lebneh, the Middle Eastern strained yogurt. Chimichurri danced within the mix. And on top sat a pile of crisp, turmeric-stained cabbage and other crunchy pickles. Every single element was well-seasoned and thoughtfully placed, creating a juicy, messy, and super-satisfying gut-buster of a globetrotting sandwich.
All of Mister Bolenca's sandwiches offered similar pleasures. Justice is a firm believer in saucy sandwiches, and he makes his sandos with multiple sauces for contrast. Most are loaded with pickled radishes for acidity. And of course, there's always fat. Even though each sandwich arrives looking positively monstrous — with ingredients immediately spilling out, no matter how carefully you pick it up — the end result manages to feel relatively light and balanced. Still, these are sandwiches that I like to describe as "all-in." You can't scroll Facebook on your phone while eating one of these, and if you attempt to take it to-go and eat it in your car, you will mostly likely be left with both soggy bread and a lap full of pickled jalapenos. It's even risky putting these sandwiches down once you start eating — juice inevitably drips onto the wax paper-lined baskets, creating a pool that threatens to quickly ruin the integrity of the bread.
That was my experience with the cauliflower grilled cheese, a hearty vegetarian option that might be Mister Bolenca's messiest and most decadent sandwich. Instead of melting cheese between two slices of bread, Justice makes a thick bechamel sauce with mozzarella, cheddar, and Parmesan to spoon onto another toasted French loaf. It was gooey and cheesy, with cauliflower providing the meaty substance. Cucumber and cherry tomatoes provided freshness to an otherwise heavy sandwich, along with a zippy salsa verde, while more of that turmeric cabbage, sesame seeds, and fried shallots delivered crunch.
I was expecting the Korean chicken sandwich to — like a lot of non-traditional "Korean" dishes these days — mostly taste like gochujang. It felt good to be wrong. While the slaw was laced with the Korean red pepper paste, the chicken offered its own flavors — scallions, cilantro, sesame oil, soy sauce, lime — bolstered by peppery arugula, lime aioli, and pickles. Justice sous vides the chicken breast, ensuring soft, tender bites.
For the somewhat unexpected sauce, Justice was inspired by the pickled jalapenos in soy sauce that often decorate tables at Korean restaurants. For one of his three fried egg sandwiches, he similarly found inspiration in a restaurant condiment — specifically, the Sichuan chili oil at Spices 3 in Oakland Chinatown. Growing up, Justice wasn't exposed to China's various regional cuisines. Spices 3 was his first taste of the expansiveness of Chinese food, and he was so intrigued that he started eating there weekly. At Mister Bolenca, his huevos Sichuan sandwich features a blisteringly flavorful — but not too spicy — Sichuan-style chili sauce. He heats oil until it smokes, pours it over chili flakes, and, right before the flakes nearly burn, adds scallions, garlic, soy sauce, sesame seeds, and toasted Sichuan peppercorns. The eggs are fried Southeast Asian style, with extra crispy, blackened edges. The richness of the eggs gets countered by pickles, arugula, and peanuts, and by the end of eating it, my face, hands, and arms were coated in sauce and sesame seeds.
While you could stop by Mister Bolenca and order soup or a salad, the sandwiches are easily the highlight. Still, Justice certainly knows his way around a head of lettuce: His funky kale salad was crisp, refreshing, and tasty, with its mix of julienned kale, seasonal lettuces, Parmesan, and an herb-tahini dressing.
That said, prepare to wait. Mister Bolenca is a one-man operation, with Justice both taking orders and assembling sandwiches. Assuming Mister Bolenca's popularity continues to grow, he might try to hire additional help in the fall when UC Berkeley is back in session and students once again flood the cafe. But he also operates a weekly taco pop-up, Tacos Sincero, which features similarly multicultural flavors and even some of the same components as his sandwiches. With both ventures, the young chef is finding his uniquely Asian-American voice. "It's not necessarily traditional," he admitted. "It might not be authentic. But it tastes good."
Mister Bolenca
2049 San Pablo Ave., Berkeley
510-838-0622
MisterBolenca.com
Hours: Wed.–Sun. 10 a.m.–3 p.m.
Cash, all major credit cards
Sample Menu
Thai beef sandwich … $15
Cauliflower grilled cheese … $12
Huevos Sichuan … $12