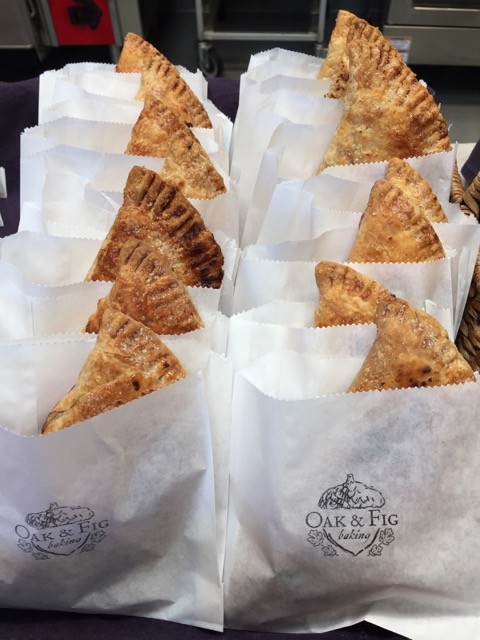 Just shy of being two years old, Forage Kitchen in
Oakland has housed dozens of food incubators. The commercial kitchen, cafe, and
event space now includes 45 food businesses as tenants — some don't have the
capital for a brick-and-mortar just yet, others came to cooking without
professional training or as a second career.
The Baconer's Camilo Velasquez was one of Forage Kitchen's first tenants, making specialty bacon with flavors like sweet maple, smoky paprika, and jalapeño. The bacon is smoked and sous-vided. He sells online and at farmers' markets such as Grand Lake, Kensington, and Montclair. The Baconer sells thick cuts, lardons (smaller chopped pieces), and bacon steaks (half-inch cuts of pork belly), and hopes to sell to restaurants soon.
With close proximity to other food purveyors comes some fun collaborations. Last summer, Andrew Lawrence Schiff of Oak and Fig Baking started making savory hand pies using Velasquez's bacon. "I was excited by the idea of working with other chefs," Schiff said. "It was a way to embrace this concept, to play together."

Schiff is a former menswear fashion designer who left the corporate world to start his business about two years ago. He trained in high-end French pastry-making while getting his college degree, and found that baking helped him during stressful times. Now, he puts his creative energy into baking everything from macarons to cookies, cupcakes, and wedding cakes.
Other collaborations include Samara Southern Creations, also a tenant at Forage Kitchen, who has used the Baconer's bacon for Monte Cristo sandwiches and bacon-wrapped shrimp.
Good to Eat Dumplings has also collaborated with their fellow tenants. Known for their creative dumpling fillings as well as Taiwanese gua bao and round twisted baos, they debuted a potsticker with the Baconer's bacon inside and crispy bacon sprinkled on top. They also made a mac 'n' cheese potsticker, stuffed with mac from one of the former chefs at Forage. For their fish dumplings, they source sustainably caught Monterey Bay cod from Fresh Catch, also a former tenant at Forage Kitchen. Good to Eat Dumplings has been popping up regularly at breweries and will soon offer delivery through Caviar with a bigger menu that also includes soup and salad. "We always share and eat each others' foods and keep experimenting and tasting new things," said Tony Tung, owner of Good to Eat Dumplings, referring to her and her co-founding team members Stacy Tang (who co-owns Taiwan Bento in Oakland with Willy Wang) and Angie Lin.
Both Schiff and Velasquez want to eventually move on to their own space. And Smokin' Woods BBQ, the current tenant in the cafe, will be moving on soon to a permanent location. "The whole idea is to support them," said Iso Rabins, co-founder of Forage Kitchen with Matt Johansen.
"This is where we cut our teeth as budding food professionals," Schiff said. "This feels like home. We hold each other up."