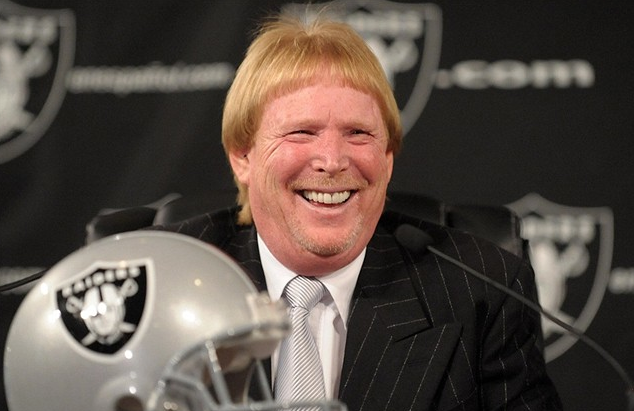 Recent news reports surrounding two very different Raiders employees indicate that the dysfunction that has plagued the franchise during Mark Davis' ownership will fester in Jon Gruden's first year back as head coach.
The first example involves Khalil Mack, the Raiders' star pass rusher who did not report to training camp on Thursday in Napa. Mack, 27, might be the best defensive player in franchise history. He also is a model citizen and a natural leader — the kind of high-quality player and person around which a smart owner would build an entire marketing campaign. But we're not talking about a smart owner in this case — we're talking about Mark Davis.
Davis is the owner who has fired four head coaches since early 2012 but has retained general manager Reggie McKenzie after six mostly lackluster seasons. The Raiders' record in that time is 36-60 — a terrible .375 winning percentage. And the Silver and Black has made the playoffs just once out of its past six tries.
The Raiders' best and consistent player in recent years has been Mack, a fifth-year veteran who has excelled despite playing with subpar teammates and being constantly double-teamed by opponents.
I can't blame Mack for holding out. Sure, he's set to make $13.8 million this year, but he's not guaranteed a single cent after that. One of the league's oldest jokes is that the NFL stands for "Not For Long," and Mack's stellar play and off-field leadership means he's earned all the financial security he can find. After all, he's been a better and more consistent performer than Raiders quarterback Derek Carr, whose contract will pay him $125 million over five seasons, including $70 million guaranteed.
By most accounts, Gruden has the final say over player personnel decisions, with input from McKenzie. Mack must have been scratching his head this off-season as Gruden and McKenzie seemingly ignored their defensive star and instead doled out contracts to several lesser players.
That the Raiders' front office has failed to sign Mack to a long-term deal is mind-blowing. Even more shocking was the news Thursday morning from ESPN's Adam Schefter, who reported that Gruden and Mack haven't even talked since Gruden was hired as head coach in January.
Even if we give Gruden the benefit of the doubt and assume he's tried but failed to reach Mack, the new Raiders coach really has no excuse. If Gruden wants to earn his guaranteed $100 million contract and turn the Raiders into winners, he must do as much as possible to keep his team's best players in the fold and on the field.
In that regard, Gruden has already failed. And it does not bode well for the upcoming season.
So much of coaching at the pro level is about motivating players, getting them to buy into your philosophy. Failing to please a respected team leader like Mack sends his teammates this negative message: Even if you play well and do all the things we ask of you, there's a good chance this organization still won't reward you.
Which, of course, is the last thing a franchise wants players to believe just as a new coach is trying to gain their trust.
Dysfunction and locker room dissension ruined many a promising Raiders season during the late Al Davis' last decade of running the franchise. His son, Mark Davis, inherited the Raiders almost seven years ago and, unfortunately, has continued that family tradition.
Mack's training camp absence isn't even the only drama-filled Raiders employee situation.
Longtime Raiders radio announcer Greg Papa confirmed recent reports on Monday that the team had replaced him with 79-year-old Brent Musburger. Papa, the team's play-by-play guy since 1997, made the announcement on his daily Bay Area radio show on 95.7 The Game. (The team also let go radio announcer Tom Flores, who won two Super Bowls as Raiders head coach in the early 1980s. Flores started his Raiders career as a quarterback 58 years ago, in the franchise's inaugural season in 1960.)
According to Papa, Mark Davis fired him because he was angry Papa had publicly criticized the Raiders front office's willingness to interview Mike Shanahan for head coach in 2015. Papa was fiercely loyal to Al Davis and he viewed Shanahan — Al's longtime nemesis — as being off limits to the Raiders franchise.
Papa grew emotional at times when explaining his firing to radio listeners. He said Mark Davis never forgave him for that perceived slight, going so far as to ignore the announcer whenever he tried to say hello to Davis at team functions.
"This is not Al Davis' football team anymore," Papa said on the air. "And maybe that's my own mistake. That I never realized it. … I should've realized it years ago. But I am realizing it now."
Translation: Mark Davis is running things now, and Papa hasn't always been crazy about the new owner's decisions. Papa is not alone. Many East Bay fans have lamented Papa's departure this week, seeing it as one more Oakland tie that Davis has severed from the Vegas-bound franchise.
So much of sports' appeal is about the sense of tradition and continuity. And Papa's firing chips away at that sense. The younger Davis in recent years has already bid good-bye to several of his father's confidants, including former senior PR executive John Herrera and former Raiders CEO Amy Trask.
Other Davis maneuvers reveal a pattern of decisions that appear to be driven more by hubris and petulance than steady decision-making.
He fired Raiders public relations executive Zak Gilbert in 2013 because Davis reportedly took umbrage to a Sports Illustrated article that portrayed his father as being out of touch in the final years of his life. Also, Marcus Thompson reported last season in The Athletic that Davis sometimes vented his anger at then-head coach Jack Del Rio on the team plane after losses. After finishing 6-10 last season, Davis fired Del Rio, even though he was the only coach to lead the Raiders to the playoffs during the Davis-McKenzie era.
And now Davis has fired Papa for indirectly criticizing him and various decisions he's made while managing the Raiders. All too often with Davis, loyalty is a one-way street.
Papa is regarded as one of the NFL's best announcers. He also does a great job calling basketball and baseball games. He'll land on his feet with a new play-by-play job in no time. Personally, I hope he ends up back with the A's, for whom he was the television voice from 1991 to 2003.
But after 21 seasons of excellent work as the voice of the Oakland Raiders, Papa deserved better than what he ultimately got from Mark Davis.
A lot of people in Oakland can relate. Just ask Khalil Mack.
Chris De Benedetti writes a regular sports column for the
Express.