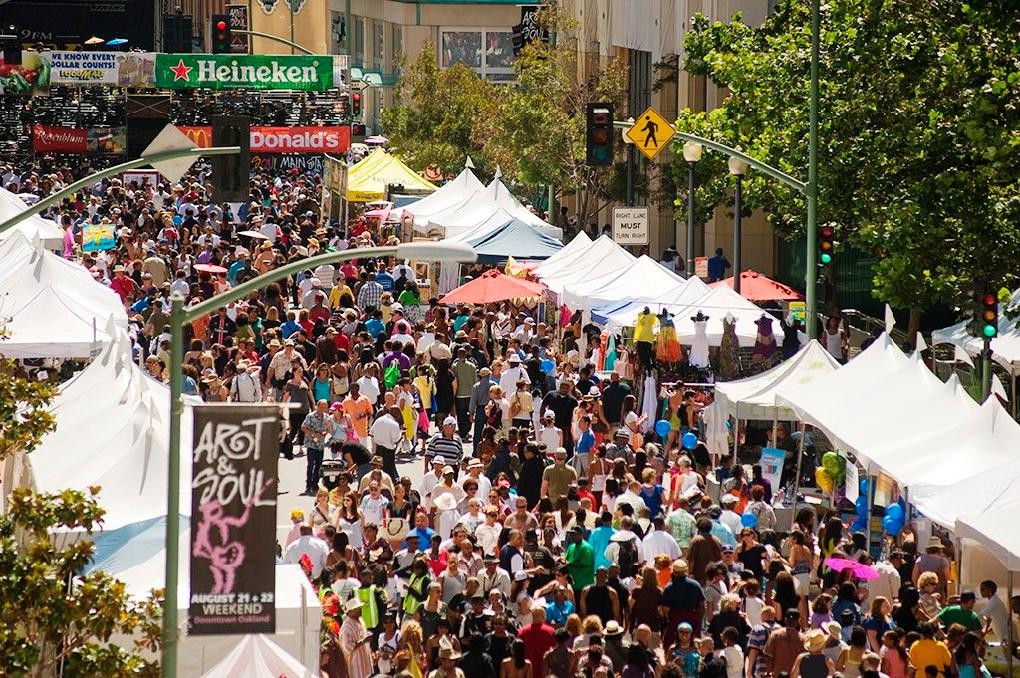 Art + Soul Oakland, the music and art festival that's an intrinsic part of summers in the Town, returns this weekend. Now in its 17th year, Art + Soul is continuing its tradition of honoring local musicians, artists and businesses. With the accelerated rise in festivals and an ever-changing landscape in downtown Oakland,  a homegrown one that comes back year after year at an accessible price point and a commitment to highlight local talent stands out as special. Beyond the stage and art vending booths, this year's Art + Soul is also featuring brews from Oakland United Brewing and Temescal Brewing.
On stage, Saturday's lineup features hometown hero Goapele whose latest project,
Dreamseeker
, is an evolution of the singer's neo-soul and jazz sound. "Stay", a nostalgic love ballad featuring BJ the Chicago Kid, stands out in its trap leaning beat that serve the singers' soulful voices flawlessly. Those of us who missed her weekend residency at Yoshi's back in May can celebrate one of Oakland's finest on Saturday.
[embed-3]
Also on the lineup for Saturday is East Oakland singer and rapper
 Adrian Marcel
 who the
Express
profiled this June on his path from record label restrictions to an independent hustle that's found him success and freedom. Marcel's performance at Art + Soul will be his first in his hometown since his last album,
 GMFU
was released this spring. The project, which features production from Raphael Saadiq, travels comfortably from rap to R&B and back through 16 tracks.
[embed-2]
Taking the stage on Sunday is certified soul queen Angie Stone. Stone was last at Art + Soul in 2007 drawing the festival's largest crowds ever. Besides seven solo studio albums under her belt, Stone has also acted in stage productions, TV shows and films. Her set at Art + Soul will surely include her hits as well as classic covers infused with her soulful touch.
[embed-1]
Oakland-Panamanian duo, Los Rakas have been hard at work. They recently dropped the remix of Y.L.S featuring Baby Gas, Young Chop, D.A.GO & Chapp. The duo also teamed up with the Regulars Only crew for a house party a few months ago, and in September, they will have their own "Rakas Boat Dance Party." If you still have not seen Los Rakas live, their performance at the festival is your chance. As Oaklanders, it's quite an honor that they will get to perform on the main stage.
– Azucena Rasilla


"Original music that's bringing the boogie to ya booty," that's how this group of nine musicians define what Midtown Social is all about. Their eclectic combination of sounds is infections, and sure to put you to dance. The Art + Soul Oakland festival is the perfect stage for the band to showcase their music. Being local musicians they understand the struggles faced by the creative community, but soaring rents, and vapid gentrification will not prevent Midtown Social from continuing their quest to produce and perform. Don't miss their set at the Oakland Jams stage on Sunday August 20. –
AR
Free for children 12 and under, $7 for 65+ and youth 13-17, $12 for adults, August 19-20. For full lineups and more information, visit ArtAndSoulOakland.com.