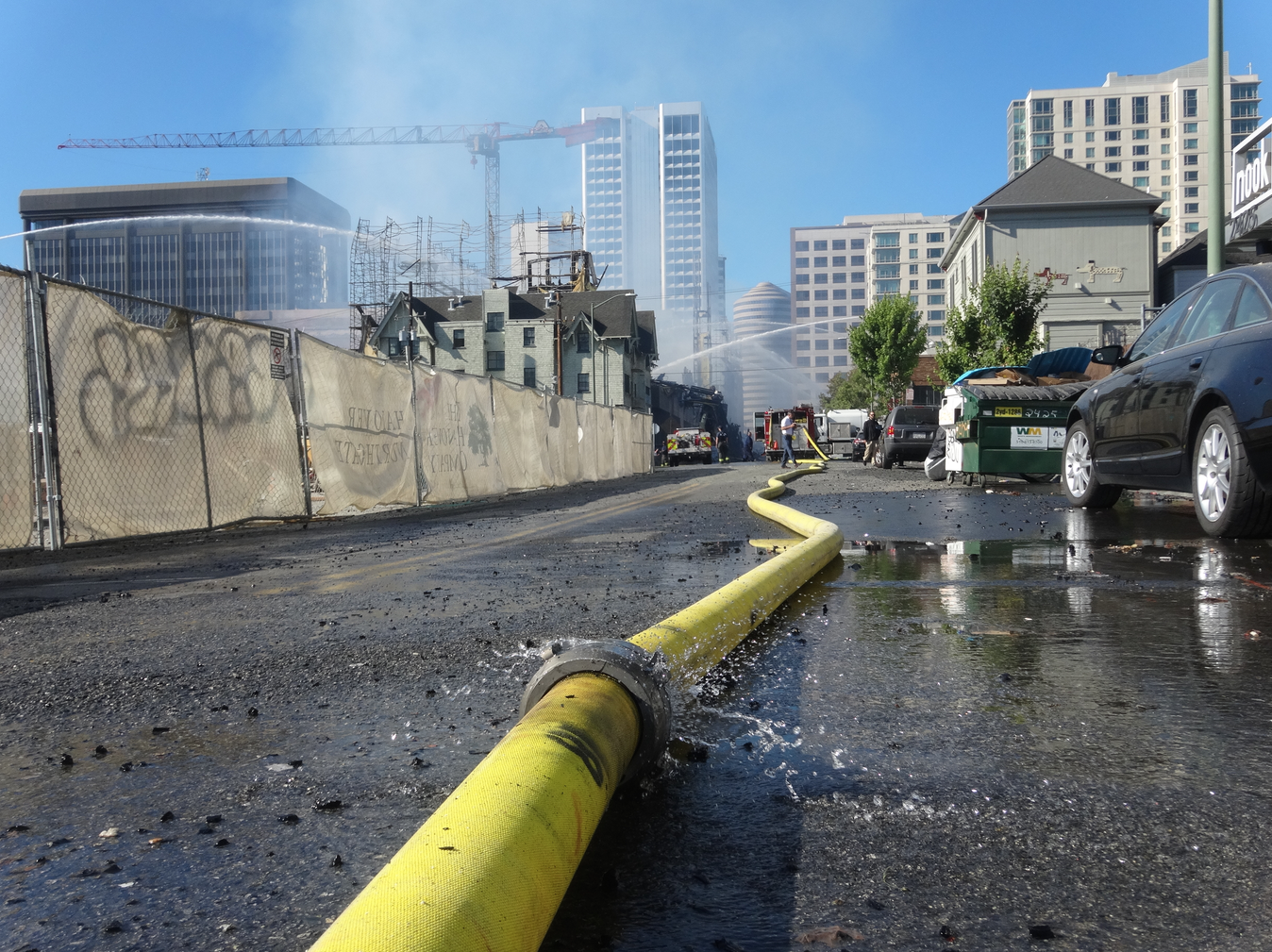 Another under-construction building went up in flames at approximately 4:50 a.m. in Oakland today.
The four-alarm fire was so hot, it lofted large cinders into the sky and scattered them blocks away.
A National Weather Service satellite
spotted the blaze from space
and estimated it reached a temperature of 900 kelvins, or 1,160 Fahrenheit.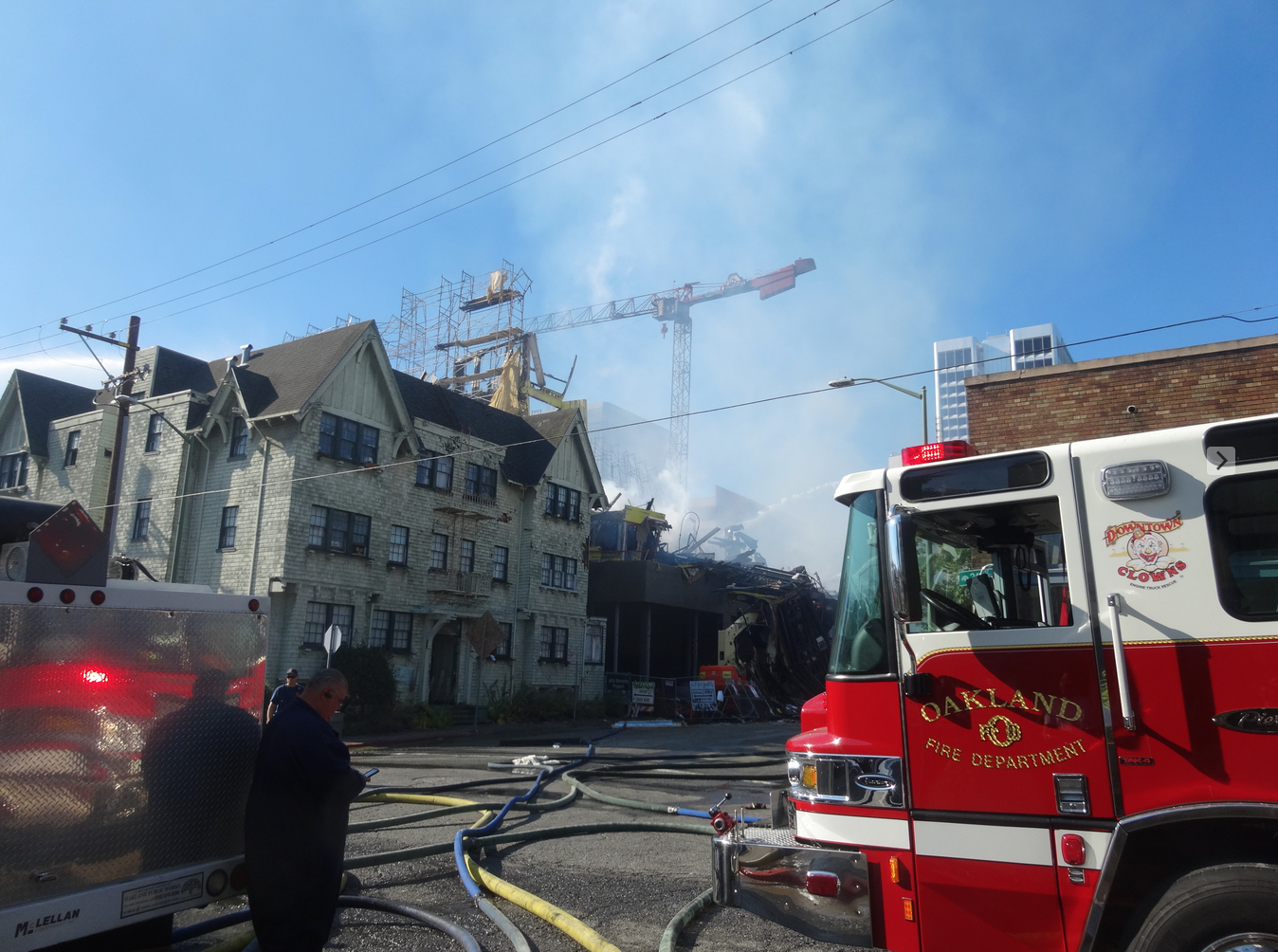 Nearby residents were evacuated from apartments for fear the flames and heat would jump to occupied buildings.
Fire crews from Berkeley and Alameda County joined Oakland firefighters in extinguishing the inferno.
And although the cause isn't known, it's of course possible this was another arson: This is at least the fifth major construction site fire since 2012 that is being investigated by federal and local authorities.
The Oakland field office of the federal Bureau of Alcohol, Tobacco, Firearms, and Explosives told the
Express
 this morning that they couldn't comment immediately as to whether they're investigating today's fire, but agents were spotted at the scene alongside Oakland Fire Department investigators.
Oakland Councilmember Abel Guillen tweeted in frustration this morning about the recent fires at construction sites in Oakland and the possibility that arson is to blame.
[embed-1]
There have been a string of fires since 2012 set purposefully to destroy new development in downtown and West Oakland.
In 2012, the multistory wooden framing of an under-construction senior center, near the West Oakland BART Station, was burned to its first-story concrete podium. Officials determined the fire was arson, but never made an arrest.
Last July, a large under-construction building near the Oakland-Emeryville border was torched when someone set a fire in a stairwell. Then in May of this year, a fire started in the same stairwell.
ATF investigators say it was arson, again.
But no arrest has been made.
Last October, a large new housing project going up near Lake Merritt on Lester Avenue was destroyed by a fire.
ATF and Oakland fire officials investigated the suspicious fire
, but no one has been arrested.
The fires all start in the early hours of the morning.
So far, no one has died as a result. But residents of adjacent buildings have been displaced.
The 196-unit building that was destroyed this morning was a project of Wood Partners, a national housing developer.
"We are grateful that no injuries were sustained and we are working closely with local fire officials and investigators to identify the cause of the fire," said Joe Keough, the CEO of Wood Partners in a statement released today.
Oakland currently has no permanent fire chief. The city's previous chief retired earlier this year following the Ghost Ship tragedy that killed 36 people.
The Oakland City Council also cut $1.5 million from the fire department's 2017-2019 budget. This means that one of two planned academies will be cancelled, preventing the hiring of more firefighters in 2019, unless the council finds more money to reinstate the planned second academy.