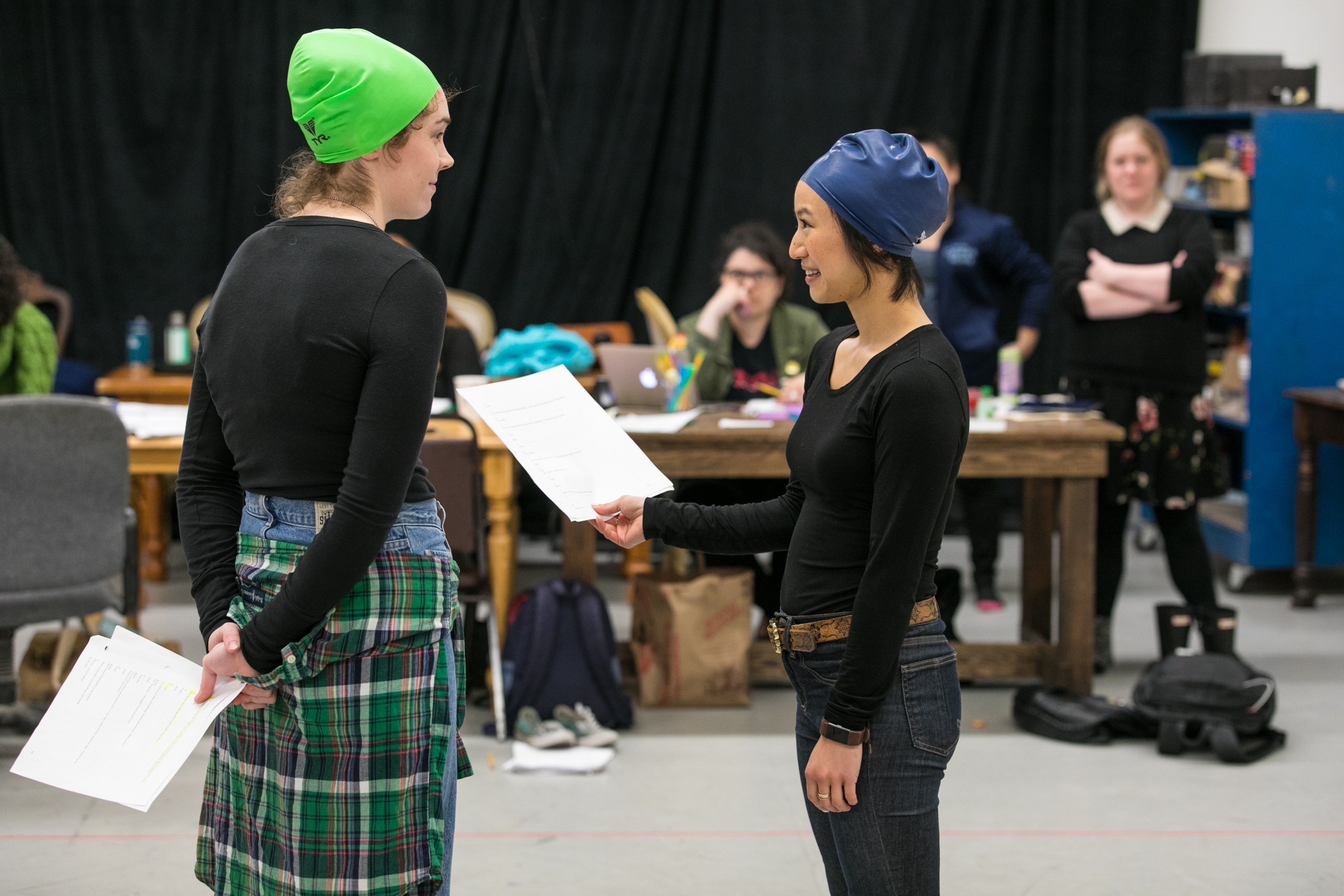 Ariel Craft doesn't miss a beat.
In fact, beat work is the theme of the day's rehearsal at Shotgun Studios in North Berkeley. Crouched on the floor like an alert woodland creature, she watches a quartet of actors run a scene from their upcoming performance of Ruby Rae Spiegel's Dry Land, stopping them at each change of position to work out what exactly is going on. More often than not, she prefaces this break in the action with a question: "Why does Bryan suck?" "What about Jamie?" "Are you uncomfortable, or is this fun?"
As they progress through the scene, each actor offers their own line of inquiry. Grace Ng, who plays the role of Ester, wants to know why she's putting her friend Amy (played by Martha Brigham) on the spot. Another actor wonders aloud how to walk across the room without it seeming "stagey." They work on it until it's decided that an entirely different blocking will serve the moment better. They re-block it. It's better.
"For me, vision always comes down to questions," Craft told the Express. "At this point in my life, I don't do theater because I want to say something, I do theater because I want to unpack conversations, and I want to ask questions."
Throughout the rehearsal, Craft keeps everyone on point, moving forward, even when they have to rewind back a page or two, sometimes over and over, until they get to a place where each individual action serves the intention of the character performing it, from the way a hairbrush is held to the way a towel is thrown. Her demeanor is laidback, unruffled, as she and her cast follow each line of inquiry to its endpoint, a collaborative process rich with anecdote and laughter. At one point, she tells the actors a story about a theater instructor she'd had who demanded his students abstain from sex four days before a performance, so as not to fritter away their creative juices. She has no script in hand but never loses her place in it.
At just 29, Craft has a formidable directing résumé, thanks in part to the robust production schedule of her own San Francisco theater company, the Breadbox, which reluctantly disbanded in 2017 after their Mean Girls-reminiscent Shakespearean remix, MacBitch. She's also served stints at the Custom Made Theatre Company, American Conservatory Theater, and, for the past three years, the Cutting Ball Theater, where she's taking over from co-founder Paige Rogers as artistic director on July 1. Among other work, she's helmed productions of Martin McDonagh's The Pillowman, Federico García Lorca's Blood Wedding, Jean Racine's Phèdre, Paula Vogel's The Mineola Twins, and an adaptation of Kate Chopin's The Awakening. Dry Land marks her first production with Shotgun Players, and she couldn't be more thrilled.
"I literally just moved from the East Bay to San Francisco, and I immediately get a job in the East Bay," she said with a laugh. "But I've respected Shotgun for so long, and wanted to work there for so long, it was kind of a dream come true to have this opportunity."
Patrick Dooley, Shotgun's artistic director, has been following Craft's directing career for some time. Having her in the season is something he's been hoping for since she first appeared on his radar a few years ago. Both Dooley and Craft are also excited that Shotgun's production will be the first full run Dry Land has had in the Bay Area, since they'd each expected a larger theater to grab it first. From its first glowing review in The New York Times in 2014 — a review that first turned Craft onto the script — Dry Land has garnered attention in part because of its graphic subject matter; the powerful focus of its youthful playwright, Ruby Rae Spiegel, who wrote the first draft of the play as a high school sophomore; and its unvarnished frankness — a shameful rarity in the canon of roles written for young women.
While the major action of the play revolves around one character's unwanted pregnancy and how she chooses to deal with it, it's also very much a play about female connection and the myriad ways women relate to each other, particularly under pressure. Much of the play takes place behind the closed doors of a high school locker room, offering an almost voyeuristic view into the complex world of teenage womanhood, and all of the mental and physical vulnerabilities that state implies. And while overall the piece is starkly naturalistic, the usually more experimental Craft finds herself drawn to Spiegel's precocious maturity and deep understanding of the turbulent waves of human emotion.
"I'm just really uninterested in monochromatic emotional experiences," she emphasized. "I don't really believe those exist in the world."
With a predominantly female cast, an all-female design team, and Craft at the helm, Dry Land's gender ratio is significant in the world of theater, where parity is increasingly a part of the cultural conversation but not always concretely applied. Ultimately what Craft is most excited about is the opportunity to work with a script that features a female experience that is grittier and more in keeping with her aesthetic than what she calls the "soft stories" that she frequently encounters as a female freelance director.
"As we talk about representation of women in theater, [we should be] thinking about it not just in terms of how many women do you have in your season but what kind of narrative are women contributing to your season.
"I tend to be a little sharp and a little rigid and a little athletic," she continued, "and those are not narratives that are often given to female artistic leaders or female directors. So I feel that that's the next charge of representation … figuring out how the narratives that underrepresented voices get to tell are not tokenized and not assumed to be one thing, and for me personally, that means revolutionizing what people think a female-led story can look like."
Runs May 17 through June 17, $8-$40, Shotgun Players, 1901 Ashby Ave., Berkeley, ShotgunPlayers.org.