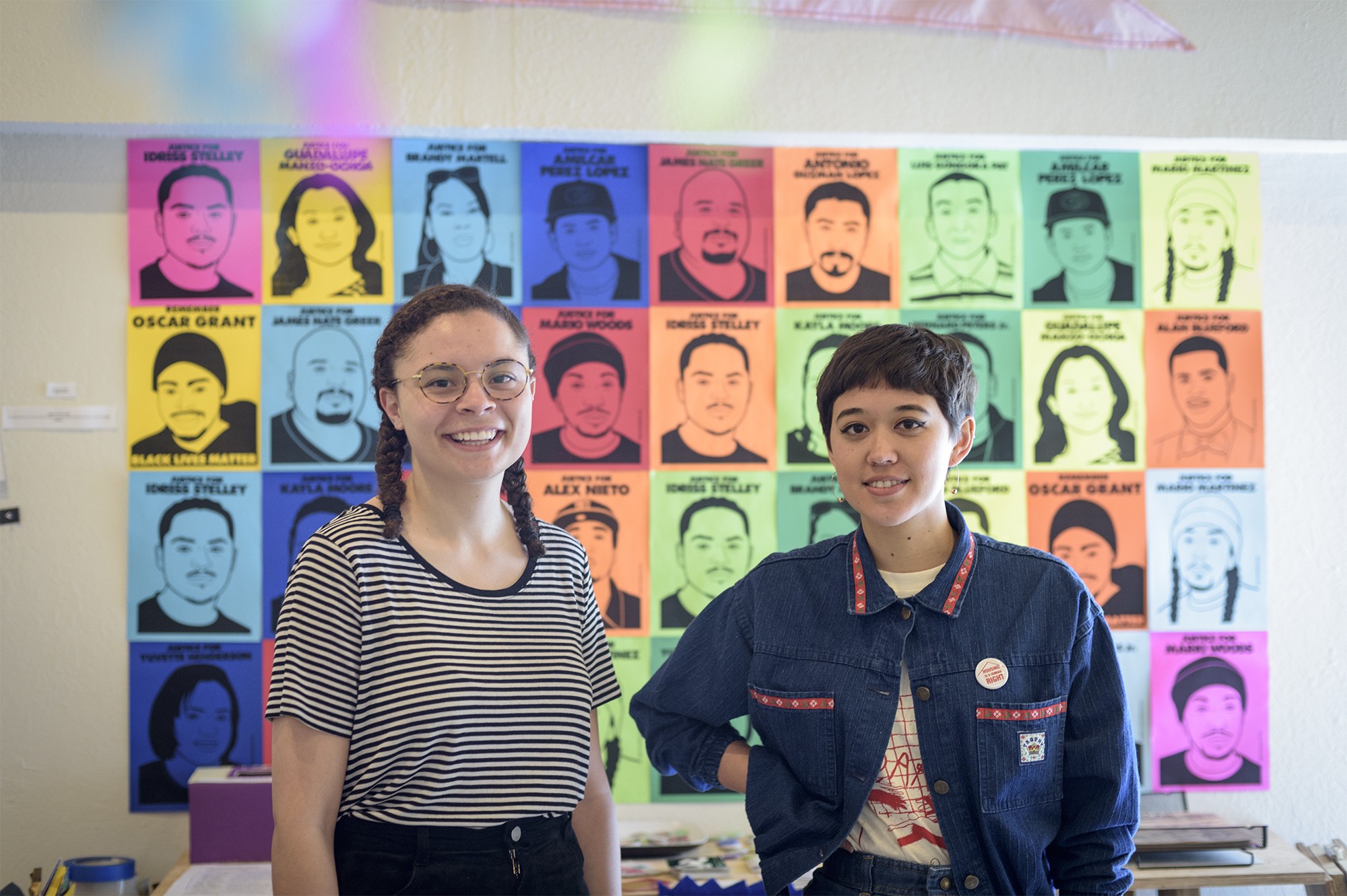 On a recent Tuesday night at an Oakland gallery, two dozen or so guests gathered in a tight circle. It was an intimate space, crowded with stools, bookcases, and political art installations. Pasted to one wall was an anti-fascist "spell," written in all caps, by an anonymous group of self-identified witches. On another, a series of posters demanding justice for victims of police killings. A pink piñata hung from the ceiling.
The occasion for the gathering was "More Life," one in a series of events for Anti Lab, a project taking residency at Gallery 2301 on Telegraph Avenue. Eight local writers read poems and personal essays addressing experiences of rape, heartbreak and loss, as well as queer romance and sexual awakening.
Open every Tuesday, Thursday and Saturday through May 13, Anti Lab is a kind of clubhouse for creative resistance, a meeting place for people who want to transform their frustration with the current political climate into action. Anti Lab's calendar features everything from a tenants' rights workshop presented by the East Bay Community Law Center to weekly screen-printing hours and a trans photo booth. All for free.  [pullquote-1] Organized by former Express managing editor Sarah Burke in collaboration with zine-maker Holly Meadows-Smith, the space functions as both an education and resource center and a hub for artists and activists to disseminate their work. Anti Lab's space is home to printers, copiers, button-making tools and even a small library.
"I started thinking about it as this factory where people can come and participate in a kind of collective mass production of aesthetic disruption," Burke said. "Even if one person comes in and just makes a pin, they're contributing to this collective production of these reminders that we can't just go on with business as usual."
The project was inspired in part by the work of artist and UC Berkeley professor Stephanie Syjuco. Last November, Syjuco began making a series of felt banners with anti-fascist and anti-Trump messages.
A few of those banners hang at Anti Lab, including one that depicts a hawk lunging at an image of the blue Twitter bird logo wearing an orange toupee. The words "TOTAL TWIT" are sewn at the bottom.
The banners were her personal response to the election. "I have a tendency to revert to these forms of making that exist both as a way to express ideas, but also to produce a form of comfort for myself," Syjuco explained.
She later published the templates for her banners in an open Google Drive. "By making them public, I thought people could remix and remake them in different ways," she said. Other pieces on display at Anti Lab share this open-source ethos.
The activists and self-described "Internet witches" that make up the Yerbamala Collective, for instance, published their spell-poem as a PDF on Tumblr, and all of the portraits in Oakland-based illustrator Oree Originol's "Justice for Our Lives" series are available for download on his website.
[pullquote-2]For many people, social media is the most natural place for this kind of reflection and political organizing. "A lot of what I saw after the election was all of this sharing of resources online," said Meadows-Smith, listing off a series of Google Docs and PDFs she saw post-election: syllabi for reading up on black liberation, 'ICE Know Your Rights' cards and a how-to guide to for reproducing Syjuco's banners.
Meadows-Smith explained that although online access to these resources has increased, not everyone is on Facebook — or even online at all. "Being able to take these resources offline and physically get them in the hands of people was a huge part," she said.
Furthermore, access to these open-source projects doesn't always translate into participation or engagement. That's why Anti Lab's focus is broader than just housing political artwork and analog resources; it also curates collaborations with local organizations and artists that share their expertise, which makes for a creative and engaging space.
Guests who visit its library, for example, are invited to collect meaningful excerpts from their readings and use the lab's photocopier machine and zine-binding materials to publish them in a personal booklet, all free of cost like the rest of Anti Lab's offerings.
By sharing these materials for free, Anti Lab is expanding the notion of who gets to participate. "Well 'sharing' sounds kind of cheesy," said Burke. "We've been thinking about how giving away things for free is actually radical."

Tuesdays, Thursdays and, Saturdays through May 13, free, 2301 Telegraph Ave, Oakland, AntiLab.xyz