At age 96, Grace Lee Boggs is one of the nation's oldest, radical, women of color activists. For the last seventy years she has been involved in nearly all of the major social movements, including labor, civil rights, black power, feminism, Asian-American rights, and environmental justice. Cornel West hailed her as "one of the great freedom fighters in the history of this nation." In spite of needing hearing aids, Boggs' silver-swept noggin is still sharp. Which is why her message to activists today may be surprising.
Her most recent tome, The Next American Revolution: Sustainable Activism for The Twenty-First Century, written with Scott Kurashige and published by University of California Press, challenges people to reimagine revolution and focuses on visionary organizing. "Being involved in a movement in the United States, you choose one of two roads," she said in a recent phone interview. "A lot of people get involved in protest organizing, or you can get involved in what I call 'visionary organizing.' I have had the fortune to be involved in visionary organizing, where I see the possibilities in a negative situation of creating something new and positive. You can get really burned out if you do a lot of protest organizing because you keep hoping that your protests will get powerful enough, big enough, dangerous enough so that concessions will be made by those in power." It becomes a "hopeless situation," she said.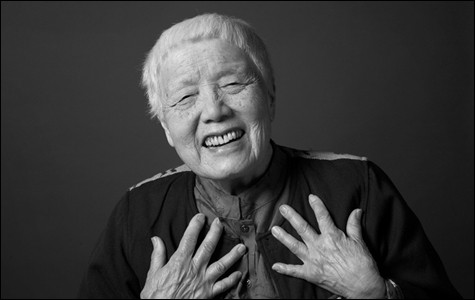 Boggs, along with longtime activist Angela Davis, will talk about what revolution means in this day and age at the kickoff to the annual Empowering Women of Color Conference at UC Berkeley on Friday, March 2. Together, Davis, 68, and Boggs have more than a century of activism experience. African-American Davis, a professor emerita at UC Santa Cruz, has been involved with the Communist Party, Black Panther Party, and prison abolition movement.
Boggs is arguably the lesser known of the two. "She's very well-known in Detroit, but knowledge of the profound impact she's had on the urban movements is less well-known outside of Detroit," said Veronica Garcia, coordinator of the conference and graduate student in UC Berkeley's School of Social Welfare.
Boggs was born in 1915 in Providence, Rhode Island, to Chinese immigrant parents, above her father's restaurant. She later married James Boggs, an African-American autoworker and activist, and moved to Detroit. Together, they were among a close group of revolutionaries including Trinidadian Marxist C.L.R. James and Russian-born Marxist Raya Dunayevskaya. "One Alabama-born African American, one New England Yankee, one Jewish American, and one Chinese American — we reflected the American experience," Boggs describes in Revolution and Evolution in the Twenty-first Century, the republication of a book she co-authored with her (late) husband in the 1970s.
Boggs is sometimes compared to two other Asian Americans: Berkeley resident Yuri Kochiyama, friend of Malcolm X, and the late West Oaklander Richard Aoki, one of the first members of the Black Panther Party and friends with founders Huey Newton and Bobby Seale. All three are noted particularly for their involvement and leadership roles as Asian Americans in black power movements. Like Boggs, they recognized that African Americans were at the forefront of revolutionary struggle.
In the last two decades, Boggs has been working with Detroit Summer, a program she co-founded in 1991 with other Detroit community members. Together with multiracial youth and elders, they've rebuilt the community from the ground up. Seeing an opportunity amidst the city's declining population, they helped transform vacant lots into community gardens, where multiracial youth paired with mostly African-American elders, many from the South, who had experience growing food.
"In Detroit, we saw soup and bread lines," Boggs said. "In the South, you didn't see that. In the South, people grew food and raised their own chickens."
In addition to her work with Detroit Summer, the nonagenarian regularly blogs for the Boggs Center, a leadership development organization in Detroit named after her and her late husband, and writes for the Michigan Citizen, a weekly paper. She's also been known to use Skype. When the Occupy movement began last fall, she took the opportunity to address it via YouTube, in a video captured by filmmaker Grace Lee (no relation), who's making a documentary about Boggs.
"I want to say thank you for breaking through the silence," Boggs said in the video. "Thank you for starting a movement, but you have a long way to go. This enemy of ours is not just Wall Street, it's the whole culture. It's the way of looking at us and valuing ourselves and each other. And how you are going to move beyond challenging Wall Street, how you are going to move to become part of the solution is not going to be easy. You're going to have to do a lot of thinking. You have to look at how you yourselves have become part of this culture. Many of you would be happy if you could become part of Wall Street, become part of the corporations, if they would give you jobs. There's a long road ahead because you'll have the opportunity to create something new that's based on completely different values, but you're going to have to be thinking about values and not just about abuses."
To that end, Boggs' speaking engagement at UC Berkeley should have particular relevance to local Occupy movements. The activist said she's looking forward to engaging with the Bay Area audience. The public event is free, and Garcia expects the Pauley Ballroom to reach the maximum capacity of 999. The dialogue will be moderated by Laura Perez, professor of Ethnic Studies and Chicano Studies at UC Berkeley, who teaches about Davis and Boggs in her courses.
Laney College student Vincent Saephan, who's active in two Oakland youth groups, AYPAL: Building API Community Power and Serve the People, said he heard Boggs speak in Detroit during the U.S. Social Forum in 2010. He plans on attending the event with a group of youth. "[Boggs and Davis] been organizers for a very long time," he said, "and I look forward to hearing from them about organizing and making a difference in our communities, especially since I'm young and I'm involved in a lot of these community organizations."
Saephan believes that Oakland and Detroit face similar struggles, particularly around education and violence. He said that even though circumstances are tough, students should take on leadership roles. "Students [should] take initiative to push themselves. If they don't have the textbooks that they need, they need to find resources. And just working together to help make things change, like going to council meetings or joining the OUSD task forces, to tackle our budget issues and our education process."
This is a notion that Boggs would likely approve of — she hopes that people move beyond being victims to becoming activists and visionaries. Boggs, who was born before women could vote and went on to earn a Ph.D in philosophy, remains ever hopeful about opportunities for change.
"To re-imagine revolution is an opportunity and a challenge to all of us," she said. "And I see my visit to as an opportunity to spark that discussion among many people. I think the question of how we make our livings is a very crucial question today. It can't be answered only in material terms. People are also asking, 'How do we make a life that's worth living?' I think profound philosophical questions are at stake."