Obama administration prosecutors this week appear to be defying repeat orders from Congress to leave state-legal medical cannabis operators alone. Instead, the Department of Justice continues to harass one of the movement's longest-running, most outspoken, and resilient activists.
On Friday, December 18, US prosecutors appealed to the US Court of Appeals for the Ninth Circuit to block Marin County resident Lynnette Shaw from re-opening her state-legal medical marijuana dispensary, the Marin Alliance of Medical Marijuana (MAMM).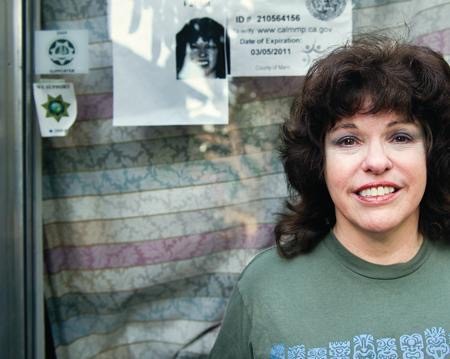 The DOJ is seeking to appeal an
October ruling
in which District Court Judge Charles R. Breyer lifted an injunction on Shaw, and blasted the DOJ for ignoring new Congressional law barring US prosecutors from "interfering" with the "implementation" of state medical marijuana policy.
Breyer called the DOJ's arguments "tortured" and ruled in favor of the plain meaning of the historic
Rohrabacher-Farr Amendment of 2014
.
With the Shaw appeal, the Obama Administration will re-try its argument that Congress only blocks the DOJ from threatening state officials.
Speaking on the phone, Shaw said she will take her case all the way to the US Supreme Court if she has to and will end the war on medical cannabis for good.
"I can't believe they're wasting this time," she said. "We're going to the Supreme Court, and I'm going to win. We're going to end this."
[jump] Shaw's been a figure in federal-state conflict over medical pot law for almost two decades.
After Californians legalized cannabis in 1996, Shaw opened up the Marin Alliance for Medical Marijuana in Fairfax — California's first state-licensed dispensary, and its oldest. (Until 2015, California delegated medical cannabis licensing to counties and cities.)
The feds filed an injunction against Shaw in 1998, and used the injunction to officially shut her down in 2011 — as part of a statewide crackdown targeting medical cannabis' leading lights: Oaksterdam's Rich Lee; the Berkeley Patients Group; Harborside Health Center; the City of Oakland; and Mendocino County.
Last December, the Rohrabacher-Farr rider zeroed out funding for any DOJ efforts to interfere with state medical pot laws.
Shaw motioned in June to dissolve her injunction, citing the rider. US attorneys argued against her.
In practice and in court, the DOJ rejects Congress' historic ceasefire on medical cannabis. Rohrabacher-Farr simply halts DOJ harassment of state officials, the DOJ argued in briefs.
Judge Breyer disagreed and ruled Congress meant what it said it meant — leave lawful state-legal medical cannabis alone — and lifted Shaw's injunction.
Shaw said she'd won the war. The ruling set a powerful precedent, giving a potential shield in court to lawful state operators across the country.
Now, the DOJ is challenging that shield with an appeal to the Ninth Circuit using the same arguments that lost in the first round, said Shaw's attorney Greg Anton.
"What can they say?" said Anton. "It's just nuts."
"I feel very strongly that we'll prevail because the government really doesn't have an argument."
The thirty-year veteran Santa Rosa attorney Anton called Judge Breyer's ruling "one of strongest district court opinions I've ever seen."
The DOJ's appeal may constitute a crime under the federal Anti-Deficiency Act, which bars federal employees from contravening Congress' powers of the purse, said Anton.
"They write about 'breaking the law' in their briefs — [they need to] look in the mirror."
The decision to appeal the Shaw case must have come from the White House,
federal memos
indicate, and Anton believes.
"This is coming from people that meet with [President] Obama, and it is not made lightly. It's not like [President] Obama doesn't know about it."
Both Governor Jerry Brown, and several state representatives, including Congressmember
 Barbara Lee
— have asked the DOJ to desist.
The feds can focus on clearly illegal activities like interstate drug trafficking. Instead, they're hounding one of the most compliant industry operators in California history.
"If Mother Theresa was trying to distribute medical cannabis to people with cancer, they would go after her to make an example," Anton said.
Amidst nationwide fears about domestic terrorism, the waste of funds on medical pot is "abhorrent," said Anton.
The appeal may take up to a year at the Ninth Circuit, and one or two years more if appealed to the SCOTUS.
In the meantime, Shaw said she is "innocent until proven guilty." She's raising money to open a dispensary in West Marin, and working to update cultivation regulations in her old town of Fairfax.
Congress also renewed its ceasefire in the war on medical marijuana on Friday with
more states and lawmakers
in support than
last year
.
More than 80 percent of Americans support safe access to medical cannabis-derived products.