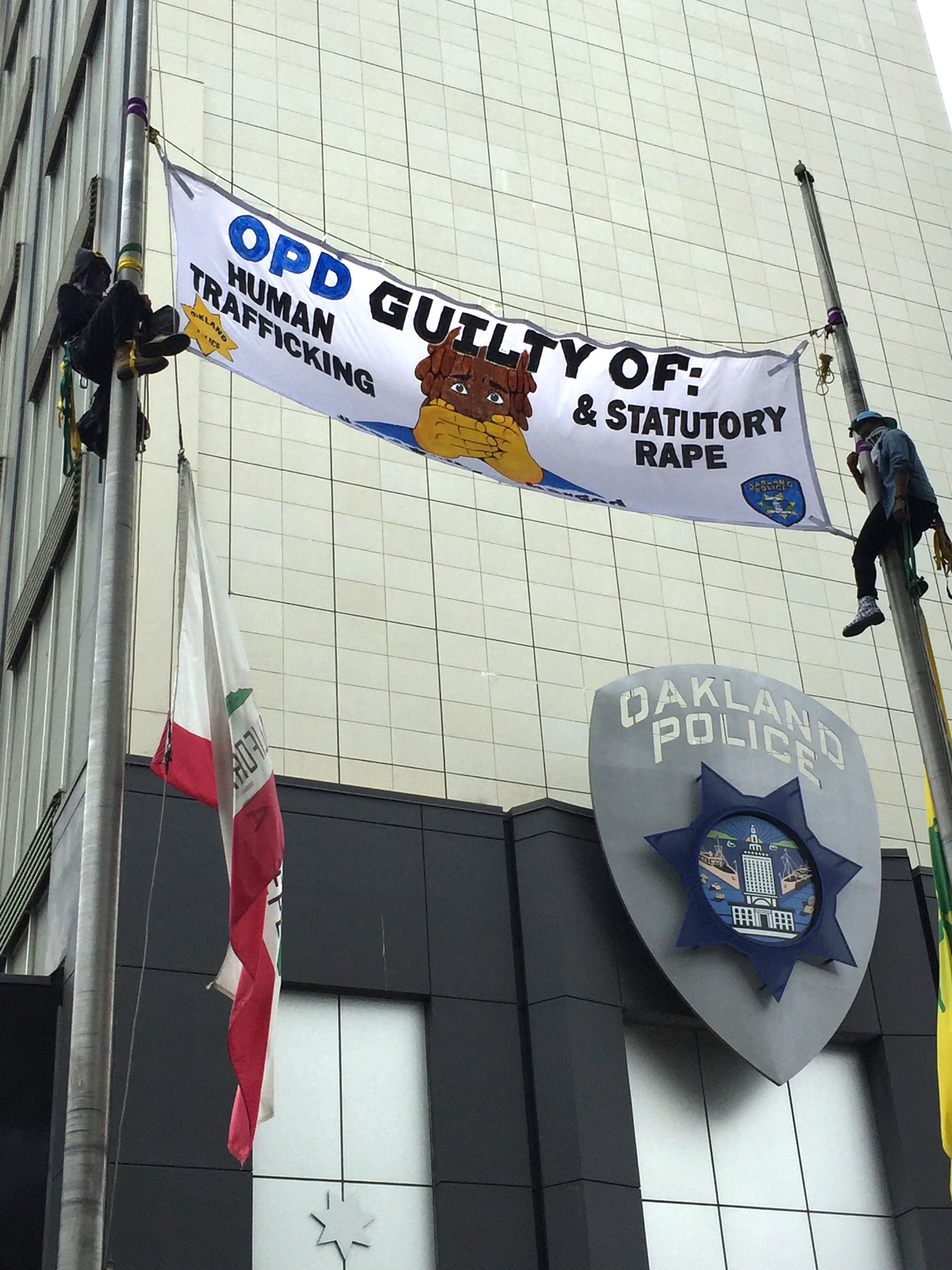 At the end of a nine-hour meeting that went until 2 a.m. this morning, the Oakland City Council approved a $989,000 claim filed by the young woman known as Celeste Guap.
Guap, who is now 19-years-old, was sexually exploited by upwards of 30 police officers and sheriff's deputies from various Bay Area police agencies between 2015 and 2016.
The daughter of an Oakland Police Department dispatcher, Guap has said in past interviews that she was a commercially exploited child sex worker, and that she met several Oakland cops while she was still underage and working on the streets.
Her treatment at the hands of numerous police officers, and the resulting scandal due to the Oakland Police Department's effort to cover up an internal investigation of the incidents, led to the resignation of three police chiefs last year, and the filing of criminal charges against multiple current and former police officers from Oakland, a Livermore cop, and a Contra Costa sheriff's deputy.
"The settlement occurred with no admission of liability, but obviously if you pay $1 million, you figure you got some responsibility," said Guap's attorney John Burris in a press statement issued today.
Councilmember Desley Brooks registered the sole no vote against the settlement, saying she believed the young woman's suffering wasn't fairly compensated, and that it is wrong for the city to claim no responsibility.
"Think about this young girl, who was victimized under the color of authority," said Brooks. "There is something wrong with this."
Oakland Mayor Libby Schaaf characterized the settlement as a quick and fair resolution, and said in an emailed statement that she and her new police chief are focused on "rebuilding the public trust that was so damaged by this incident."
Schaaf said the city's new police commission would bring added oversight to the department.
"These steps further our commitment to consistently advancing best practices, holding officers accountable, and ensuring that OPD meets the highest standards of policing."
Councilmember Rebecca Kaplan said in a statement that the scandal was partly the result of OPD's lack of diversity and that the department needs to undergo a cultural change.
"We need to ensure that we are building the conditions that make it possible to have trust and healing between the community and our law enforcement officers, and cut sexual misconduct and other forms of abuse," said Kaplan. "This includes recruiting more women, LGBT people, African Americans and more people from Oakland."
The vote came after a lengthy city council meeting, much of which focused on Oakland's upcoming two-year budget. Numerous members of the public commented throughout the night that the city should spend less on its police, and more on homeless services and affordable housing.
Under Schaaf's proposal, the police department's budget would grow from $274 million this past year to $291 million in the 2018-2019 fiscal year.
Many commented that they think the proposed $250,000 two-year increase on homelessness services is too low. Members of an ad hoc working group on homelessness said the city should instead allocate $10 million next year to provide basic services like water, trash pickup, toilets, and fire extinguishers to the homeless camps, while also spending money to acquire properties as transitional housing.
As with all other costly police misconduct settlements, the nearly $1 million settlement in the Guap case will be paid out of the city's general purpose fund.