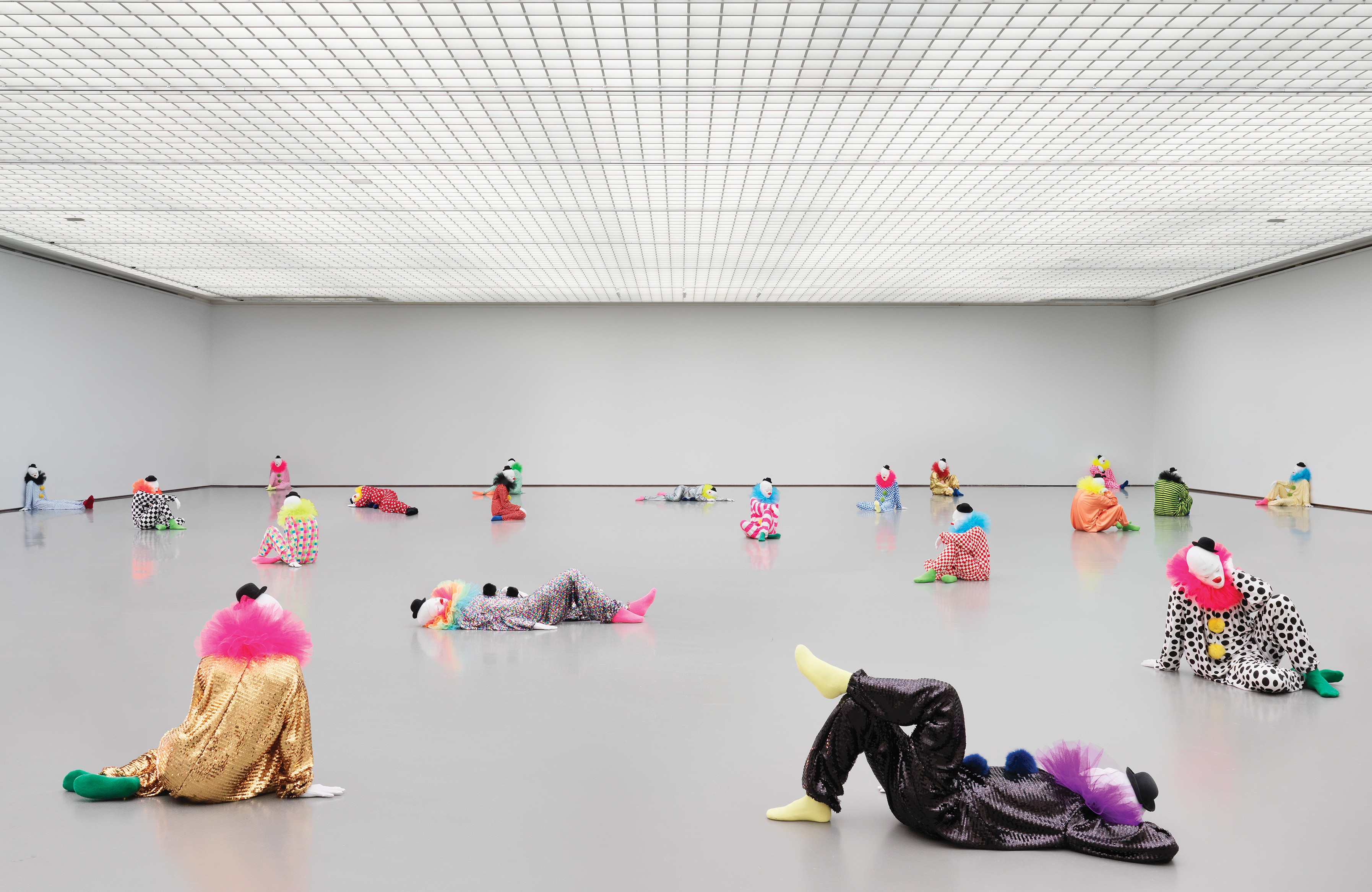 If the idea of entering a room full of 45 realistic clown sculptures makes you nervous, you're probably not alone. After all, reports of people in clown costumes harassing innocent bystanders made national news throughout 2016. And the fact that Stephen King's
It
is getting a reboot in theaters this fall isn't exactly easing the general public's coulrophobia. But for viewers who can get past the creepy clown stereotype, Ugo Rondinone's solo show at the Berkeley Art Museum and Pacific Film Archive (BAMPFA),
the world just makes me laugh
, is a revealing look into the relationship between the self we perform for the outside world and who we are when we're alone.
Clowns, with their connotations to circus and theater, are all about externalizing human emotions for entertainment and, ultimately, catharsis. But in Rondinone's immersive installation at the center of the exhibit,
vocabulary of solitude
, the 45 mannequin-like clowns are not in performance mode: They're in repose. Rather than 45 individuals, they represent the different actions of a single person during 24 hours spent alone. Walking through vocabulary of solitude is a voyeuristic experience that invites contemplation and self-reflection through its subtleties. To appreciate them, one must look past the spectacle of the clowns' flashy outfits and the exhibits' rainbow-hued palette.
Much of the emotional impact of
vocabulary of solitude
comes from the clowns' expressions, which range from relaxed to melancholy: Some nap on the floor; others hunch over with downcast eyes as if processing their own sadness. Some half-smile as if lost in a pleasant daydream. As you walk around the life-size sculptures, you can't help but feel as if you're walking in on the clowns while they're engaged in activities that aren't necessarily meant for public consumption.
This act of bearing witness to the clowns' loneliness contrasts with how eye-catching and Instagram-able
the world just makes me laugh is
. When I came to view the exhibit, BAMPFA's publicist offered to take a photo of me among the clowns and informed me of the show's official hashtag. But once I had spent some time alone with the installation, I began to identify with the clowns' meditative solitude and reflect on my own relationship with myself and those valuable, quiet moments that don't make their way onto social media.
[pullquote-1]The final room of
the world just makes me laugh
stands in sharp contrast to
vocabulary of solitude
. An enormous wax sculpture of a dim lightbulb anchors the space, whose walls are lined with Rondinone's 1998 fictional, illustrated diary from when he first moved to New York from Switzerland. Though fabricated, the diary entries shed light on Rondinone's mindset when he was a new immigrant with few connections in the city. The theme of being driven insane by loneliness comes up often and casts a shadow on the fun, colorful visual language of
vocabulary of solitude
.
Though loneliness can be maddening, true self-acceptance is learning to live with ourselves when we're alone, an important reminder Rondinone imparts with subtlety, curiosity, and imagination in
the world just makes me laugh
.
Ugo Rondinone's the world just makes me laugh is on view at BAMPFA (2155 Center St, Berkeley) through August 27, BAMPFA.org.