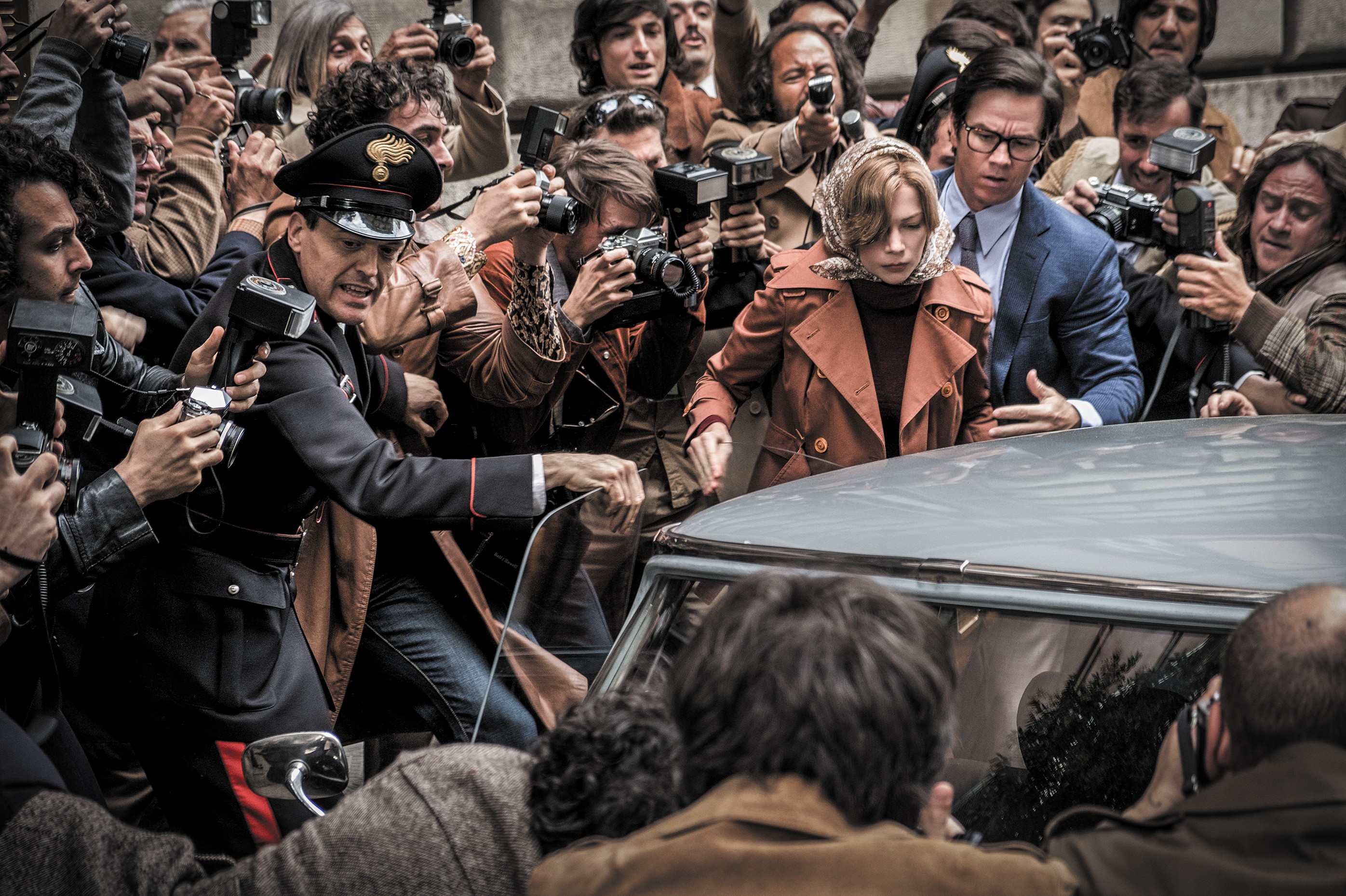 Good evening, and welcome to "The Rotten Lives of the Rich." Or so the outline of Ridley Scott's All the Money in the World would suggest. The mostly true dramatization — adapted by David Scarpa from a book by John Pearson, directed by Scott — of the 1973 kidnapping of John P. "Paul" Getty III, "Golden Hippie" scion of the Getty oil fortune, has all the ingredients for a satisfyingly lurid exposé of how the billionaire class treats its black sheep.
Nothing is ever easy with the super-rich. The movie opens with 16-year-old Paul (Charlie Plummer) being snatched off the night-time streets of Rome by a gang of Calabrese criminals in a van, after which the kidnappers demand a $17 million ransom from his grandfather, John Paul Getty (Christopher Plummer, no relation to Charlie), the richest man in the world. The old man refuses to pay even a dime to rescue his favorite grandson, the kid who used to help him answer his fan mail. This tight-fistedness does not sit well with Paul's mother, Gail Harris (Michelle Williams), who then negotiates with the gang as best she can, despite being locked out by Getty Sr. and lacking sufficient funds to pay the ransom herself. The kidnappers eventually lose patience, violently.
Scott's production made headlines with the firing of the original actor hired to portray Getty Sr., Kevin Spacey, over allegations of sexual assault. Plummer was then brought in to reshoot all of Spacey's scenes in less than a month. No stranger to this kind of role (Syriana), Plummer looks as happy as a poisonous toad installed in Getty's English country estate, keeping the world at arm's length while toying with his chess men. This man who washes his own clothing in his hotel room places no value whatsoever on his offspring's lives. When he finally pays off, the ransom comes in the form of a loan to the victim, in order to get a tax deduction.
Delightfully loathsome as the elder Plummer's characterization is, Williams matches him step for step as the dogged Gail Harris — possessed of an unyielding upper-class matronly hauteur — a constant thorn in her ex-father-in-law's side because of her refusal to give up custody of her children for any amount of money. She's joined in her efforts to free her son by one of Getty's henchmen, Fletcher Chase (Mark Wahlberg), an ex-national-security spook, to handle the rough stuff.
It gets pretty rough. The Calabrian hoods who grabbed Paul are allied with the 'Ndrangheta, the vicious Southern Italian crime cartel that traffics in illegal drugs, weapons, high-fashion clothing, and, when the situation calls for it, wayward rich kids. Their leader, Mammoliti, is chillingly portrayed by Marco Leonardi, star of director Francesco Munzi's Black Souls (2014); meanwhile, a sympathetic hood called Cinquanta (French actor Romain Duris) babysits the victim.
A separate, even more sensationally gossipy movie might have been made about the young life of Paul with his dissipated father John Paul Getty II (Andrew Buchan). As it is, we have to make do with a short but salacious flashback to the time they spent in the rich-hippie demimonde of Marrakech, Morocco, where the Gettys — including Paul's stepmother, model Talitha Pol — shot dope with the Rolling Stones. By the time of the snatch, Paul is a pretty blond boy living the swinging expat life, as long as it lasts.
Director Scott imparts his cautionary tale with a gilded visual luster and pointedly disapproving characterization. Old cheapskate Getty, who famously never buys anything — instead, he invests — is the living model of a corrupt capitalist, the sort of man who would give his favorite grandson a "priceless" Minoan artifact that in reality turns out to be a gift-shop trinket. The only genuine item, the thing that's not for sale, is Gail's maternal love for her son. Remember that the next time you visit the Getty museums in Los Angeles, where the old man's treasures now reside.

All the Money in the World
Directed by Ridley Scott. With Michelle Williams and Christopher Plummer. Now playing.