One hundred and thirty-one people were murdered in Oakland last year — that's the highest number since 2006. Other crime is up too, but the number of officers is down. So is police response time.
OPD Sgt. Chris Bolton says those numbers have consequences. "What is lost is time and ability to immerse ourselves with community members in positive interactions," he says. "What is lost is our opportunity and ability to attend community meetings, to take on roles in community organizations."
While struggling to meet its responsibilities, the police department is also under pressure to reform — it narrowly avoided a federal takeover late last year. The city already has an independent police monitor; officials have also agreed to hire a court-appointed compliance director. This person will have the power to fire top OPD commanders — including Chief Howard Jordan — as well as to change police policies and practices. He or she will also take on another thorny, persistent issue: the frequency of officer-involved shootings. Since 2010, there have been at least five incidents every year.
Jeralynn Blueford is the mother of the late 18-year-old Alan Blueford — a Skyline High senior fatally shot by an Oakland officer last May.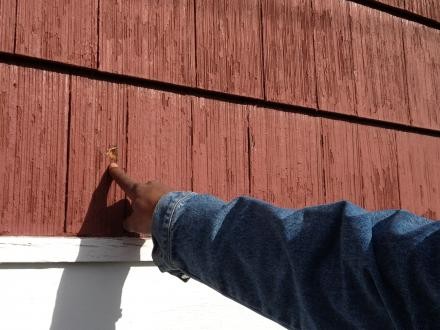 Adam Blueford points out a bullet hole from the night his son was killed.
"The inspector came down, gave us his card," she said to the Oakland city council and a packed chamber a week after her son was killed. "Informed us our son was in a, I'm quoting, 'Gun battle — a gun battle with the police.' We're like, 'Not our son, this is not our son. No way.'"