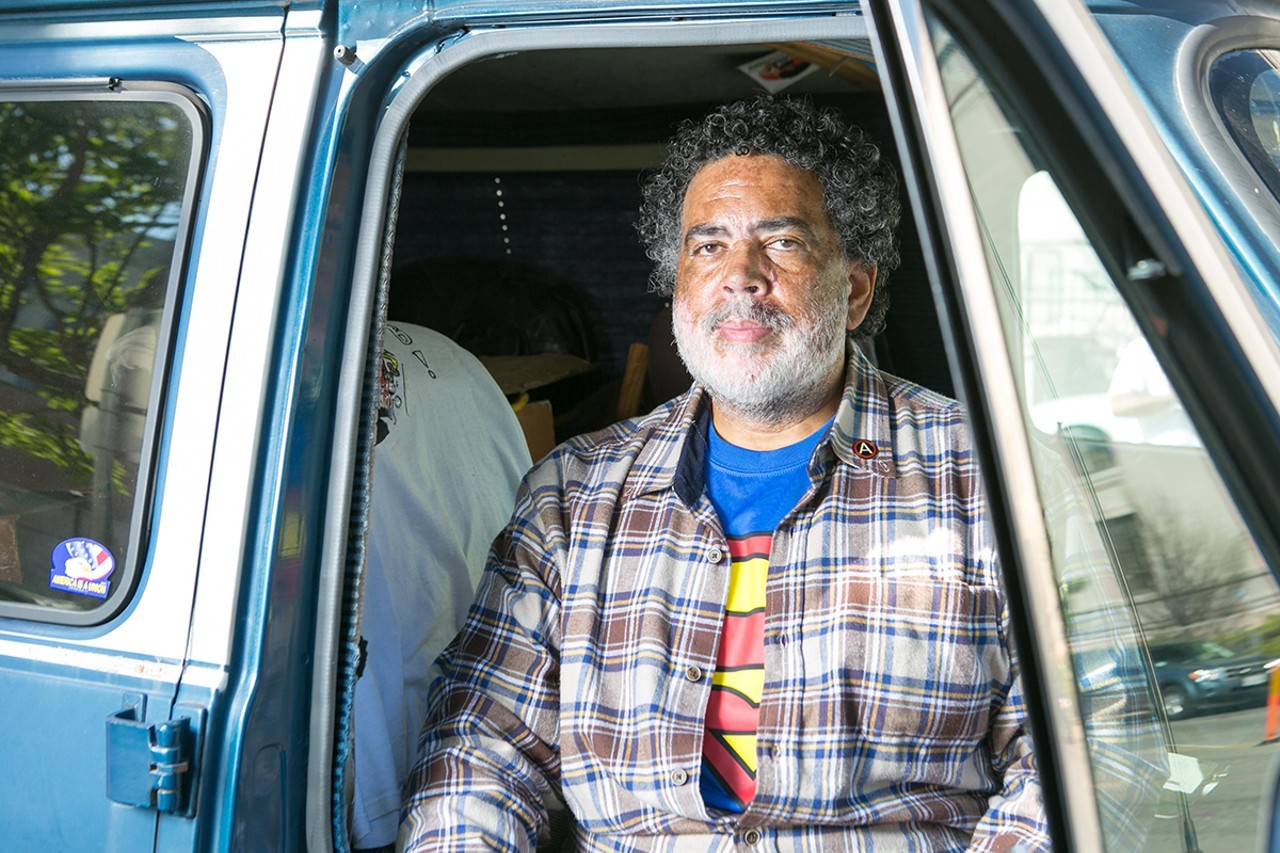 In this week's feature, "
The High Cost of Driving While Poor
," I explore how traffic court in Alameda County traps people in poverty with steep fines for minor infractions. Commissioners routinely issue the harshest punishments that state statute allows while failing to take advantage of the wide discretion they have to consider low-income people's inability to pay fines. Defendants accused of minor violations that involve no threat to public safety can very easily lose their driver's licenses after missing a court date or a payment on a fine. The system is particularly unjust, activists said, considering that police data has consistently demonstrated that
officers stop Black residents at disproportionately high rates
. 
For my piece, Alameda County Superior Court officials provided me with extensive traffic court data that offers an in-depth look at the infractions that bring people to court — and the most common outcomes for defendants that go to trial. The statistics show how different stages of the court process can burden low-income defendants — disparities that East Bay residents hurt by the system discussed at length in the
feature
. The raw court data also provides a revealing picture of the inner workings of traffic court.  
[jump]
See Also:
Unfair Punishment: Sentenced to Poverty
OPD's War on the Poor Needs to End
The most interesting data I received was a list of all traffic court violations recorded in Alameda County in 2014 — and the frequency of each kind of citation. These numbers shed light on the many minor offenses that can bring people to traffic court, including a wide range of municipal infractions that are unrelated to driving. 
Of the 286,895 total traffic court violations in Alameda County Superior Court last year, here were the top ten most frequent violations: 
1. Red-light violation – 35,521 citations, 12.4 percent of all violations

2. Speeding above 65 miles per hour  – 27,267 citations, 9.5 percent

3. Lacking evidence of current registration – 24,442 citations, 8.5 percent

4. Failure to provide proof of insurance – 18,800 citations, 6.6 percent

5. Driving without a license – 15,823 citations, 5.5 percent

6. Improperly using a cellphone while driving – 15,238 citations, 5.3 percent

7. Unsafe speed – 13,601 citations, 4.7 percent

8. Failure to stop at a stop sign – 9,697 citations, 3.34 percent

9. Driving with a suspended or revoked license (for an offense not related to driving ability) – 8,739, 3.1 percent

10. Failing to use a seatbelt – 8,020 citations, 2.8 percent
While the high frequency of some of those infractions may not be all that surprising, there are many other more minor violations that combined impact thousands of people. Here's a sampling of those types of violations and the rate of the citations in 2014:
-Failure to notify the DMV of an address change within ten days (2,604 citations)

-Unlawful material on the windows (3,507)

-Missing a license plate lamp (907)

-Illegal u-turn in business district (407)

-Failure to keep to right side of road (355)

-Using an audible sound system outside of a vehicle (306)

-Plates improperly positioned (298) 

-Failure to display carrier identification number (255)

-Placards with identifying name required on both sides of vehicle (221)

-Failing to maintain seatbelts in working condition (143)

 
Critics of traffic court have argued that they are not opposed to enforcing these rules, but that the steep fines don't match the offenses. The total fees for a single ticket have become so outrageously high that many people simply can't pay, activists said. For example, a ticket for speeding in excess of 25 miles per hour has a so-called "base fine" of $100, but with a wide range of add-on "penalty assessment" fees, ultimately costs a driver a total of $490. You can read the courts' explanation of the add-on fees
here
 as well as a full
list of current traffic ticket fine rates in California
. Advocates with the East Bay Community Law Center and other legal aid groups also published an in-depth explanation of these high costs in their recent
damning report
on traffic court, "
Not Just a Ferguson Problem: How Traffic Courts Drive Inequality in California
."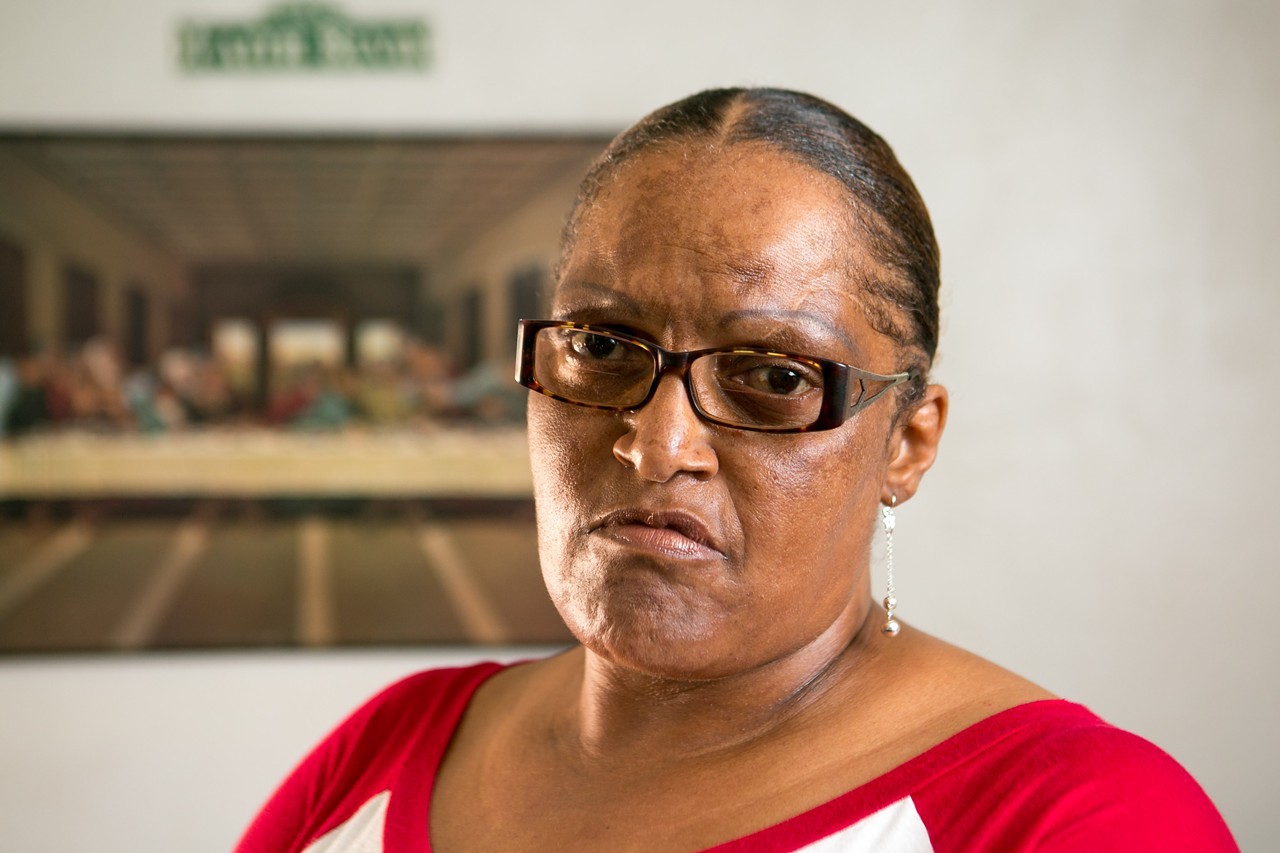 The 2014 citation data the courts provided also highlights the many infractions that have nothing to do with driving — offenses that advocates argue disproportionately impact people of color and the homeless. Across traffic court last year, 4.7 percent of all citations were for non-traffic offenses. Here's a sampling of those kinds of violations and their frequency from last year: 
-Failing to pay public transit fare (2,449 violations)

-Drinking in public (1,789)

-Jaywalking (397) 

-Smoking in a no-smoking area (354) 

-Bicyclists lacking required equipment (347) 

-Unlicensed dog (153)

-Littering (143)

-Disturbing the peace (85) 

-Biking on the sidewalk (84) 

-Trespassing in park after hours (61)
Those fines also often aren't cheap. A jaywalking fine can total $197 and littering offenses can cost nearly $500, for example. 
You can see every Alameda County traffic citation last year in the
full report
the courts provided. 
Here are some other interesting miscellaneous data I received in the course of my reporting. This
data sheet
 provides historical statistics on traffic court citations in the county, which for years have totaled more than 200,000 violations annually. That document also reveals how often police officers and defendants fail to show up to trials ("FTA" means "failure to appear):

As I noted in my story, court officials reported that a total of 63 percent of 2014 traffic trials resulted in dismissal due to cops not showing up or there being insufficient evidence. But across Alameda County last year, traffic commissioners ruled that defendants were not guilty in only 7.5 percent of trials in which police officers did testify.
The data I received also showed that many traffic court defendants don't make it to trial. Out of 66,000 people arraigned in traffic court last year, 68 percent pleaded guilty or no contest, meaning they did not attempt to fight the charges and agreed from the start of the court process to just pay the fines. Here's a chart court officials provided on arraignment data, showing how often defendants pled guilty or no contest ("G/NC") versus not guilty (NG). The "failure to appear" data refers to defendants who initially missed a deadline to show up to court, an offense which leads to further penalties and fines: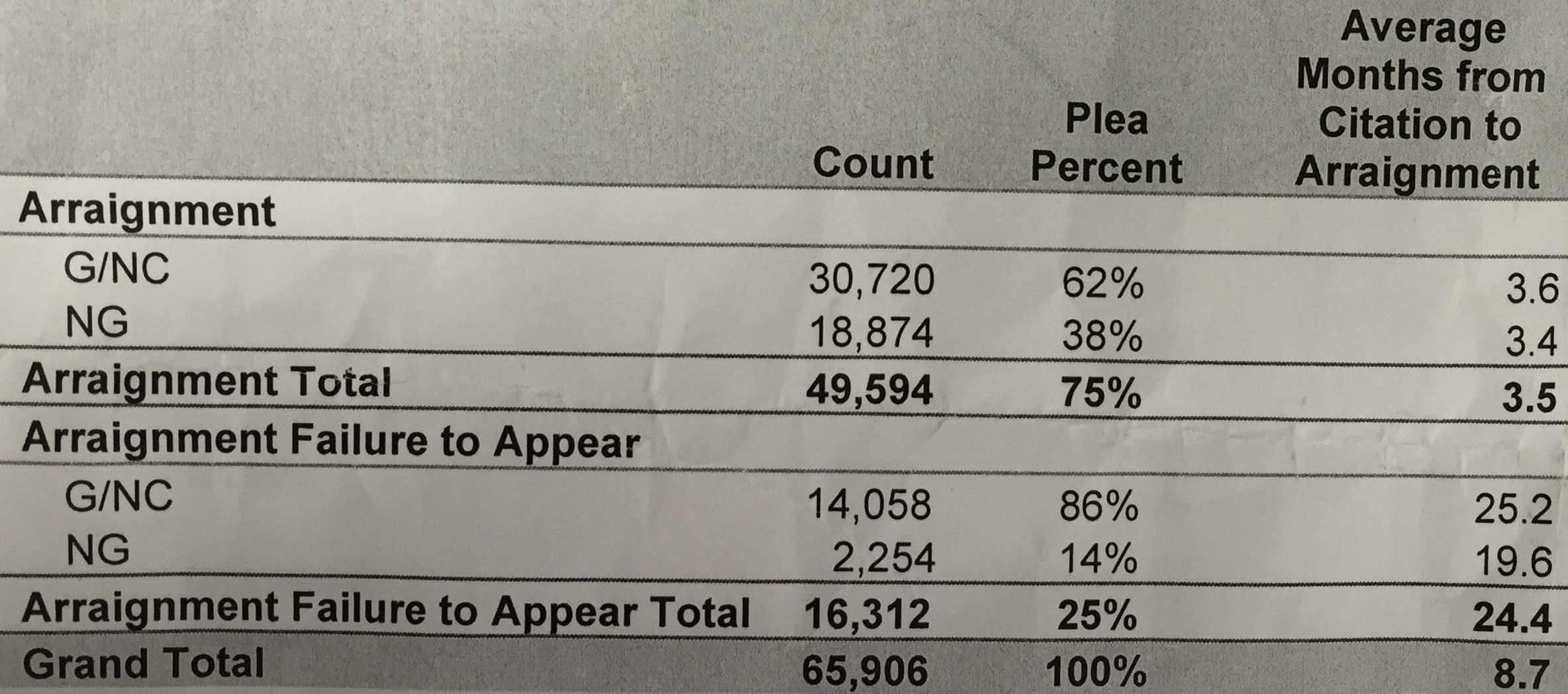 Finally, here are the full reports that the East Bay Community Law Center acquired and shared with me that illustrate how Alameda County residents regularly lose their driving privileges through traffic court — and struggle to get their license suspensions lifted. The
first document
 shows the number of "civil assessments" issued in the county, meaning $300 penalties for failing to appear in court or failing to pay a fine. That data also shows how defendants frequently are unable to pay off those assessment debts. The
second document
 shows how often the court places "holds" on people's driver's licenses as a result of these assessments — and how defendants, unable to pay off the full amount of the debts, can't get their driving privileges restored for months or years on end. This
Express
graphic from the print story summarizes the data in those two reports: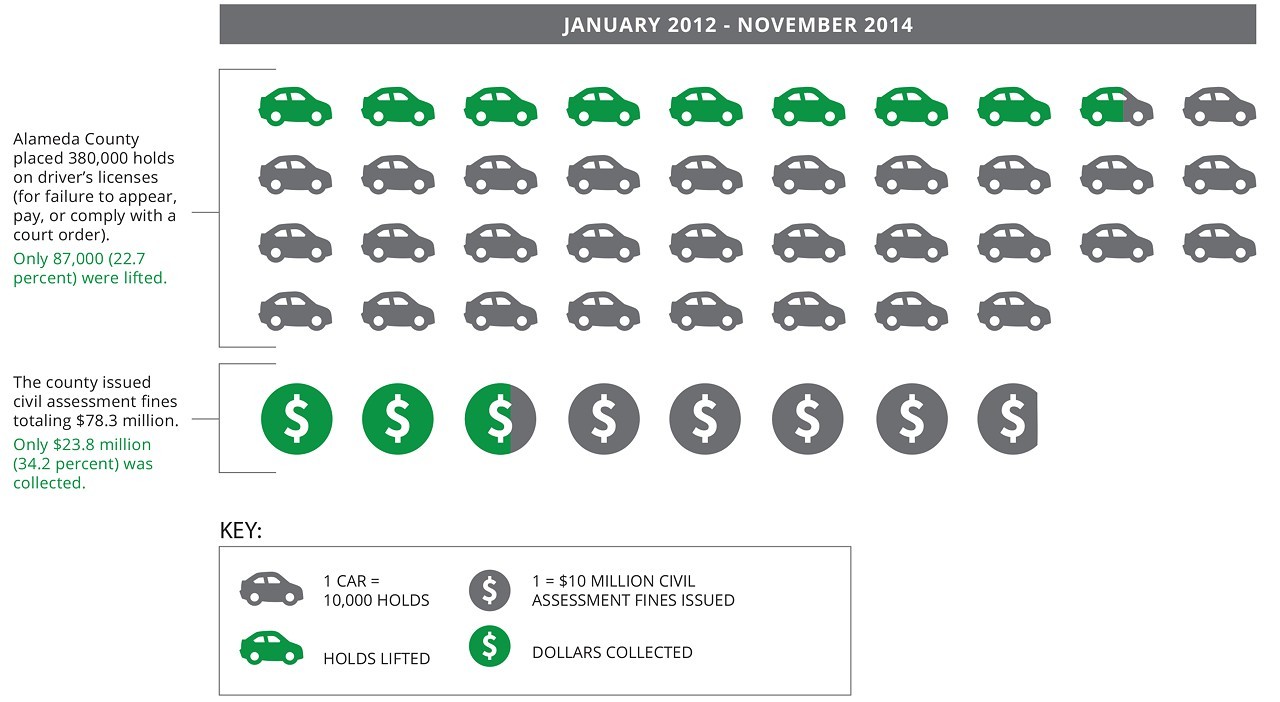 For more on traffic court, read the full print story, "The High Cost of Driving While Poor."