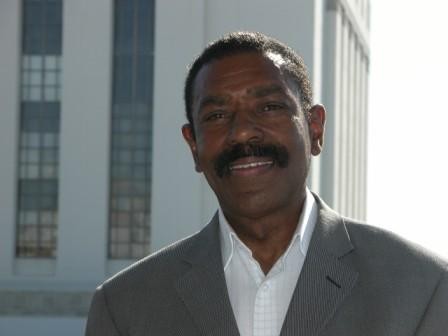 The Alameda County Board of Supervisors voted today to
reduce funding for jail cells
and increase investments in social services and community-based organizations. The
proposal from Supervisor Keith Carson
is to dedicate 50 percent of the county's so-called Public Safety Realignment budget toward community-based groups that work with people reentering society after incarceration. It will go into effect in the 2015-16 fiscal year budget, which begins in July. That means the Alameda County Sheriff's Office, which runs Santa Rita Jail, will no longer get a majority of the public safety dollars, as it has for years. 
The vote this afternoon is a big victory for the Ella Baker Center for Human Rights, an Oakland-based nonprofit that has argued for months that the county should stop spending so much of its public safety funding on its jails and instead prioritize critical services that help prevent low-level offenders from returning to jail or prison. The group's "
Jobs Not Jails
" campaign called for a minimum 50 percent social services allocation in the county's realignment budget.
The realignment funding became available after the 2011 passage of Assembly Bill 109, a criminal justice reform initiative of Governor Jerry Brown that made counties in charge of low-level, non-violent offenders — instead of the overcrowded and largely ineffective state prison system. 
[jump] While AB 109 was aimed at reducing recidivism and investing in alternatives to incarceration, Alameda County, since 2011, has
heavily invested in the sheriff's office to fund jails
. The sheriff's office has received 62 to 77 percent of the realignment funding over the last several years — expenditures that officials have argued were necessary to house the influx of new inmates from AB 109. But as a result of those investments, community-based organizations — and services like housing, job training, health care, and education — have failed to get the financial support they need, advocates have argued. And without the critical safety net those services provide, it can be harder for low-level offenders caught up in the criminal justice to turn their lives around. 
Advocates hope that will change with Carson's proposal, which comes weeks after
county officials reported
that there has been a
decline in the local jail population
 that has allowed for the closure of multiple Santa Rita Jail housing units. The reduction in the daily average jail population is due to AB 109 as well as Proposition 47, a statewide ballot measure approved last year that reduced many drug offenses and nonviolent crimes from felonies to misdemeanors.  Here's a chart showing the decline in realignment inmates (a "bed day" refers to a single day that one inmate spent in jail):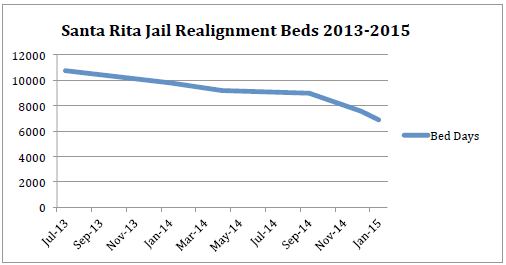 You can read more about
Carson's proposal here
. Supervisors Nate Miley and Wilma Chan also supported the proposal today, while Supervisor Scott Haggerty voted against it. Supervisor Richard Valle was absent. The passage of Carson's proposal gives officials several months in advance of the 2015-16 budget to work out details of shifting money from the sheriff's office toward community groups.