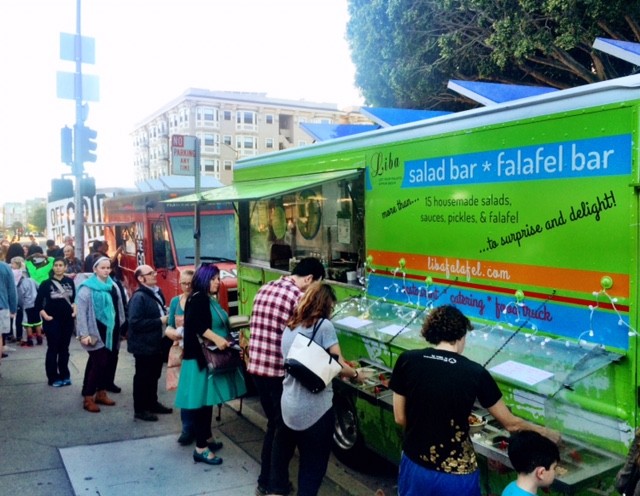 When Liba Falafel first started slinging falafel sandwiches and salads in 2009, it was one of a handful of new-school food trucks to hit the streets in the East Bay. This was back when taco trucks were the only kind of food truck that most Bay Area folks had ever heard of — back when Off the Grid wasn't even a glimmer in anyone's eye.
It's a pretty big deal, then, that Liba Falafel owner Gail Lillian — one of the real OGs of the East Bay mobile-food scene — has decided to take her popular falafel truck off the road for good.
See also:
Have a Ball at Liba Falafel's New Brick-and-Mortar Shop
Oakland Aims to Allow Food Trucks to Operate All Over the City
[jump] Fans will have two more opportunities to catch the food truck in action — this Friday at the Vallejo and Front Street Off the Grid in San Francisco, and then Saturday at the Grand Lake Farmers' Market in Oakland. After that, the Liba Falafel truck will call it quits.
Meanwhile, the Uptown Oakland brick-and-mortar restaurant version of Liba Falafel (380 17th St.), which launched in 2014, will remain open.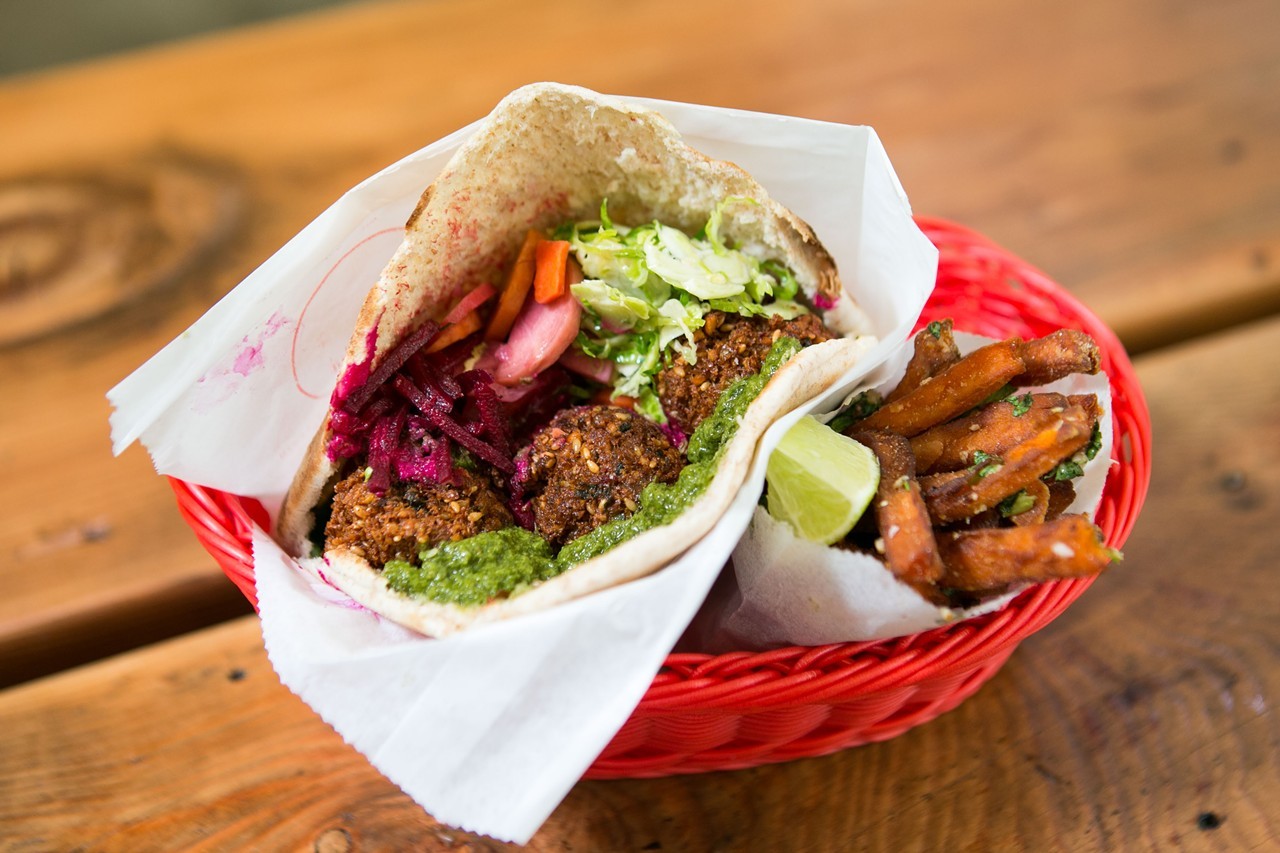 When reached by phone, Lillian said the decision to get out of the food truck business has been a long time coming, and was largely motivated by financial considerations. Perhaps most notably: As has been
widely reported
, Bay Area restaurants are currently experiencing an overwhelming, and perhaps unprecedented, labor shortage. Lillian said that in the end, the challenge of adequately staffing all of the moving parts of her business — the truck, the restaurant, and a robust catering operation — proved to be too stressful to sustain.
"We needed a relief valve in here somewhere," she said.
Over the years, Lillian has been one of the East Bay mobile-food scene's most outspoken advocates. So it's notable that she's shutting her truck down now — right when the city of Oakland is on the cusp of finally enacting
legislation that's friendlier toward food trucks
, after five or six years of on-again, off-again deliberation.
For Lillian, the decision is bittersweet. She'll miss regular customers who have been coming to the truck for years. At the same time, Lillian said she wouldn't necessarily
recommend
the food-truck business model to anyone. While she knows of a few food trucks that have healthy profit margins, in general it's
a lot
of work to make a little bit of money. Case in point: Liba Falafel is probably one of the Bay Area's most well-known trucks. Its profit margin last year, according to Lillian? A modest 6 percent.
"The economics of restaurants, as well as food trucks, are broken and have been broken for a long time," Lillian said, adding that the Bay Area's soaring cost of living has only exacerbated the situation: "I'm seeing my employees — as soon as they lose an apartment they have to move."
Having run both a restaurant and a food truck, Lillian asserts that the food truck is actually much, much harder — in part because of the added stress of having to maintain, and assume liability for, the truck itself. For several years now, she has had a recurring nightmare: "Some vehicle that I'm in is going off a dock or a cliff. And people are dying."
All this isn't to say that Lillian is quitting the food business entirely — far from that. As noted, the
brick-and-mortar Liba Falafel
is still going strong, and Lillian said she would consider opening new locations of the restaurant if she's able to find suitable partners or investors.
In the meantime, she's launching a brand-new business:
Lovabowl
, a salad-centric food stall that will debut at two East Bay farmers' markets next week — at the Old Oakland farmers' market on Friday, July 1, and the Temescal farmers' market on Sunday, July 3. Lillian explained that Lovabowl will build on the fact that Liba Falafel is, at its core, a salad bar — expanding that concept beyond the vocabulary of falafel and tahini. The menu will include a Thai-style grilled-chicken salad with
nam pla
(fish sauce) that Lillian is especially excited about. Another salad, featuring roasted sweet potatoes, garlic, cilantro, and lime, will be a nod to Liba Falafel's popular sweet-potato fries.
The best part, from the standpoint of the Bay Area's shortage of cooks? Lovabowl won't require any on-site cooking equipment or employees with a food background. All of the cooking will be done in advance at Liba Falafel's central kitchen.