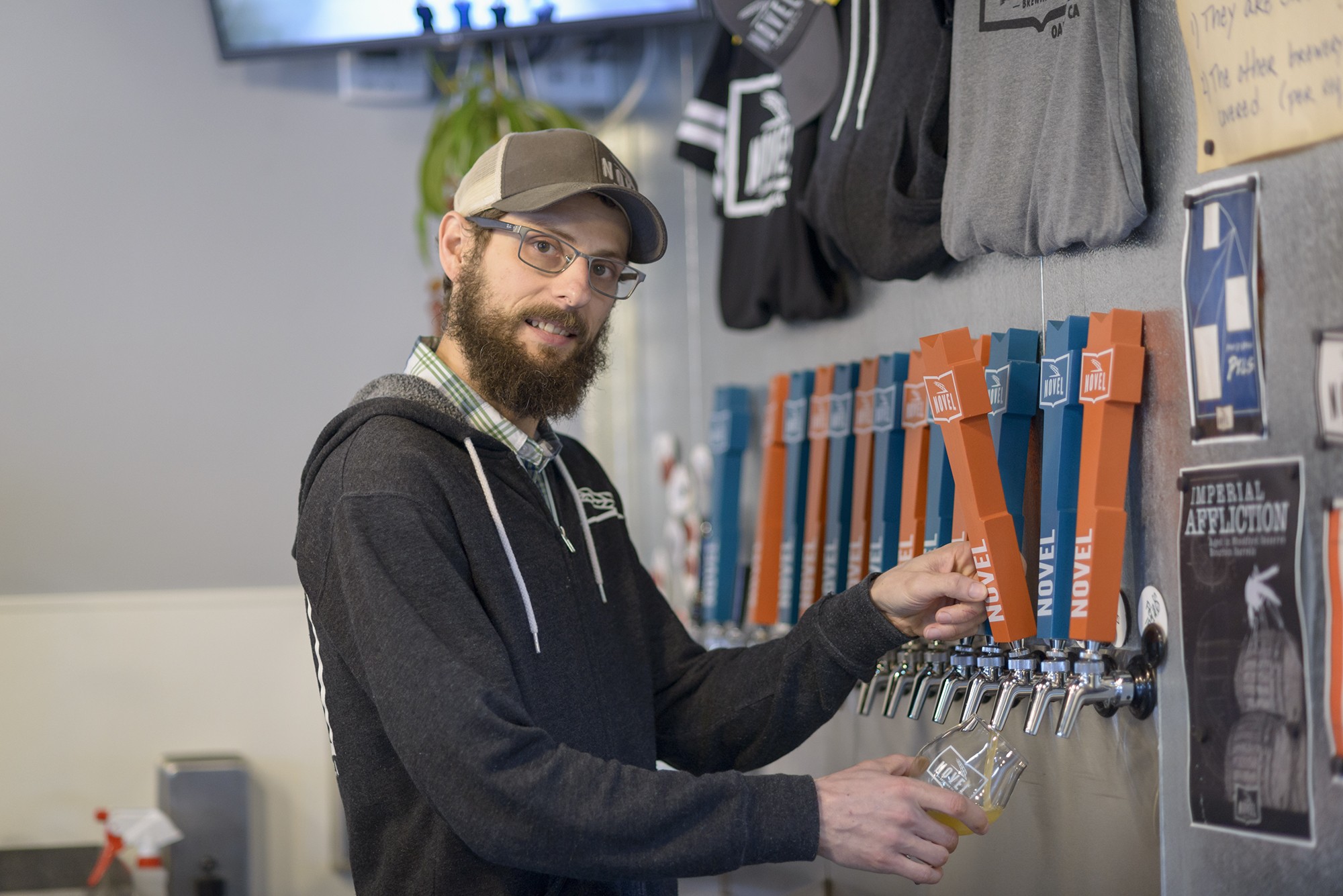 Beer Revolution isn't the oldest or most prominent beer bar in town, yet it's become a kingmaker of sorts in the brew world, meaning that, when the powers that be agree to host an event for a brewery, it can have an impact. And that's what happened this past Sunday, when Oakland's year-old
Novel Brewing Company
brought a handful of kegs (and free barbecue) over to Beer Rev for a holiday weekend tap-takeover on the patio.
Husband-wife owners Teresa Tamburello and Brian Koloszyc opened Novel Brewing in mid-2016. Immediately, it was clear that brewmaster Koloszyc wasn't some flash-in-the-pan suds-maker: The spot showcased a variety of styles, and he exhibited strong command of nearly all of them. I personally embraced certain characteristics of his brew, in particular how the hoppy styles finished dry, and how the darker ales belied sweetness.
Revisiting new breweries and watching them evolve is one of the coolest things about being a beer fan in year 2017. And Novel Brewing has indeed become a small East Bay brewery to keep an eye on. Tamburello and Koloszyc, who only produce some 400 barrels of beer annually and often can be found behind the bar at their north Oakland taproom, are putting out some exciting stuff.
This past Sunday, for instance, the couple brought interpretations of two popular styles: a "hazy" IPA, and a lupulin-powder IPA. The former, Dust Jacket, was brewed with Eureka, Citra, and Denali hops, a flavorful mix that imparted strong pineapple aromatics and a gentle, tropical sweetness. "It's one of our best-selling beers now," Koloszyc explained — little surprise, given the popularity of the style. But what I embraced about his beer was its pleasant fruit profile, which didn't overwhelm the pine notes and, again, that lingering dryness.
His Loop It In IPA used only Chinook as a bittering hop, and otherwise was brewed completely with lupulin, a waxy, powdered version of, in this instance, simcoe and mosaic hops, which gave the beer its grapefruit flavor. The brewer said this was the first batch he'd made with powder and, predictably, he described it as "sticky and hard to work with." The final product, though, was worth any hardship: bright, lightly tropical, and — a pattern here — remarkably clean on the finish.
Expect more fun beers to come at Novel: Tamburello says that she brewed her first beer recently, which will debut this week. Novel's website boasts some fifteen different styles currently on tap, as well.
My advice: Add Novel to your weekend beer jaunt, as its just a stones throw from either Temescal Brewing or The Rare Barrel. Or, even better, bring a book and settle in for a few pints.
Visit Novel Brewing Company at 6510 San Pablo Ave, Oakland, NovelBrewing.com.