One day after a sixteen-year-old T-shirt designer
accused
the Oakland A's of stealing his apparel concept, the team has announced that the MLB will stop selling the T-shirts at the center of the controversy. As I wrote yesterday,
Oakland native Ryan Frigo
 said he was shocked to find out that the A's 2014 postseason merchandise included T-shirts with the word "STOAKED!" on them — highlighting the "OAK" for Oakland. Since 2012, Frigo has sold T-shirts — and eventually hoodies, beanies, snapbacks, crop tops, and more — celebrating his hometown with the word "stOAKed." He came up with the concept as part of a class assignment at Oakland Technical High School and eventually launched a company called "stOAKed." 
Here's a screengrab from Shop.MLB.com from yesterday (that product page appears to be
down
now):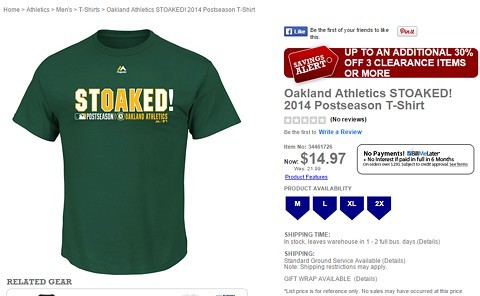 A's spokesperson Ken Pries sent me a statement this afternoon saying that MLB officials have since contacted the manufacturer of the shirt, Majestic Athletic, about the situation. Majestic Athletic said that a trademark application for "stoaked" had been abandoned, meaning the company believed it had the right to proceed with the products, according to Pries. Frigo, as I reported yesterday, said he had attempted to get his brand trademarked in 2013, but ran into issues due to an existing trademark for the word "stoked." He still argued, however, that he had "common law" trademark rights to "stOAKed," since he was the first to use it to celebrate Oakland. 
[jump] Regardless, Pries said in his statement that the MLB sold a total of 126 shirts, all online, bringing in gross sales of $2,770. As a "gesture of good will," he said, Majestic has agreed to stop selling and producing the shirts — and will destroy unsold ones. 
Here's the full statement from Pries: 
In response to recent reports regarding the sales of t-shirts using the Stoaked slogan, the Oakland A's have looked into the matter and would like to point out the following:

• Only 126 t-shirts were sold, all on-line through the leagues website.
• The gross sales of the 126 t-shirts were $2,770.
• No shirts were ever sold at our Team Stores.
• We contacted Major League Baseball who contacted the manufacturer – Majestic Athletic –responsible for clearing all slogans used on their t-shirts. Majestic found the trademark application had been abandoned and believed they were clear to proceed with the term Stoaked.
• As a gesture of good will, Majestic is no longer selling or producing the shirts and will destroy all unsold shirts.
• We finally spoke with Ryan Frigo this afternoon and explained exactly what happened. We hope to meet with him when he gets back in the country to discuss this matter.
And here are some examples of Frigo's designs, all courtesy of
stOAKed
: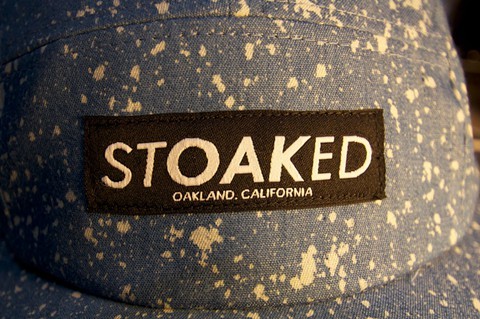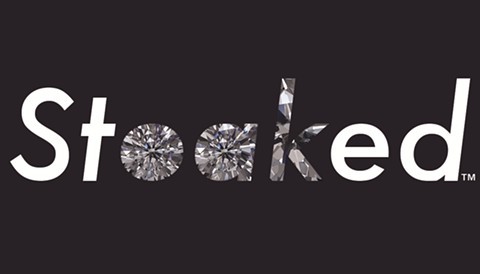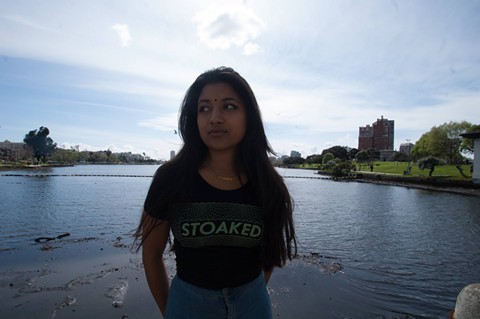 For more on the dispute and Frigo's company, check out our post from yesterday, "
Oakland Teen Says A's Stole His T-Shirt Design
."