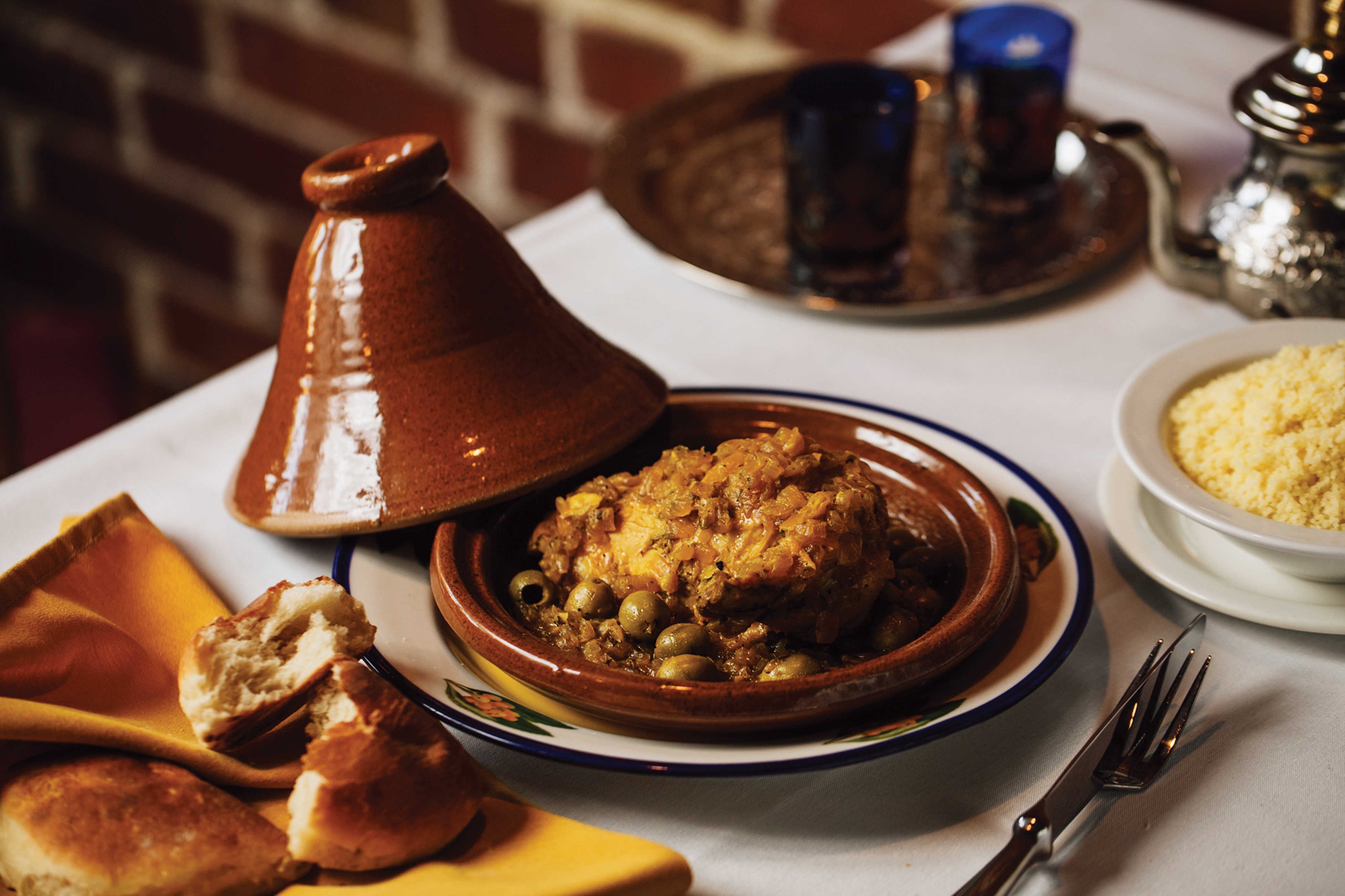 Meals at Moroccan Palace Restaurant start with bread.
That's an increasing rarity at new East Bay restaurants, which lately have been favoring more casual, streamlined models and do not have the time or room for bread service. It makes this bread, which is still warm and soft when it hits the table, feel extra special. And when you tear into it and slather on the accompanying olive spread, you already know what a wise decision you've made to visit Moroccan Palace.
Despite its prominent location on Lakeshore Avenue, the restaurant has kept a pretty low profile since it opened in April — mere weeks after its predecessor, the longstanding Italian restaurant Spettro, unexpectedly closed. Owners Lani Hamam and Imane Akhbiriq turned the place around quickly, brightening it up with new light fixtures and gold paint. According to information on the menu, the couple hails from Casablanca, as does one of the chefs. The other comes from Fez. Together, they aim to present traditional Moroccan meals as you might find in someone's home.
It took a little while to get there, though. At first, they continued to prepare some dishes from Spettro and dabbled with omelets for brunch. Recently, they debuted another menu, which feels much closer to a fully realized vision, though the inclusion of sandwiches and pizza strikes me as unnecessary — particularly when those items reach $15 and $25, respectively.
Yes, Moroccan Palace's prices might surprise you, especially given the laid-back environment and promise of home cooking. The most expensive item on the menu is a couscous dish loaded with merguez sausage, beef, chicken, and vegetables for a whopping $37. But the quality is high, the meats tender, the couscous light, and the sauces refined. Too often, I find Moroccan food a little bland, the tajines a little tough, or the couscous a little dense, but none were the case at Moroccan Palace.
That's doubly exciting given the state of Moroccan restaurants in the East Bay right now. A slew of spots has come and gone, but currently the sole other Moroccan option is Abigail's Moroccan Cuisine in Alameda — and it only serves dinner on Saturday nights.
So, Moroccan Palace is your best overall bet if you're craving a taste of this unique North African cuisine and culture, a blend of Arab, Berber, Moorish, French, Middle Eastern, and Mediterranean influences. Plus, unlike most Moroccan restaurants, this one serves wine.
The bulk of the menu is dedicated to tajines and couscous. Named after the earthenware it is cooked in, tajine is a stew containing meat slow-cooked until fork-tender. I was thoroughly impressed by the sweet and savory beef, which gets stewed with dried prunes and almonds until a richly spiced, thick sauce forms. The bread comes in handy here.
The chicken tajine was wonderful as well, with pops of citrus from preserved lemons and a welcomed saltiness from whole green olives. Fries served on the side were fine, but I preferred the bread.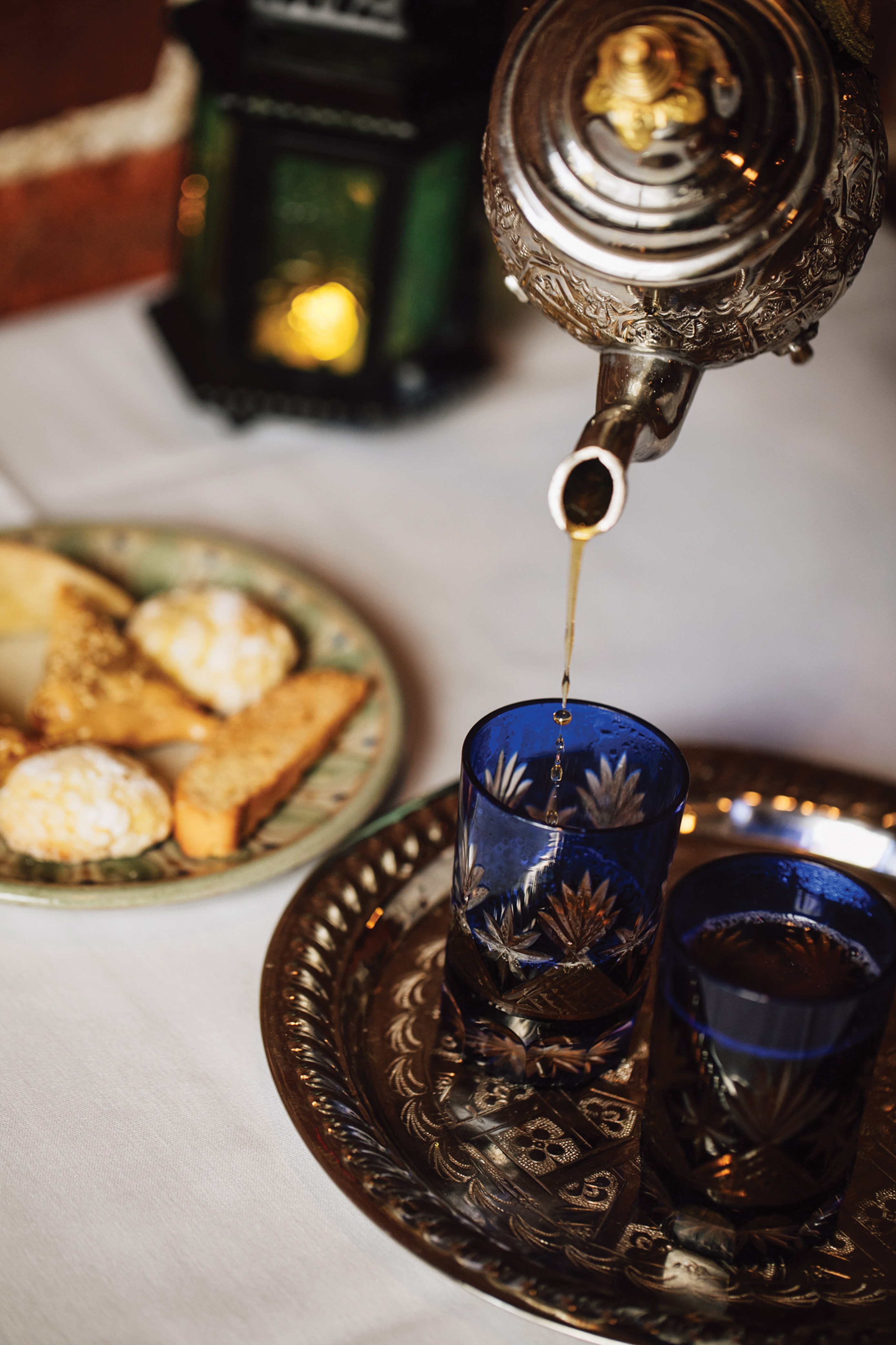 The couscous dishes feature different meats with soft vegetables — summer squash, carrots, and cabbage on a recent visit — but don't offer as many flavor profiles as the tajines. I tried the lamb, which consisted of a giant, braised shank plopped in the center of the plate. It, too, was fork-tender.
Other items show the kitchen's versatility. There are a number of soups and salads — all classics in the Moroccan canon — that tend to showcase garlic, tomato, and parsley. I tried the zaalouk salad, and it was heavenly: eggplant roasted with red peppers until they're smoky and creamy, then blasted with garlic.
The most delicious way to shake up the tajine-couscous combo, though, is the bastila. The famous Moroccan dish is basically a meat pie traditionally made with squab. Here, it's a simpler chicken and almond filling, thickened into a custard with eggs, and wrapped in crispy, flaky phyllo dough. A shower of powdered sugar finishes the dish. It strikes the right sweet-savory balance, each bite perfumed with cinnamon and almonds. You could even order it as a dessert for the table — granted, a very large one.
Otherwise, there's only one dessert on offer: an assortment of cookies, all made in house. The selection changes daily, though it always includes corns de gazelle, which are crumbly, filled crescents; and almond briwat, which tastes like a more floral baklava. On my visit, there was also a small coconut cookie and a harder variety closer to Italian biscotti — all nice in their subtlety and fragrant with orange blossom water, but four small cookies seemed pricey for $8.
Instead, finish your meal with mint tea. It's served as a ritual, per tradition: The server will come to your table with an ornately engraved, silver teapot and small, colorful glasses. The blend of green tea and fresh mint leaves gets poured from high above to allow for optimal aeration. Mostly, though, it's just sweet and delicious.
If you come on a Friday or Saturday night, your dinner might end with belly dancing instead. You probably know the drill: The dancer glides between tables, shaking so many body parts you wonder how they possibly fit together, and then you're encouraged to leave a tip.
If you're like my mother, you'll egg on your partner to put a dollar in the dancer's waistband. If you're like my father, you'll make a few half-hearted attempts, which will each be thwarted by the dancer's nonstop moving body. Everyone in the restaurant will laugh. You'll get embarrassed. And then the dancer will finally slow her hips down to a rate of approximately one shake per 10 seconds. You'll finally get the damn dollar in the waistband, and then you'll ask to take the leftover bread home.  
Moroccan Palace Restaurant
3355 Lakeshore Ave., Oakland
510-451-7738
MoroccanPalaceRestaurant.com
Hours: Mon., Wed–Fri. 4–10 p.m., Sat.–Sun. 1–10 p.m.
Cash, all major credit cards
Sample Menu
Sweet and savory beef tajine … $23
Chicken bastila … $19
Lamb and vegetable couscous … $30
Zaalouk salad … $9