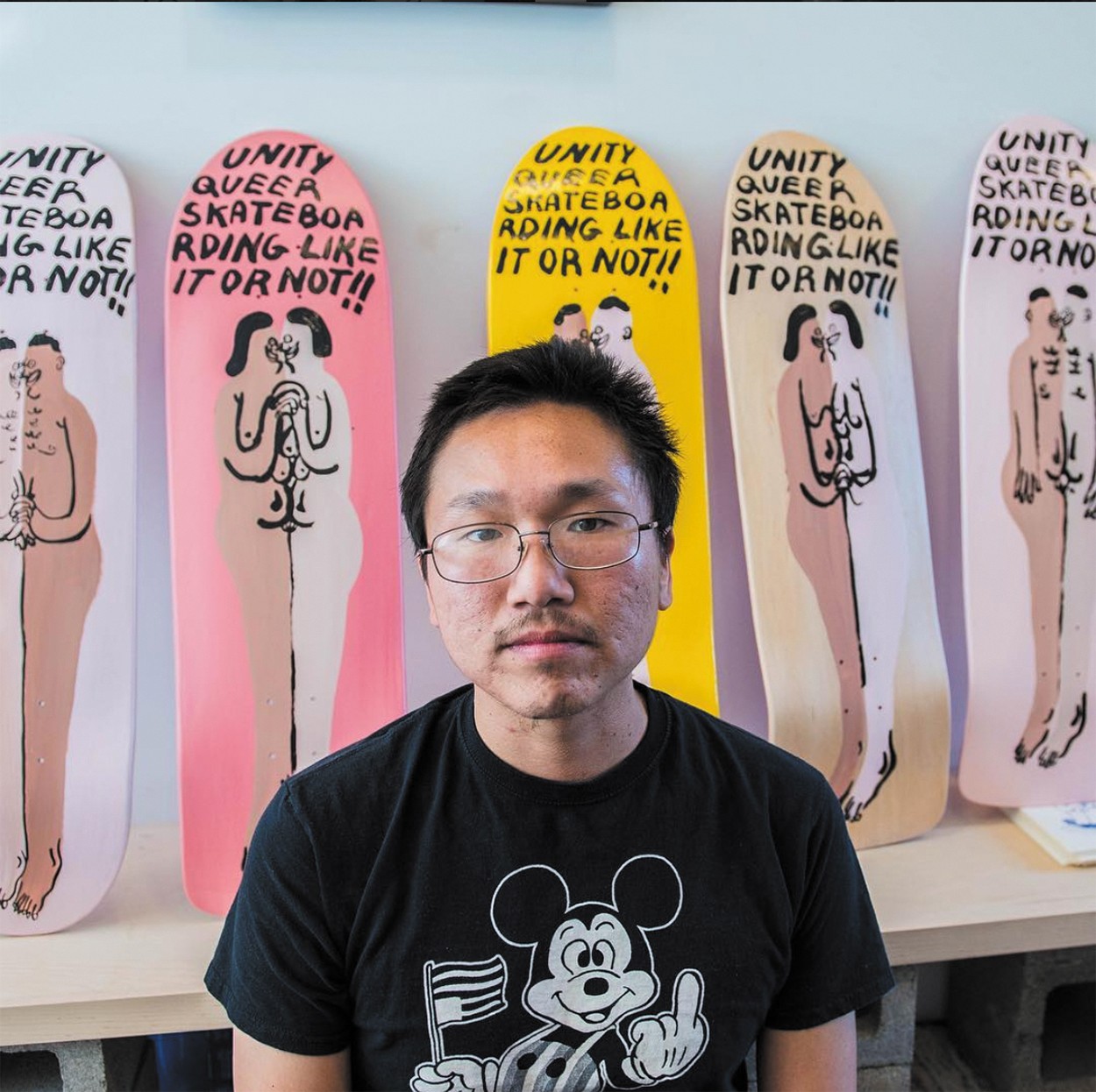 The walls of Unity Mart are splashed with colorful prints, boisterous illustrations, and screen-printed shirts hanging from thumbtacks. Since opening in early April, the small, bright space tucked away on the second floor of MacArthur Annex in North Oakland has housed a variety of creative projects, from its own queer-focused 'zines to the independent online radio station Lower Grand Radio.
Unity Mart functions as a meeting place, a recording studio, a workshop, and a storefront. It was started to showcase the creations of the seven artist founders and their friends, including the exuberant, erotic illustrations of co-founder Jeffrey Cheung, which appear on skate decks and posters hanging on the wall. The store holds readings, art exhibits, and free risograph printing days for queer youth and people of color.
"I think we're all interested in creating a sense of a safe space and a community," said Alex Shen, the founder of Lower Grand and one of Unity Mart's co-founders. "We wanted a place where we could have our own events and work on our creative endeavors together that's not our own house. It serves as a convenient showcase for what we're all doing."
But Unity Mart, at its current location and in its current form, will only exist for a couple more weeks. The lease was signed by seven artists, but some of the artists used the space more than others, so Cheung, Shen, and collaborator Gabriel Ramirez decided to look for a new location to house their projects. Tattoo artist Teryn Brown, musician-photographer Rebecca Lukens, curator and organizer Jessica DeStefano, and visual artist Sarah Bowser will continue their creative work elsewhere.
Beginning in January, Unity Press and Lower Grand will operate out of the E.M. Wolfman General Interest Small Bookstore in Oakland.
"A lot of people had different ideas, but we all kind of wanted to open up a space," Cheung explained about the initial opening. "I think when we did it, we were just, like, 'Let's just get a space and see what we can do with it.'" Cheung said that open attitude will continue to inform Unity Mart's programming, with events that spotlight queer and progressive voices.
The store recently hosted a book release party for author and skateboarder Tara Jepson's new novel, Like a Dog. The event also included readings from other local writers, including Oakland author, punk rocker, and fellow skateboarder Brontez Purnell. "It's queer, it's punk, it's down the street. It's everything I never got as a teenager that I desperately needed," Purnell said about Unity Mart. "It feels like something that never quite existed before."
When the group first conceived of Unity Mart, Ramirez and Cheung said they wanted something more public and accessible than a studio. "I think what ended up happening with the space was that we went in not really knowing what it would be," Ramirez said. "We wanted it to be kind of a studio, kind of a store."
The result was both of those things and more — a hub for artists, skaters, and friends to collaborate and share their work. It's also been a space for organizing and spreading the founders' message of acceptance. When it comes to Lower Grand's programming, Shen said he "always [tries] to give priority to people who are of color or have something they want to express that's more politically driven." A librarian aide at the Oakland Public Library, he also organizes after-school radio programs for teens at various branches and broadcasts their shows on Lower Grand's website.
And in the historically homophobic world of skateboarding, Unity has reached out to queer youth through its queer skate days at Rockridge BART, as well as through 'zine workshops and free skateboard giveaways. Ramirez and Cheung recently went on a trip to Europe and New York and held queer skate days in New York City, Berlin, London, Barcelona, and Glasgow, even linking up with a trans skate group in Glasgow and exchanging skate decks and other Unity Mart merchandise.
While the current space is closing soon, look out for more queer skate days and a closing party in late December, which should be announced through Unity Mart's Instagram page.