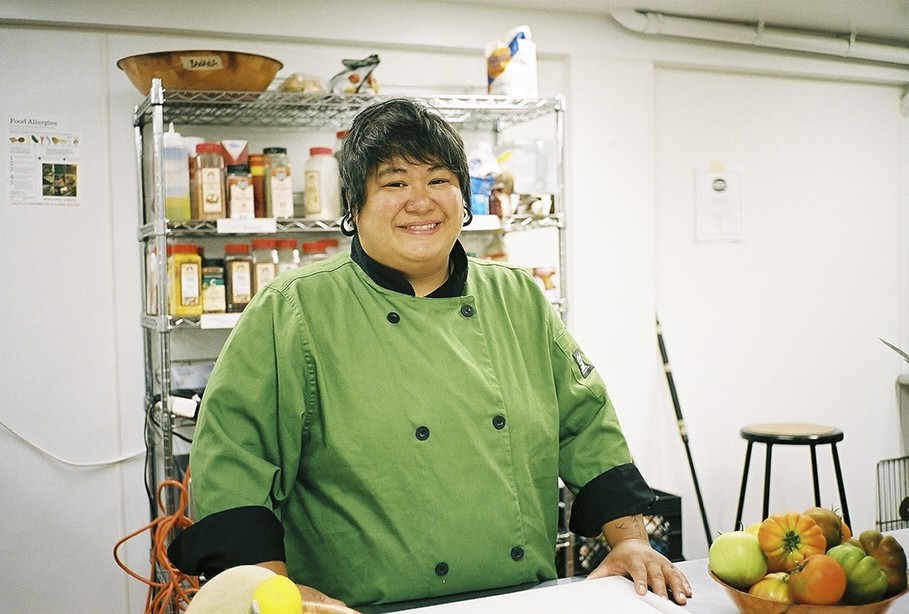 In 2007, Charleen Caabay drafted a contract with herself. In five years, she'd launch her culinary career with a food truck, restaurant, catering company, or some other serious endeavor.
It took her only four.
In 2013, she opened Kainbigan in East Oakland, exposing locals to the stewed, comforting wonders of Filipino food. Kainbigan achieved widespread acclaim, getting Caabay booked as a featured chef for high-profile events and, eventually, a spot on Food Network's Chopped. She became the first Filipino American to win the show.
The December episode marked a turning point in Caabay's career. She closed Kainbigan, traveled to the Philippines, and returned to find real estate agents offering her restaurant locations.
"It was literally a start-from-the-bottom, now-I'm-here type thing," she said, sitting in her new restaurant, Craft & Spoon, in Oakland's Uptown.
Caabay was born in New Jersey and moved to Vallejo in junior high, bouncing all over the East Bay until she settled in Oakland after graduating from DeVry University. She studied IT but entered the workforce when tech jobs were in a sharp decline. All she could nab were short contract jobs, and after repeatedly finding herself unemployed, she turned to her passion: feeding people.
Caabay never formally trained as a chef, instead picking up skills from her grandmother, mother, and older sister. Food is a huge part of Filipino culture, and it was always around. Among her friends, she was the one who'd rummage through kitchens to figure out what to eat after school. And her house was the go-to, always stocked with adobo chicken, baked chicken, broiled chicken, coconut chicken — it's how she got her enduring nickname, Chikun.
"We didn't have fruit roll-ups," she said. "It was like, 'Here is the pot of adobo on the stove and the rice is in the rice cooker. Help yourself.'"
At a bar one night, Caabay met Christine De La Rosa, an event promoter who would eventually become one of her business partners and closest friends. Caabay dazzled De La Rosa with her cooking and quickly scored invites to serve food at different club events. For about six years, she worked the underground, doing pop-ups wherever she could and serving late-night revelers a mix of tacos, burgers, and Filipino classics.
"I wanted to do Filipino food but I didn't want to just do it in the club scene," she explained. "But they loved it. Whenever I did Filipino food, they asked for it again."
That's where Caabay first developed her reputation, and it's where she still draws much of her support.
[pullquote-1]
"When I opened my restaurant [Kainbigan], the queer community showed up," Caabay said. "They're the ones that backed me up."
It's why Caabay and her all-queer partners with Craft & Spoon — De La Rosa, Aima Paule, and Michael Schlieke — specifically wanted to staff the restaurant with queer folks. Caabay noticed on social media a constant stream of people from the local queer community in need of work.
"Now I'm like, 'I have all the jobs. What do you need?' It's nice to be able to offer that," she said. "It's important."
In addition to Craft & Spoon, Caabay and her crew own Town Biz and Benefit Health Collective. Caabay also has a spot lined up on San Pablo Avenue — she's still not sure if it'll become a restaurant or something else — and a third location in the works.
Since Craft & Spoon is a quick-service lunch spot with subtle Filipino touches, a lot of Caabay's fans keep asking her when she's going to cook full-on Filipino food again. That's not her priority right now. She wants to open more places, provide more jobs, and raise awareness for queer people of color in the Oakland business world — "showing the people, even though it may sound impossible to get or go after, there is a way," she said. "You just really have to push and work hard for it."
Caabay says queer and trans people face discrimination in the restaurant industry.
"Homophobia is everywhere," she said. "There's struggles in that, whether you're queer or a tomboy or gay, lesbian, butch, trans, or anything. … That's really one of our goals, to provide a safe space for our people."
At Craft & Spoon, the queer community already comes in droves.
"They don't have to worry," Caabay said. "That's how spaces are created, when you have visible leaders, mentors, entrepreneurs. I think it's important they know we're queer and we're up there on the chain. Our presence alone makes it a safe space."