On a quiet East Oakland street corner, a Burmese chef and a local designer are collaborating on a project that they say will reinvent the neighborhood bodega — a place where the community can gather, enjoy authentic Southeast Asian dishes, and purchase healthy herbs and vegetables rather than soda and cigarettes.

Grocery Cafe (2248 10th Ave., at E. 23rd St.) is an ambitious, multi-faceted food business that's coming to a neighborhood that is largely bereft of restaurants and supermarkets. (The popular Laotian restaurant Champa Garden, located a couple blocks away, is one of the only outliers.) The business will double as a Burmese cafe and a grocery store specializing in Asian produce.

[jump]
The project is the brainchild of chef William Lue — who most recently slung Burmese dishes on weekends at the (now shuttered) West Oakland soul food restaurant Brothers Kitchen — and Oakland-based designer Jeffrey Lim, who manages the property.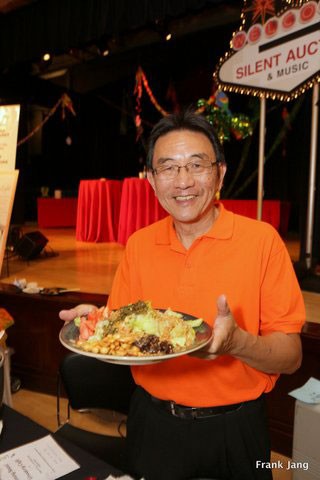 Frank Jang
Chef William Lue
Lue's cooking career in the Bay Area spans several decades. In the late Seventies, he founded a Burmese restaurant in San Francisco's Richmond district, in the space that eventually became home to the line-out-the-door sensation Burma Superstar. In recent years, Lue operated a food truck called
Burmese Gourmet
, and, just a couple of weeks ago, he opened a Burmese restaurant in Orinda called
The Refined Palate
.
But Grocery Cafe might be Lue's most ambitious project to date. Beyond simply getting the restaurant off the ground, Lue said he hopes to bolster the local supply chain for hard-to-find vegetables and herbs used in Southeast Asian cooking. Toward that end, he's currently working with about a dozen mom-and-pop farmers in the Central Valley, many of them Southeast Asian immigrants, who plan to supply him with produce that ranges from the relatively commonplace (e.g., garlic, lemongrass, etc.) to more obscure items (e.g., the
opo
, a type of squash whose leaves, according to Lue, are delicious when dipped in shrimp paste).
In some cases, the farmers are growing the crops just for Lue. One farmer in the Fresno area, for example, will supply him with a large quantity of roselle, a species of hibiscus that's widely used in Burmese cooking. (Lue pickles the leaves and stir-fries them with shrimp.) Lue said he'd also love to find a California farmer who can supply him with fresh durian (the notoriously strong-smelling tropical fruit) and the Asian variant of
moringa
, a so-called "superfood" that's used in a variety of soups and curries.
But Lue also wants to make these unusual produce varietals available to East Bay home cooks — hence the "grocery" part of Grocery Cafe. At least a couple of days a week, he plans to sell herbs and vegetables brought in fresh from the farms. The produce market will be an integral part of the business' social mission: a way to give small, independent farmers another stable revenue stream. In addition, the market will have a small pay-what-you-can section available to the needy, no questions asked — an effort to "do my little part to contribute to society," Lue said.
Initially, the restaurant will likely be open from 7 a.m. to 7 p.m. daily. Lue plans to serve coffee,
banh mi
, and other sandwiches in the mornings, and Burmese dishes during lunch and dinner. The Burmese offerings will initially be limited to a few items — staples such as
mohinga
(catfish chowder), tea leaf salad, and an herbal rice made with turmeric, cashews, raisins, and brined chicken (the Burmese equivalent to a
biriyani
or gumbo, as Lue described it) — and will gradually expand over time.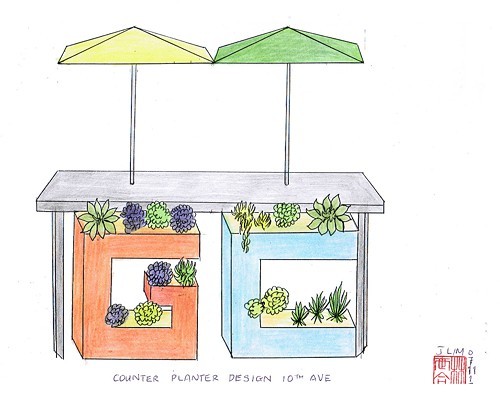 Jeffrey Lim
A drawing of Lim's letterbox planters.
Grocery Cafe will seat about thirty diners inside, and an additional fifteen in a large outdoor courtyard. Lim, who is overseeing the build-out of the space, said the cafe's main design feature will consist of record album covers from the Seventies and Eighties mounted on the wall, creating a retro vibe that pays homage to California's huge influx of Southeast Asian immigrants during that time period. Lim said that mostly he just wanted to keep the design simple and to use as many recycled materials as possible. (Long church pews will line one of the walls.) In front, instead of traditional signage, there will be what Lim described as two "letterbox planters" — a colorful "G" and "C" — filled with succulents.
Ultimately, though, the heart of the project is a desire to create a community gathering place. Getting the bodega open is only the first step, then. Lue and Lim have, for instance, also toyed with the idea of closing off the entire block to host a weekly street fair that might include food trucks and homemade goods sold by folks who live nearby. The possibilities for the space, they believe, are endless.
Grocery Cafe's tentative opening date will be April 15, with a soft opening possible as early as late March.
(ETA: Hat tip to Chowhound poster Melanie Wong for
the original tip
.)