Based on the long history of bad blood between their two ancestral homelands, DJs 8ULENTINA (Esra Canogullari) and Foozool (Lara Sarkissian) might seem like unlikely collaborators for their popular monthly party, Night Forms, which takes place on third Saturdays at the Rock Steady in downtown Oakland. In addition to performing there every month, they feature guest DJs of diverse heritages whose genre-defying mixes incorporate traditional sounds and forward-thinking selections of international club music.
Foozool's family is Armenian and 8ULENTINA's father is Turkish. Relations between their two ethnic groups are fraught because, to this day, the Turkish government refuses to acknowledge the Armenian genocide, which took place in the Ottoman Empire a century ago.
Inhabiting the Digital Diaspora: Night Forms from East Bay Express on Vimeo.
In spite of the animosity that still exists between their cultures, Foozool and 8ULENTINA came together at B4BEL4B Gallery over one of the most common of shared experiences: food. Specifically, a salad 8ULENTINA made for their mutual friend's artist residency that's common in different parts of the Middle East.
"I wanted to cry when I saw this salad because my grandma makes that," Foozool said.
Before they bonded over their cultures' similarities, however, 8ULENTINA and Foozool found common ground in their shared interests in video and music production. Soon after, they collaborated on Border_Convos, an audiovisual mixtape that the social justice-centric creative collective Browntourage released in March.
The project's 35-minute video weaves footage of folk dancing with day-to-day activities, religious rituals, and popular Iranian, Kurdish, Lebanese, and Tajikistani music videos. Traditional percussive rhythms serve as a thread on the soundtrack, stitching together vocal and instrumental samples from across the globe. The mix jumps genres often, oscillating between Turkish trip-hop, footwork, dabke (a Levantine Arab folk genre), and house. Like 8ULENTINA and Foozool, many of the artists whose work they sample on the mixtape have Middle Eastern roots but make music in Europe, Canada, and the United States.
Similarly, the guest DJs at each month's Night Forms typically have transnational stories to tell through music and multimedia. At one of their recent events, for instance, Ethiopian-American artist and DJ Selam Bekele projected her video work, which referenced Afrofuturist aesthetics and explored the idea of home.
"We really like to have Night Forms be a platform where people feel they can use the party to tell a story about their background," 8ULENTINA said.
8ULENTINA and Foozool explained that the mix-match-remix nature of their work is reflective of their experiences growing up Middle Eastern in America, craving a connection with their respective heritages, and navigating worlds that are often at odds with each other politically and culturally. While Foozool grew up immersed in the large Armenian community in the Bay Area, 8ULENTINA used YouTube and Tumblr to cultivate a deeper connection to their Turkish roots, bonding with likeminded first- and second-generation Middle Eastern-Americans through what they like to call the "digital diaspora." (8ULENTINA goes by the gender-neutral pronoun "they.")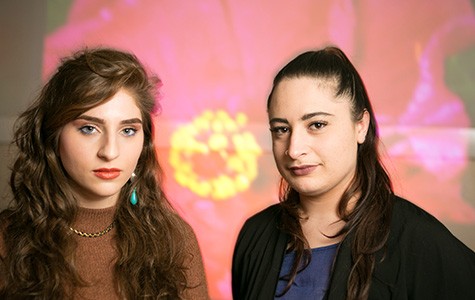 Meanwhile, Foozool said that exploring music exposed her to new facets of her family's history. "I just found a bunch of [my mom's] records that I didn't know she even had," she recalled. "My mom would just be jumping in my room and giving me different stories that I never would have heard otherwise."
In many ways, the connection between music and culture at Night Forms has fostered a platform for cross-cultural dialogue and exchange. "I think we related a lot to how we work as artists before we even thought about, 'Oh, you're Turkish' or 'Oh, you're Armenian,'" 8ULENTINA said. "And then we started talking about it because you can't not talk about it."
While many of 8ULENTINA and Foozool's conversations take place over a laptop when they're poring over wedding videos or old TV shows, Night Forms has allowed them to share those conversations with anyone interested in hearing non-Western sounds reimagined for a contemporary club setting.
As 8ULENTINA put it, "Putting traditional percussion or Eastern sounds with club music and letting people see those two things can exist in the same space — that's what we get really excited about."