The coronavirus election is upon us, setting up a crosscurrent of anxious voters worried about the re-election of President Trump and local candidates unsure how to navigate the pitfalls of campaigning during a pandemic. Meanwhile, the Alameda County Registrar's Office is dealing with a massive influx of ballots with a mostly vote-by-mail election, which is expected to draw 1 million voters. All of this is happening as uncertainty hovers over elections in Oakland, neighboring Alameda and Berkeley, as well as with the Alameda County Board of Supervisors.
Oakland voters will decide whether to bring back a majority of the City Council, while the same electorate will be asked to add four new members to the much-maligned Oakland Unified School District Board of Education. In addition, Measure S1 in Oakland could radically reframe how the Oakland Police Commission goes about reforming the city's turbulent police department.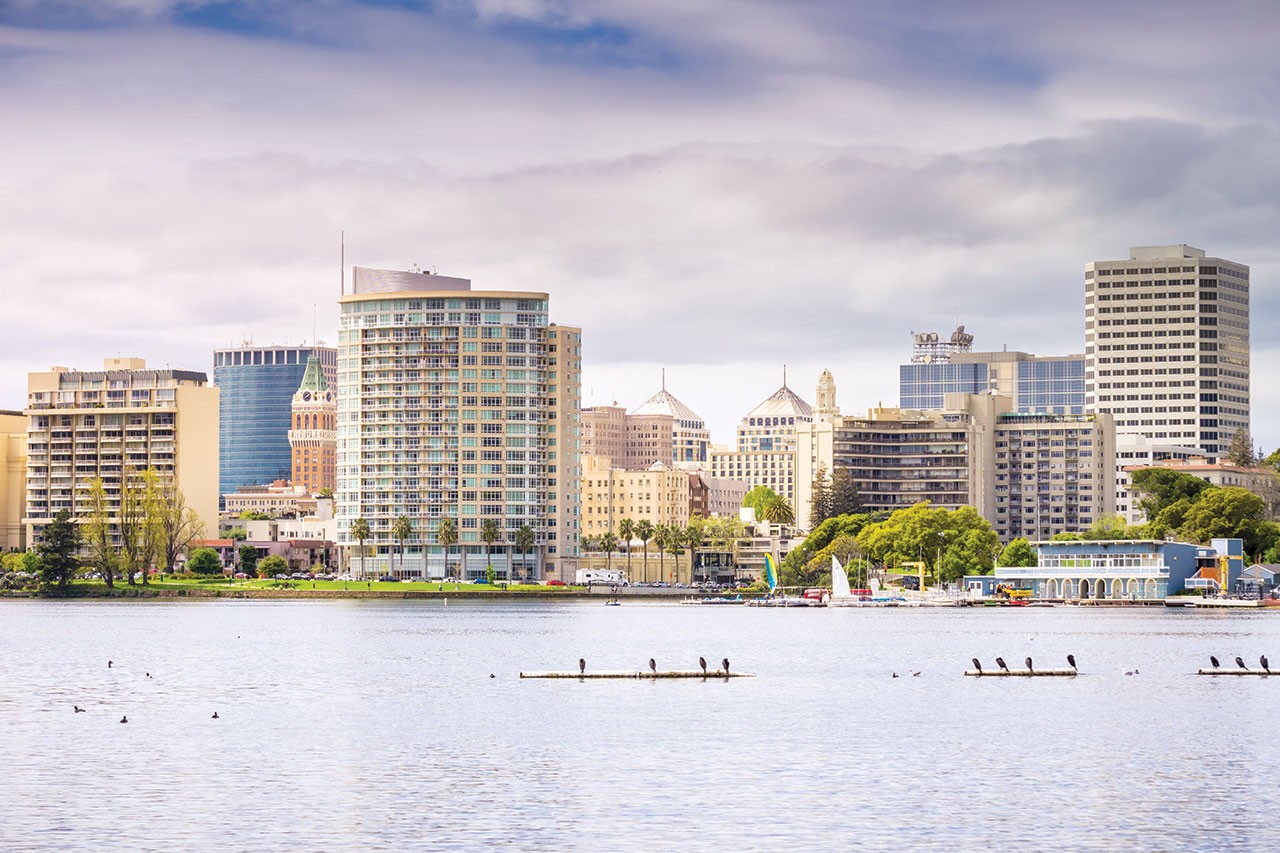 In Alameda, a political scandal from three years ago threatens to roll back the island's recent progressive renaissance, as three moderate candidates hope to unseat two incumbents this fall. Island voters will also decide whether to erase Measure A, a charter amendment passed in 1973 that is blamed for styming new housing for nearly half a century while also blocking housing opportunities for minorities. Meanwhile, voters in the Tri-Valley and Fremont will elect a new member to the powerful five-member county Board of Supervisors in a matchup that has involved both sides slinging brickbats at each other for months.
OAKLAND
Of the five Oakland council races this fall, the District 3 matchup in West Oakland—featuring Councilmember Lynette McElhaney, longtime Oakland activist Carroll Fife and four others—represents the most likely upset, according to several local politicos. McElhaney has attracted the ire of labor for several years, stemming from a number of slights—none more debilitating than a perception she failed to support SEIU Local 1021 during recent contract negotiations. SEIU and the Alameda Labor Council have pumped $343,000 into an independent expenditure committee to defeat McElhaney. In the meantime, Fife also outraised McElhaney through the Sept. 19 campaign finance filing period. Aside from conventional wisdom that points to McElhaney's potential defeat, polling suggests a potential drubbing is in store for the incumbent, who was first elected to the District 3 seat in 2012. A survey from the Oakland Housing and Jobs Coalition last week showed Fife, who garnered considerable attention by leading the Moms 4 Housing occupation earlier this year, with a commanding advantage heading down the home stretch.
The same poll found District 1 Councilmember Dan Kalb with a slight advantage over newcomer Stephanie Dominguez Walton. Kalb has campaigned on his experience and a number of legislative victories since his election to the council in 2012. For example, Kalb is a co-author of Measure S1. But his wonky persona has conversely been attacked by Walton, who has often asserted that Kalb has lost his connection with the North Oakland district.
At-Large Councilmember Rebecca Kaplan is facing perhaps the nastiest re-election fight from well-financed challenger Derreck Johnson. Tech giants Lyft, Uber and DoorDash have poured huge amounts of money toward an independent expenditure committee bent on defeating Kaplan, who has been a nemesis of the gig companies for several years. Johnson, who is backed by Oakland Mayor Libby Schaaf—another Kaplan rival—also holds a significant fundraising advantage over the incumbent. Johnson's campaign, however, has taken a number of hits in recent weeks over his self-touted business acumen. After portraying himself as the owner of Jack London Square's Home of Chicken and Waffles, reports came out that he lost the eatery in bankruptcy among other questionable business dealings.
East Oakland's District 7 is guaranteed to have a new representative following the retirement of Councilmember Larry Reid, but the seat is expected to stay in the family. After holding the seat since 1996, Reid hopes to hand it over to his daughter, Treva Reid. She headlines a five-person race that includes Full Acts Gospel Church pastor Bob Jackson, former Oakland mayoral candidates Marcie Hodge and Marchon Tatmon, and Aaron Clay, a solar power businessman. Notably, on the issue of the Oakland Coliseum, which resides in the district, all five candidates advocate for the Oakland A's to build their new ballpark at the site and not at the waterfront property known as Howard Terminal. The team, however, has voiced no intention to do so. Each candidate also opposes the city selling its 50 percent interest in the property to the team, which is proposing to build housing, retail and office space.
In Fruitvale's District 5, Councilmember Noel Gallo, also a part of the 2012 class that included McElhaney and Kalb, is facing two young challengers in Richard S. Raya and Zoe Lopez-Meraz. While most do not believe Gallo's re-election is in danger this fall, the age gap between himself and his opponents has sometimes been comically evident. During the Alameda County Democratic Central Committee endorsement meeting, held virtually last month, Gallo repeatedly struggled to master the new realities of Zoom meetings, often beginning to answer questions without unmuting his audio, while his much younger opponents looked on with a knowing smile.
Oakland's city attorney race also has a familial dynamic. City Attorney Barbara Parker is seeking re-election against one of her own, Eli Ferran, a member of the Oakland city attorney's office. Ferran's wife is also chief of staff for District 6 Councilmember Loren Taylor. Throughout the campaign, Parker has portrayed Ferran as inexperienced and unexceptional in his performance as a deputy city manager. Parker, though, has suffered a number of losses as city attorney, including her defeat in the effort to block coal shipments in Oakland. Parker's campaign is largely self-financed, according to the most recent campaign finance disclosures. Ferran, meanwhile, recently received help from the National Association of Realtors. An independent committee backed by the group plunked down $105,000 in support of Ferran earlier this month, including $82,000 for online advertisement, according to finance reports.
The Oakland Unified School District's inability to rise to the city's economic and scholastic demands remains a black eye. But this November, Oakland voters will be afforded the unprecedented opportunity to remake the seven-member school board. All four races this fall include a total of 17 mostly first-time candidates for public office—and no incumbents. The OUSD board's decision last year to begin closing some Oakland public schools and reports of contaminated water at McClymond's High School appear to have galvanized candidates to run in each of the four contests.
In District 1, three candidates—Stacy Thomas, Sam Davis and Austin Dannhuis—are in the race to replace current school board president Jody London in a district that witnessed strong opposition from parents over the closing of Kaiser Elementary School last December. Oakland Unified, which has struggled with budget woes for years, said the closure and consolidation of some schools is needed. In District 3, five candidates—including Maiya Edgerly, a education non-profit executive; educator Maximo Santana; parent Cherisse Gash; and OUSD teacher VanCedric Williams—hope to replace Jumoke Hinton Hodge. In District 5, educators Sheila Pope-Lawrence, Jorge Lerma and Mike Hutchinson, along with nonprofit director Leroy Roches Gaines, seek outgoing school board member Roseann Torres' seat. In District 7, retired teacher and former McClymonds basketball coach Ben Tapscott along with current educators Clifford Thomspon and Bronche Taylor are in the run for current school board member James Harris' seat, as well as transportation project engineer Victor Valerio and communication coordinator Kristina Molina.
Oakland police accountability activists will finally get an opportunity to add teeth to the city's independent Police Commission. Measure S1 would allow the commission to create an Office of the Inspector General to monitor the handling of police misconduct cases, and hire its own attorneys. Measure QQ hopes to expand Oakland's voting pool by allowing 16- and 17-year-olds to vote in school board elections. Measure RR removes a cap on monetary penalties for code-enforcement fines.
ALAMEDA
Across the estuary In Alameda, councilmembers Jim Oddie and Malia Vella are seeking re-election in a five-person race for two at-large seats. Two years ago, a City Hall scandal involving accusations by the previous city manager that Oddie and Vella improperly attempted to influence her decision to hire a new fire chief, weighed heavily on voters' minds. Oddie technically lost his seat on the council in the aftermath, but still rejoined the council under a charter provision that allows the runner-up in council elections to take over the seat of a departing councilmember—in this case when then-Councilmember Marilyn Ezzy Ashcraft became mayor. There are signs that some Alameda voters still harbor resentment toward Oddie and Vella. But the trio of challengers—former Mayor Trish Herrera Spencer, Gig Codiga and Amos White—all espouse platforms that in many cases are diametrically opposed to the council incumbents. For instance, all three oppose the passage of Measure Z, the hot-button initiative to excise the remnants of Measure A from the City Charter. While either Oddie or Vella's re-election could be in danger this November, most believe the likelihood is lowered by the potential that Spencer, Codiga and White may split a portion of the vote that has shown itself in recent elections to be the minority in Alameda's pronounced progressive electorate.
The aforementioned Measure Z represents a chance for Alameda voters to remove charter language that significantly limited the building of new housing on the island for a generation. Critics believe the charter amendment fueled the city's recent housing crisis because of low supply and high demand borne out of an intent to block outsiders from moving to Alameda. Proponents—ever distrustful of city government—disagree and contend Measure A provides residents with a bulwark against runaway development. Measure AA, also on the ballot this fall, asks voters to give additional powers to the newly formed city prosecutor's office, while cleaning up gender-specific language in the Charter.
BERKELEY
Four years ago, Cheryl Davila surprised many in Berkeley politics by unseating longtime District 2 Councilmember Darryl Moore. Her campaign for re-election, though, has proven difficult this fall with the emergence of Terry Taplin, a Berkeley transportation commissioner who has the backing of several progressive groups, along with a near sweep of the city's state and local elected officials. Taplin has repeatedly asserted during the campaign that District 2 struggles with quality-of-life issues. It's a criticism Davila used against her predecessor four years ago. During a candidates forum last month, Davila said that the district is "getting the attention it needs" and much more than before her time on the council. She also boasts of passing more than 300 pieces of legislation since joining the City Council. Taplin believes he's the most progressive candidate in the race, but Sen. Bernie Sanders endorsed Davila last week. Alex Sharenko, a solar-energy scientist, and Timothy Carter, a Berkeley small-business owner, are also in the ranked-choice voting race.
Berkeley Mayor Jesse Arreguín's re-election will face three challengers next month. In typical Berkeley fashion, the candidates sound more intent on saving the world's problems than its own. Arreguín has become a regional leader since his election four years ago. Arreguín touted his successes in approving and building affordable housing in Berkeley, while shoring up the city's budget despite trying times this year. But Arreguín faces a highly aggressive challenge from activist Wayne Hsiung, who labels himself a political outsider. He has doggedly portrayed Arreguín as supporting policies to the detriment of the city's homeless, allowing the militarization of the police department and for being too slow on climate change. Arreguín rejected each argument during a recent forum. Also in the race is Aidan Hill, a Cal political science student, and Naomi Pete, a retired senior.
Three other incumbent council members are on the ballot. In District 3, Councilmember Ben Bartlett faces Deborah Matthews, a real estate broker, and Orlando Martinez, a construction manager. In District 5, Councilmember Sophie Hahn is challenged by Todd Andrew, a real estate salesperson, and Paul Darwin Picklesimer, a community center manager. Also, in District 6, Councilmember Susan Wengraf seeks a third term on the council against Richard Illgen, a social justice attorney.
In addition, the Berkeley Unified School District Board of Education will add two new members. School board members Judy Appel and Beatriz Leyva-Cutler are not running for re-election. The field of six candidates for the two open seats include Laura Babitt, a financial auditor; Jose Luis Bedolla, a nonprofit CEO; Michael Chang, an education law attorney; Norma J F Harrison, a community volunteer; Esfandiar Imani, a risk management consultant; and Ana Vasudeo, a school transportation planner.
While most East Bay cities have avoided the pursuit of ballot measures for the November election because of the pandemic, Berkeley is bucking the trend with eight. Among them is Measure GG, which adds a 50-cent tax on ride-sharing companies for trips originating in Berkeley; Measure HH, which increases the city's utility users' tax to 10 percent; Measure JJ, an increase in councilmember's pay; and Measure II, a charter amendment that creates an independent Berkeley Police Accountability Board and director of police accountability.
ALAMEDA COUNTY
While all of these races have proven to be hard-fought affairs, none has come as close to being as personal as the contest for the open District 1 seat on the Alameda County Board of Supervisors left vacant by retiring Supervisor Scott Haggerty. "We need a lawmaker, not a lawbreaker," Dublin Mayor David Haubert has often said of his opponent, Fremont Councilmember Vinnie Bacon, who has a history of campaign finance violations. For his part, Bacon has labeled Haubert a former Republican who opposes abortion and once addressed the Oath Keepers, a right-wing, anti-government group. Why does this race matter to the rest of Alameda County? An open seat on the five-member board is a rare occurrence and the winner of the election could sway the county on housing issues (e.g. Bacon's rhetoric often has a NIMBY tone) and funding for the Alameda County Sheriff's Office (e.g. Haubert is likely to be more supportive of law enforcement).