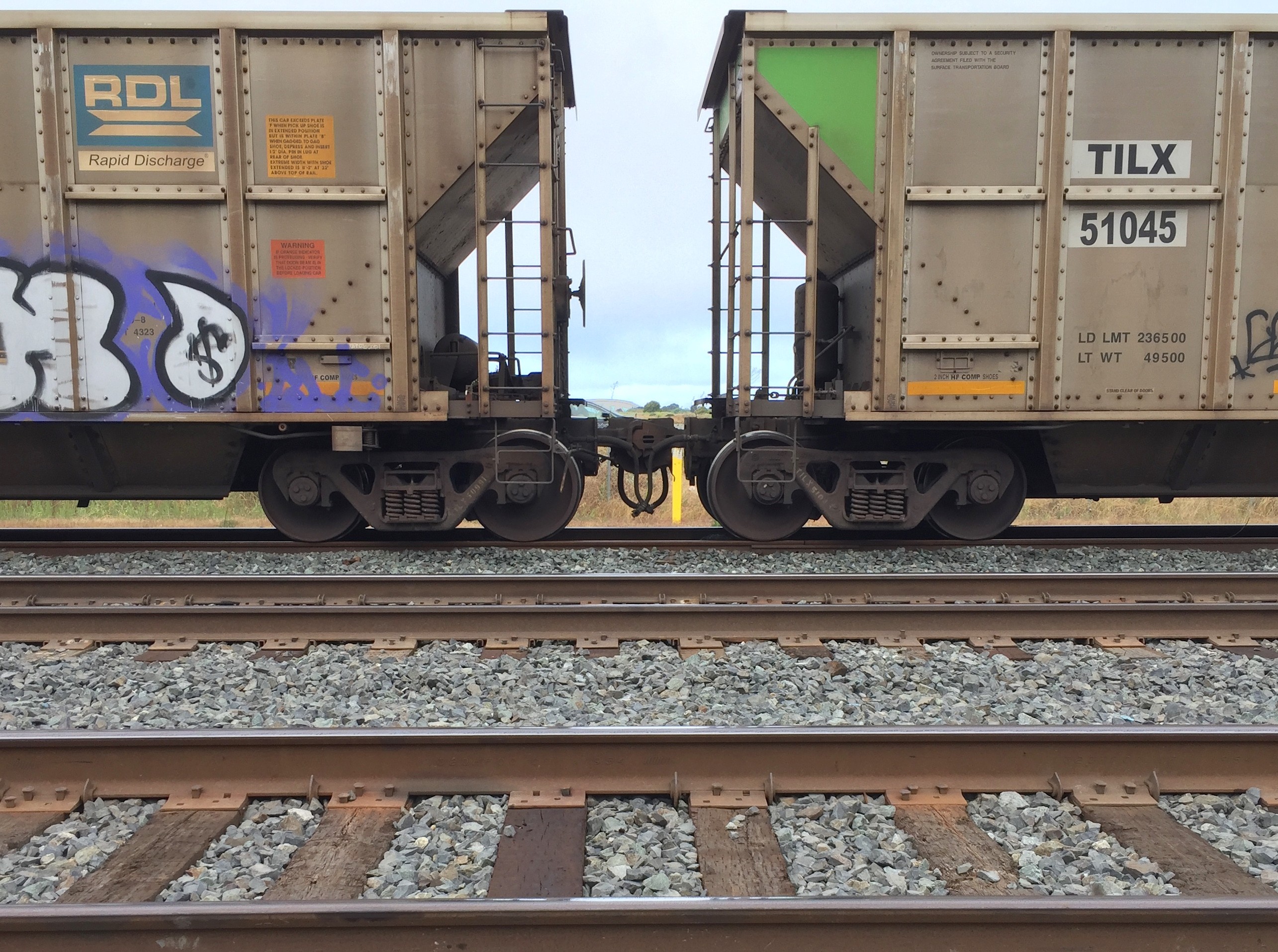 For years, the U.S. coal mining industry has understood that its future profits depend on accessing overseas markets. That's because North American customers, mostly electrical utilities, are drastically cutting back on coal as a fuel source. But the industry has faced a major obstacle to this growth strategy: West Coast states and cities have refused to allow construction of marine terminals that are needed to receive coal via train and load it onto ships.
One reason some local communities have put up resistance is that coal trains emit toxic pollution in the form of diesel exhaust from locomotives. And coal dust also blows off the tops of the cars and leaks like sand from underneath, becoming airborne and gathering, at times, in dangerous concentrations.
But now the coal industry appears to have broken through this so-called "thin green line" of environmental resistance thanks to a decision made by U.S. District Court Judge Vince Chhabria earlier this year. Chhabria overturned Oakland's ban on storing and handling coal as it applies to a massive marine terminal planned for construction near the foot of the Bay Bridge.
Chhabria essentially decided that the city didn't convincingly prove that transporting coal presents a substantial danger to public health and safety, so he ruled that Oakland breached the development agreement with the Oakland Bulk and Oversized Terminal, the company owned by Phil Tagami and his business partners that hopes to build the coal export terminal.
"The record before the City Council does not contain enough evidence to support the City Council's conclusion that the proposed coal operations would pose a substantial danger to people in Oakland," Chhabria wrote in his decision overturning the coal ban.
But according to air-quality scientists, Chhabria was asking for something that doesn't really exist while at the same time ignoring a larger body of research that overwhelmingly shows that the East Bay's air quality is already dangerous, and that adding any new amount of pollution in the form of coal dust and diesel smoke will cause further harms.
"The overall level of research that has been done has been sadly, surprisingly lacking," said Victoria Evans about coal dust emissions from trains. Evans was one of the lead scientists working for the environmental consulting firm ESA, which helped the city study possible environmental impacts of shipping coal through Oakland.
Evans said her team searched for previous scientific studies on coal dust emissions from trains in order to try to build a model to estimate how much coal dust could end up in Oakland's air. But the ESA team found a thin scientific record, making their task much more difficult than they first expected.
"It's buried in places and you have to excavate to find it," said Evans.
One study that was done many years ago focused on trains traveling through rural areas, not densely habited places like the East Bay.
Another old study examined coal dust blowing off trains in the Eastern U.S. There, however, the types of coal are different, making it hard to compare dust emissions to what blows off the bituminous coal mined in Utah — the source of much of the coal that might now be bound for Oakland.
Still another estimate that Evans' team tried to gather data from was produced by the BNSF railroad, one of the largest haulers of coal. But while BNSF's study showed that large amounts of coal blows out of train cars — about 645 pounds per car over a 400-mile trip — the study wasn't focused on health impacts. The company didn't try to gauge how much coal dust ended up suspended in the air where it could be inhaled by people who live near the tracks. Instead, it measured the quantity of coal lost from the trains in order to understand how much money it was losing in lost product.
BNSF also tested the effectiveness of surfactant chemicals used to coat, or "top," coal in rail cars and prevent dust from escaping. But this "super trial" study did not include air monitors to see how much dust was suspended in the air near passing trains. Details of the study were never made public, and it wasn't peer reviewed or published in a scientific journal.
"They just didn't put a whole lot of scientific horsepower behind it," said Evans, whose background is in researching power plant emissions. She said that the utility companies have been subjected to enormous scientific scrutiny, but that the federal government has never really tried to understand how trains carrying coal cause pollution.
BNSF did not respond to a request for comment.
In fact, Evans' team could only find one recent, peer-reviewed scientific study that specifically examined coal dust emissions from trains. In 2014, University of Washington researchers set out to measure how much dust was blowing out of cars in the Columbia River Gorge. The route is currently used to transport coal, but proposals to expand shipments through Washington and Oregon prompted them to look closer.
"There is not a lot of research on this," said Daniel Jaffe, a professor of environmental chemistry at the University of Washington who conducted the study.
Part of the reason so little information exists about the pollution caused by coal transport is that railroads are exempt from local regulations, therefore only federal authorities can impose rules, including pollution controls. The result is that states and local governments have never had any incentive to understand how they might impact their communities.
But in Washington State's case — like Oakland — the possibility that millions of tons of coal might be shipped through urban areas was in fact dependent on something the state does have control over: permits to build the marine export terminals.
Jaffe's team first attempted to review the existing science on coal train pollution in the area, but found virtually nothing. "There was anecdotal evidence," said Jaffe. Columbia River Gorge residents had taken photographs of coal trains emitting huge black dust clouds, but they didn't prove anything.
To gather the facts, Jaffe's team set up air-monitoring stations and motion-sensor cameras along the tracks to observe approximately 367 passing trains. They found that "nearly all open-top coal trains release coal dust," which results in the suspension of tiny respirable dust particles that can get embedded deep in a person's lungs. Jaffe's team also found that coal trains emit twice as much microscopic dust than freight trains. They surmised that half of the overall pollution was due to coal dust, and half was from the trains' diesel exhaust. Four of the trains that passed by their sensors spewed so much aerosolized coal into the air that they ended up calling them "super dusters."
To date, this is the most comprehensive study on coal dust emissions ever done.
Jaffe carried out one other study that was relevant to Oakland's coal ban trial. His team measured diesel and dust emissions from coal trains traveling through Seattle and measured pollution levels that were substantially higher after the passage of each train.
But Jaffe's team didn't study the health impacts caused specifically by coal trains for people living near the train tracks. In fact, there doesn't appear to be a single scientific study measuring the health impacts of coal dust emissions and diesel emissions from coal trains, despite the fact that coal trains frequently travel through urban areas.
Because the ESA study used Jaffe's work and only a few other sources, it could only estimate how much potential coal dust could end up in the air. Chhabria said that while the city was able to show some level of coal dust pollution was very likely, it didn't say exactly how much, and it didn't connect this to likely health and safety impacts.
The judge also criticized the study for having several typos and mathematical errors, but Evans said these flaws weren't large enough to invalidate their conclusions. And Chhabria agreed with the coal terminal developers that the types of coal that would be shipped through Oakland differed from the dustier sort that Jaffe studied, as well as coal types in other studies used as reference.
For some of these exact reasons, anti-coal activists feared the ESA study wouldn't be enough to uphold the city's coal ban, so they helped assemble an independent team of public health experts to estimate how much pollution the coal trains would emit, and what the likely health impacts would be based on diesel and coal's known toxicity and link to various lung diseases. But Chhabria largely ignored this study and another similar report written by UC Berkeley researcher Zoe Chafe for Oakland Councilmember Dan Kalb.
Bart Ostro, a researcher at the UC Davis Air Quality Research Center who helped write the public health study, said it was unfortunate these reports weren't given greater weight.
Ostro, who was a member of the public health panel that produced the Oakland report, said that a major takeaway from the judge's decision was that even though there's ample scientific evidence that Oakland's air quality near the port and train tracks is already dangerous and unhealthy, and that coal trains will make this worse, the city still suffered from the overall absence of a scientific literature in what should be a critical field.
"We know this coal dust contains both fine and coarse particulate matter, and there are hundreds of studies that report causal relationships between exposure to particulate matter and premature mortality, hospital admissions for heart and lung disease, and other harms," said Ostro.
But without research measuring coal dust emissions leading to higher pollution in urban areas, and directly linking this to negative health outcomes, the city of Oakland couldn't win.
Oakland officials have also disagreed with the judge's ruling and are currently appealing the decision.