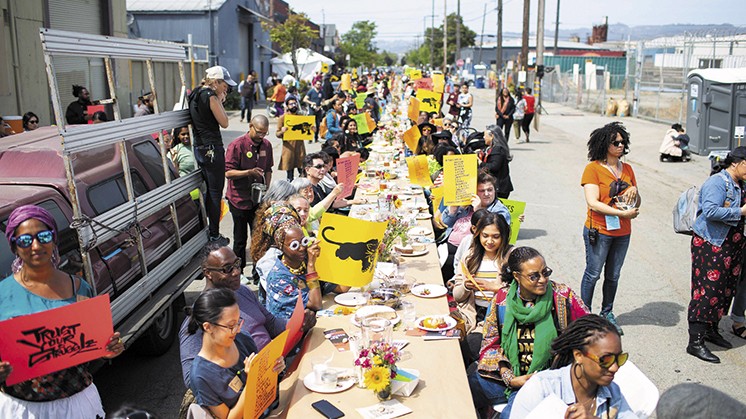 On a windy Sunday in May, hundreds of people streamed into a neighborhood in West Oakland to have lunch. A long table stretched a full block in the middle of Magnolia Street, with jars of pickled carrots, cumin compound butter, and sunflowers, eucalyptus branches, and pink Peruvian lilies beautifully laid out.
They were there to eat — but also to protest, remember, and celebrate.
The event was organized by the People's Kitchen Collective, a wide-ranging food, social justice, and art project based in Oakland, as part of its four-part series "From the FARM to the KITCHEN to the TABLE to the STREETS!" With funding from the Kenneth Rainin Foundation, the series was a critique of the farm-to-table movement, which collective members say often neglects the contributions made by people of color to the food we eat. The West Oakland event aimed to use hospitality as a radical act by deliberately centering a meal on people of color and serving dishes that push against Eurocentric norms.
"Our recipes tell us who we are. Our recipes are a political act," Saqib Keval, the original founder of the People's Kitchen Collective, told the crowd. "They're documents that tell us our histories of migration, of displacement, of revolution, of rebellion. These are dishes that have fed our movements and kept us alive."
[pullquote-1]
Throughout the two-hour meal, there were performances, speeches, and questions. Audee Kochiyama-Holman, the daughter of activist Yuri Kochiyama, told a story about her mother's own gatherings over food, including one time Malcolm X came over to meet a group of Japanese survivors of the atomic bomb. Oakland-based Ohlone food project mak-'amham served a trio of teas and explained their fight to preserve indigenous culinary traditions. Youth arts group Young Gifted and Black performed a stirring mix of raps, songs, and chants that spoke both to deep trauma and hope. In many ways, it was about connecting struggles.
The food itself was bountiful and soulful with a celebratory picnic feel: salad, cornbread, collard greens, heirloom beans, and pulled chicken were all passed around family-style. It managed to reflect on the Great Migration to West Oakland, yet also taste inherently intersectional. The salad was dressed with tamarind. The beans featured turmeric and other spices.
Collective members Keval, Sita Kuratomi Bhaumik, and Jocelyn Jackson purposefully held the event in West Oakland, which is one of the Bay Area's most active and tense sites of gentrification. The particular intersection of the event, at Magnolia and 28th streets, was also the same place where Oakland police officers killed 17-year-old Bobby Hutton 50 years earlier.
That attention to history and context, and the collective's desire to center the histories and food of people of color, was embodied in every detail — from the ingredients to the playlist to the poetry. And their decision to feed 500 people for free was inspired by the Black Panthers' Free Breakfast Program.
After 500 people took their seats, Bhaumik told the crowd about Little Bobby Hutton, the significance of the intersection, and the reason to eat in this particular street. "It's to remember," she said. "When there are no monuments here, we hold that memory. We eat to hold that memory. We cook to hold that memory."
[pullquote-2]
There was solemnness, yes, but also a celebration of life, joy, and resilience. It felt more like a family reunion than a typical pop-up dining experience. Familiar pillars of the community were present: art gallery owner Ashara Ekundayo, Red Bay Coffee's Keba Konte, and Karen Seneferu, who curated The Black Woman is God art exhibit. Some guests were so excited that they never actually sat down, instead choosing conversations, hugs, and eating while standing up. And many people remarked that the large crowd — predominantly Black, with Asian, Latinx, and white folks, too — looked like Oakland.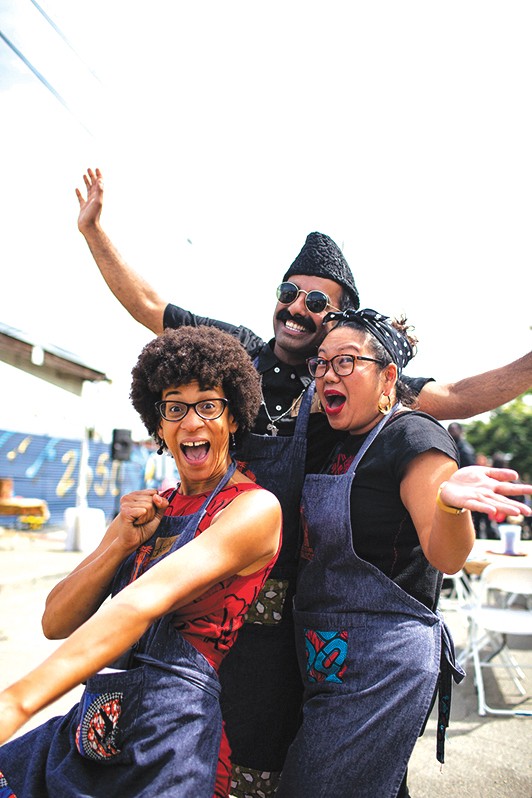 Although the members of the People's Kitchen Collective don't necessarily believe serving soul food in the street can stop the displacement of Brown and Black residents, they hope the meal served as a platform for people in the community to get together and discuss how they might combat such issues. At one point, they even assigned a writing exercise, asking every guest to contemplate what their neighborhood needs and what they can personally offer it.
"This meal does not end at this table here, and it does not end at this block," said Keval, who stood proudly wearing an apron and his grandfather's topi, an Indian/Pakistani hat made out of lambswool. "At People's Kitchen, we believe cooking together is radical but eating together is revolutionary, because what happens at the table? Movements are built."
What connections were made possible by that day? What movements are growing? It might be impossible to quantify, but the event succeeded in prioritizing the experiences of people of color in a way that felt deeply humanizing and empowering. At the same time, it demonstrated just how rare those feelings can be — even in the East Bay.

---
The word "decolonization" gets thrown around a lot in today's food dialogue, but that's a fairly recent development. Keval, however, started dreaming up his own decolonized restaurant model ten years ago, which eventually spawned People's Kitchen Collective.
As a Bay Area-born, fine-dining chef trained in France, Keval wondered how you could deconstruct the prevailing restaurant model and create something radically new. To Keval, it's inherently problematic that the default kitchen structure is based off of the French military. "Its roots are really deep in this Eurocentric, militarized way of functioning," he said. "With that comes the patriarchy, all the homophobia, all these deeply rooted systems of oppression."
A better, more ethical way to do it? Bring the lowest-paid, often Black or Brown workers out of the kitchen and into the higher-paid serving roles. Pool tips equally. Move away from the hierarchal titles of "executive chef" and "sous chef" and build teams instead. Examine recipes as tools of cultural preservation and political education. Honor the craft of cuisines that have yet to be co-opted by white chefs. "The norm for what's good food is very much European," Keval said. "After years in France, I was like, 'This is bullshit. There are more types of technique and complex stories around food that aren't happening here and aren't with a French accent.'"
So, Keval launched community-focused, decolonized food projects around the world. Sometimes that looked like one-off restaurants and other times it was special, collaborative meals. There was People's Kitchen in Toronto. There was a version in France. And another in New York. And Humboldt. And Providence. They all folded or transformed into something else over the years, and then Keval brought People's Kitchen to Oakland in 2011.
The first meal was held at People's Grocery, where Keval worked for three years. It was a free dinner for West Oakland residents engaged in food justice. From there, he organized a few meals each year in collaboration with groups such as Phat Beets Produce, VietUnity, and the Life is Living festival, where he'd feed hundreds during a Black Panthers-style free breakfast.
In 2015, he met Bhaumik and Jackson, and the three quickly bonded over their passions for food and social justice. They were all similarly fascinated with diasporic food histories, which was in part informed by their own backgrounds — Keval is ethnically Indian, but generations of his family lived in Kenya; Bhaumik is Japanese Colombian and Indian. Keval invited them to help cook an event. And then another one. But Bhaumik and Jackson needed help with their own projects, too, and soon they started the People's Kitchen Collective. After formalizing the union, they made a home base at the Alena Museum in West Oakland and started thinking bigger.
Their clout grew, too. They received invitations to speak at the Museum of the African Diaspora in San Francisco. They were asked to contribute a recipe to the lauded cookbook Feeding the Resistance. Collaborators started to include huge national names like Marcus Samuelsson and Tunde Wey. And while getting to work with culinary stars was exciting, achieving buzz was never the point. "We legitimately have concerns about having the pop-up effect," Jackson said. "Like, 'Oh, this is the ticket to get.' No. We didn't want that experience. This isn't a pop-up. This is an event about gentrification."
[pullquote-3]
That's partially why the collective thoughtfully chose the guests for this most recent meal. They invited West Oakland neighbors, as well as community groups that serve West Oakland such as Causa Justa Just Cause and West Oakland Youth Center, and reserved seats for them before releasing a small batch to the general public.
When Keval first started People's Kitchen, pop-ups had yet to become widespread. It was still the era of food truck festivals and the occasional underground supper club. Keval dreamed of large, seated gatherings in public spaces, and a couple of years later, Outstanding in the Fields started. The quintessentially farm-to-table pop-up series takes place in ranches, farms, vineyards, and beaches — and tickets can cost more than $300 per person. Similar series have cropped up on a smaller scale, but they usually run more than $100, too.
"They have a more affluent, white audience," Keval said. "It's not meant to be accessible. You're paying for an exclusive dining experience."
Keval kept dreaming. He imagined a long, single table blocking off traffic at West Grand Avenue and Broadway as an ultimate form of protest. There would be white tablecloths, full service, glassware, and ceramics — it would be so big that it couldn't be stopped. Ultimately, the risks outweighed the benefits, and the vision morphed into something permitted, residential, and within the budget allowed through grant funding and a $30,000 crowdfunding campaign.
The Kenneth Rainin Foundation grant came through the Open Spaces Program, which funds temporary art projects — not food pop-ups — in the Bay Area. "From the FARM to the KITCHEN to the TABLE to the STREETS" served as a one-year critique of the farm-to-table movement, which champions sourcing in-season ingredients from local farms in the name of sustainability.
Farm-to-table is considered a relatively new movement, and its most prominent voices are white. But many communities of color, both in the United States and abroad, have been eating "farm-to-table" for generations — they just haven't been recognized for doing so. Edna Lewis, for example, penned cookbooks documenting the farm-to-table roots of Black Southern cooking before farm-to-table had a name.
In many upscale, farm-to-table restaurants in the East Bay, the highest-paid workers still tend to be white. This follows national trends. In an observational study of 133 fine-dining restaurants nationwide by the local nonprofit Restaurants Opportunities Centers United, 81 percent of management positions and 78 percent of higher-level positions were held by white employees. And the high prices of many farm-to-table restaurants make the movement seem exclusive and inaccessible. (A four-course, Saturday night dinner at Chez Panisse runs $125 per person.) While the East Bay — and Oakland, in particular — remains ahead of the national curve with people of color opening some of the region's most exciting new restaurants, it's still unusual to come across a restaurant with a staff and clientele as centered on people of color as the People's Kitchen Collective meals.
That meal series built gradually. The first meal, FARM, explored how people have used farming as a way to create a sense of place when met with displacement. KITCHEN focused on the idea of food as remedy. And TABLE reflected on Japanese internment, and how history might repeat itself with today's similar rhetoric about Muslim Americans. Members of the Nikkei Resisters, a local group of Japanese-American activists, shared internment stories and words of solidarity. One of the Resisters, Shoshana Arai, said she appreciated the People's Kitchen Collective's culinary approach to discussing this history — and that it's completely relevant. Many Japanese immigrants were farmers and fishermen, and in the camps, they had to eat Army-issued Spam and potatoes instead of rice and shoyu.
"Oddly enough, we tend to think the best way to pass on history is textbooks and formal lectures," Arai said. "But what most people remember is not historical data. They remember stories. They remember the feelings."
[pullquote-4]
And then, there was STREETS.
The idea of "farm-to-table," Keval said, ignores the labor of the countless people of color who work between the farm and the table — and beyond. There are the people who transport the produce from the farm to the kitchen. There are the people working in those kitchens. There are people who bring food to the table, and clean up the table, and take the waste to the curbs and then to compost sites. "Our labor exists in the in-betweens," he said. "To say 'farm-to-table' erases our histories.
"A very privileged way of looking at dining is that it's this isolated incident," he continued. "You pay for the privilege of this incident, of being taken care of, and ignoring everything else. You pay for this sterilized experience."
---
Forty-five minutes before the STREETS meal was scheduled to begin, Keval summoned volunteers to circle up — 130 of them. They were running late, and Keval sounded borderline out of breath. "This is fucking crazy," he said, as everyone erupted in applause.
As with all of the collective's meals, Keval commanded everyone involved to hold hands. Unlike with other meals, it was impossible to form a single circle, so folks made do with several incomplete fragments. All together, 130 people said to each other, "Thank you for being here," and it sounded sincere.
After a brief pep talk, groups split off into action, guests began filtering in, and, remarkably, 500 people were served a multi-course feast. The 130 volunteers ate, too. And after everyone left, more volunteers brought 200 meals, boxed up in clamshells, to homeless encampments nearby.
When the collective started doing outreach in the neighborhood, they tried to identify ways people who couldn't come to the table could still be part of the experience. It's why they contacted San Quentin State Prison and brought origami boxes folded by inmates to sit on the table. They also specifically welcomed folks celebrating Ramadan with boxed-up meals to take home. Children received coloring sheets depicting Malcolm X. And given the meal's theme of gentrification, it felt necessary to extend the meal to folks on the street — folks who might have recently been evicted from their West Oakland homes.
"There are invisible barriers that happen around access that are really real," Bhaumik said. "There are real reasons that people do not walk in and out of spaces. For us, it's important to be as mindful as we can of what those are and to reach beyond those."
[pullquote-5]
As Bhaumik and Jackson met more and more neighbors, they also found that not everyone was supportive of their project. "This neighborhood is really tender. There have been a couple shootings recently. People are being actively displaced and evicted. There are struggles between neighbors on the street. There are newcomers and old-timers," Jackson said. "How do we create invitation and welcome in a short period of time to people who are holding their space close and being a little bit careful?"
Jackson said the majority of the neighbors they met immediately supported the event. And the collective worked to address the concerns — such as about security and parking spaces — of those who were more resistant to the idea.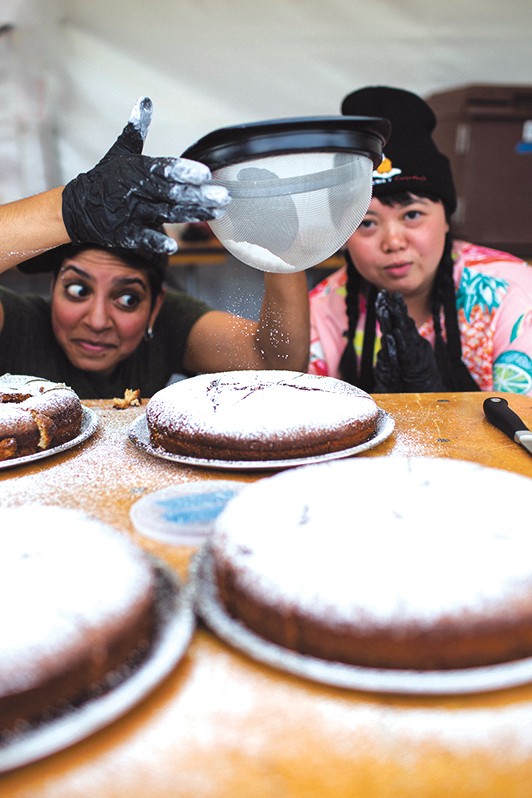 The collective said outreach was a vital part of the two-year planning process, but it was also just one, relatively small part of such a logistical beast. They cooked for 17 hours straight the day before the meal. A few days prior, more volunteers baked almond cakes and pickled carrots. One day saw 25 people folding programs, cutting paper tablecloths, and making buttons. Another group of 10 screen-printed posters. And then, there was the day the collective picked up all the produce, and volunteers rounded up supplies, equipment, and donations. Another group hit Magnolia Street with weed whackers, tasked with beautifying the neighborhood and picking up broken glass. Over the course of three weeks, there were four separate, hours-long volunteer orientations — and when you count collaborators, roughly 200 people involved in total. All for a two-hour meal.
"We're guaranteed to have a year of positive impacts reflected back to us," Jackson said, laughing at the laundry list of tasks.
The permitting process and logistics of ensuring a safe event — a staffed first aid tent, a security officer, a portable restroom — can conflict with the collective's stance of people of color-centered hospitality. "You don't turn people away, you always make sure there's enough food, you stretch it so everybody has something," Bhaumik said. "You find a way."
At one point during the meal, a waitlist started forming — tickets were long gone but people showed up anyway.
"When it comes down to it, when we're at the gates, let everybody come in," Jackson said with a laugh. "It's really awkward to turn people away. That's not a good look. It doesn't feel like hosting."
Even a few days after the event, the collective was still wrapping things up and returning supplies. Now, they're taking a break. Their next event, the annual Life is Living festival on Oct. 13, will see them once again feeding hundreds for free, but in a much more casual, easier-to-coordinate setting. Keval is also contemplating a cookbook as a way to document these experiences, recipes, and ideas. "I want a language around food and activism to be more mainstream and this idea of decolonizing the restaurant to be more publicly accessible," he said.
[pullquote-6]
Of course, there will be more meals. The team is still deciding on the theme for their next season, but it likely won't take place on Magnolia Street. Their anchor, the Alena Museum, received an eviction notice March 30. Alena's founder, Seven Asefaha, said he's currently fighting the eviction and hopes to find a new building for his arts organization, which largely exists to provide space for Black folks impacted by displacement. While Alena's fate never got brought up formally at that STREETS meal, it echoes the overall story.
"There's just this heavy energy of this dynamic of, 'We want to get you Black people off this block,'" Asefaha said.
While Black joy filled Magnolia Street that day, it was joined by simultaneous anti-gentrification events elsewhere in Oakland spurred by the now infamous "BBQ Becky," who had recently called the cops on a group of Black folks barbecuing by Lake Merritt. The timeliness and relevance of something that had been in the works for two years was almost eerie. Bhaumik said every single person the People's Kitchen Collective knew in that neighborhood has been priced out or evicted since planning for STREETS began.
"There are beautiful examples of neighborliness and the great sense of camaraderie in this neighborhood, and there are examples of this neighborhood falling into itself," Jackson said.
A few feet from Alena Museum, the meal's final course looked like a celebration: almond cakes dusted with powdered sugar and decorated with yellow flower petals, plus big bowls of fresh fruit on the side. It was described as a birthday cake, in honor of the shared birthdays of Malcolm X and Yuri Kochiyama that weekend. As 500 people finished their sweet ending, People's Kitchen Collective resident poet Marvin K. White took the mic to lead a final chant: "By any greens necessary," hundreds bellowed in unison.
"I don't know what your belief is, but for a lot of us sitting here, this is a family reunion," he said. "This is heaven on Earth. This is what churches should be doing. This is what communities should look like every day of the week."
[pullquote-7]
Then, volunteers handed out 500 protest posters: a panther depicted by famed Black Panther artist Emory Douglas, a map recognizing indigenous land, a call to take care of marginalized communities. While the collective often talks about how their meals don't end when the food is gone, this distribution took it to a new level.
"People say politics and food don't mix," Bhaumik said, smiling at the neon sea of orange, green, and yellow signs. "Well, they're already there."