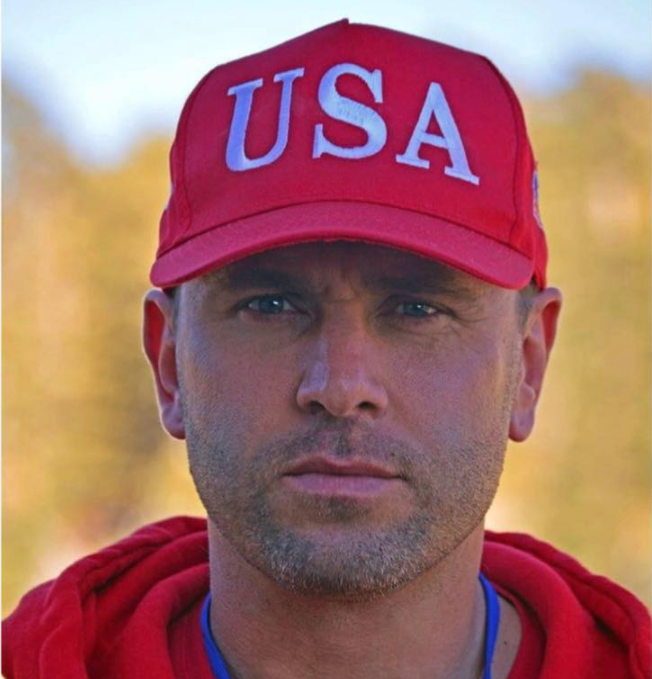 Kyle Chapman, a prominent member of the far-right who lives in the Bay Area, was arrested in Oakland on July 3 and is being held in Alameda County's Santa Rita Jail without bail on charges that he assaulted a man in a Texas bar fight one year ago.
A Travis County judge issued a warrant for Chapman's arrest in March of this year following an investigation of the bar fight. Since then, Chapman has been a fugitive from justice.
Chapman rose to prominence following several violent protests in Berkeley in March 2017. During one of the rallies,
Chapman was videotaped hitting several people over the head with a large wooden cane
. After the attack, his followers nicknamed him "Based Stickman," and Chapman has turned his violent reputation into a profitable brand by selling his own line of clothing and appearing at pro-Trump and anti-immigration rallies around the country.
Last August, the Alameda County District Attorney charged Chapman with possession of a leaded cane for his actions in Berkeley. He has pleaded not guilty to the felony allegation.
On July 1 last year, Chapman was in Texas for the "Texans for America Freedom" rally at the State Capitol in Austin.
Chapman was a featured speaker
at the event.
After the protest, Chapman ended up at the Dirty Dog Bar, one of many nightclubs on Austin's busy 6th Street party district.
According to court records, at about 1:30 in the morning, Chapman was shoving people in a "mosh pit" when he got into an altercation with another bar patron. An Austin police detective wrote in a affidavit that Chapman punched the other man and then hit him across the face with a wooden bar stool.
The detective interviewed a witness who described Chapman's behavior at the bar as an "attempt to instigate" a fight. The witness said he saw Chapman punch the victim, and a second unidentified man who appeared to be with Chapman threw another punch.
The detective also reviewed surveillance video from the bar and was able to see a man fitting Chapman's description shoving people and then getting into an argument with the victim. According to the detective's description of events:
"Kyle intentionally shoves a patron and victim is seen approaching Kyle. They have a conversation and Kyle shoves [the victim] and then punches him in the face. Kyle grabs a large wooden bar stool and hits the victim in the forehead causing him to fall to the ground."

Chapman also made a drink purchase at the bar using his wife's credit card, and after the fight, he left the card behind. The credit card was later seized by the police and is being held as evidence.
According to court records, the victim, Collin Kruse, had fractures to his face and hemorrhaging in his brain and required surgery.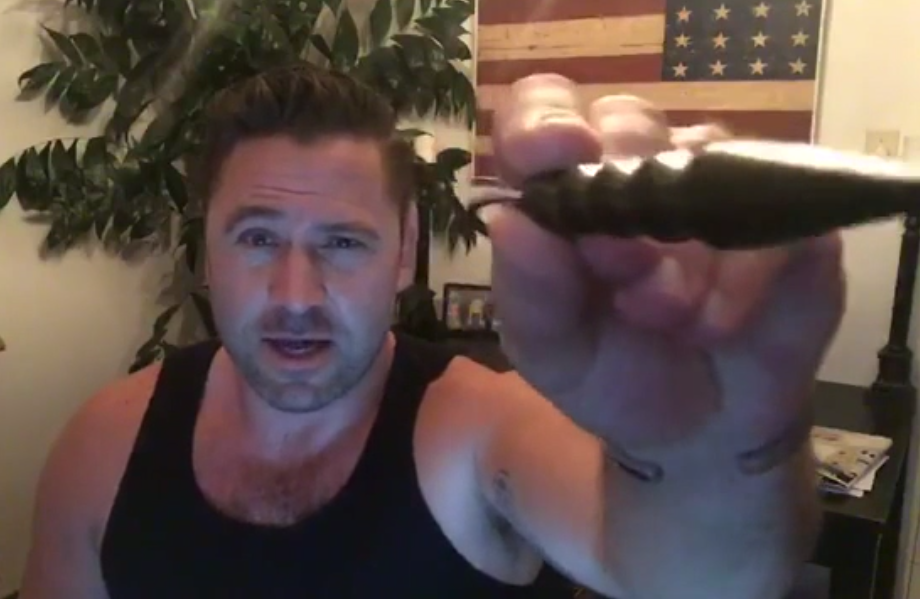 Chapman has a violent history. In August 2017,
an Alameda County judge barred him from possessing weapons of any type
. But in November, he posted videos to his Facebook account bragging of carrying a kubaton, a small, sharp metal weapon.
"This is what I carry on my keychain, guys," Chapman said in the video, which was later quoted in court documents during a bail hearing. "Antifa, just so you know. Very fuckin' deadly," he said, referring to anti-fascist protesters who he has repeatedly confronted at protests.
In December, Chapman and a friend were arrested by federal parks police in San Francisco's Fort Funston for driving off-road on the beach while playing loud Christmas music. When he was searched, officers discovered a kubaton on his keychain. Upon review of the incident,
an Alameda County judge increased his bail
.
The
Express
was unable to reach Chapman for comment.