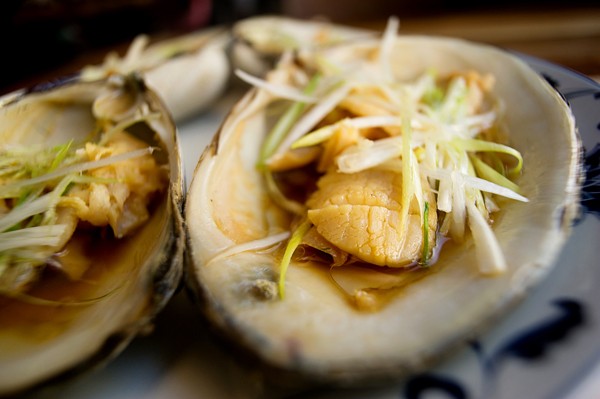 The Year of the Sheep is almost upon us. Chinese New Year's Eve — the traditional night for the big family feast — falls on Wednesday, February 18, and, as with any worthwhile holiday, the most important part of planning your celebration is figuring out where you're going to eat.
[jump] If you aren't lucky enough to have been invited to a home-cooked Chinese feast, you could do worse than to splurge on a banquet at Great China, China Village, or Peony Seafood Restaurant. A couple of caveats: In most cases, you'll need to get a group of at least eight or ten people together for a full-fledged banquet, and reservations for the most popular nights — on New Year's Eve proper, as well as February 21 and 22 (the first weekend of the New Year) — might already be difficult to secure at this point. That said, here's what you can expect if you ring in the Year of the Sheep at one of these top Chinese restaurants.
1. Great China (2190 Bancroft Way, Berkeley)
At this
recently
reborn
northern Chinese mainstay, co-owner James Yu said he'll put together a custom banquet menu for anyone who requests it — "a nice, balanced menu with a lot of luxury ingredients," as he put it. For the most part, banquets at
Great China
feature dishes that are available on the regular menu year-round, and might include crowd favorites such as the Peking duck, "double skin" (a kind of cold noodle salad), and steamed surf clams.
That said, the dishes that Yu tends to steer diners toward for the Lunar New Year include a variety of dumplings (traditionally believed to symbolize wealth due to their gold ingot-like shape) and the luxurious combination of braised pork belly and braised sea cucumber — the kind of dish that most customers will only splurge on for special occasions.
The restaurant does have a preset, twelve-dish New Year's banquet menu that's jam-packed with "greatest hits": 1) double skin, 2) pork and seafood dumplings, 3) winter melon seafood soup, 4) Peking duck, 5) sautéed crab meat with steamed buns, 6) steamed whole black bass, 7) steamed surf clams, 8) walnut prawns, 9)
mei cai ko rou
(braised pork belly with pickled mustard greens) with sea cucumber, 10)
guo ta
fried tofu, 11) snow pea leaves with century eggs, and 12) garlic fried rice. This year's New Year's banquets will also come with
Jin Jun Mei
tea, a prized black tea from China's Fujian province.
That above menu will run you $395 (for eight people), $450 (for ten), and $535 (for twelve), tax and tip included. More frugal diners can, of course, order any of the individual dishes a la carte.
2. China Village (1335 Solano Ave., Albany)
At
China Village
, the East Bay's most elegant Sichuan eatery, the vast majority of diners who come to celebrate Chinese New Year wind up simply ordering a la carte, according to chef-owner John Yao. That said, the restaurant does offer a few different
banquet menus
for groups of eight to ten who call ahead to arrange their meal — a day or two is enough advance notice, Yao said.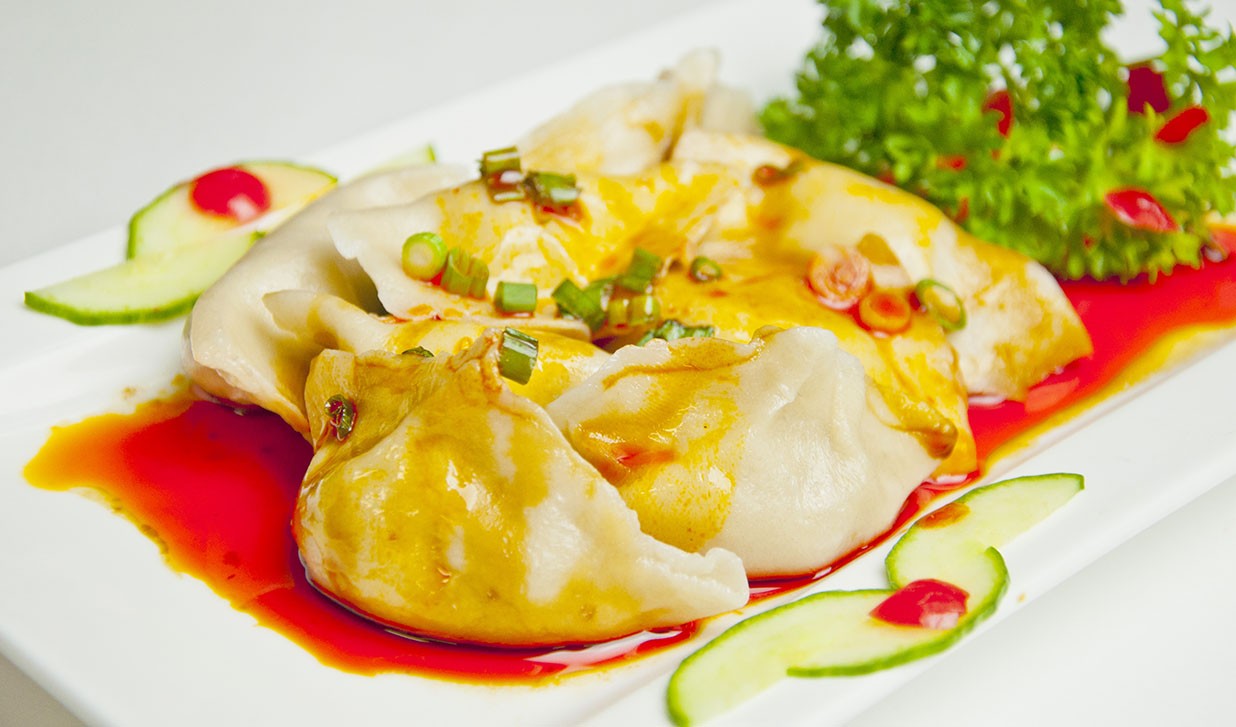 The two menus that Yao recommends for New Year's are priced at $368 (for a meal centered on such standbys as fiery Sichuan-style boiled beef and dumplings in a spicy sauce) and $428 (if you want abalone and other more luxurious items).
Still, for those who feel reasonably comfortable navigating a Chinese menu, a la carte is probably the way to go — especially since the restaurant will offer a fairly wide selection of
New Year's specials
that aren't included in the preset banquet menus. Highlights include
nian gao
(sticky rice cakes) sautéed with Dungeness crab ($38.95) and the "Eight Treasure Happy Family" (also $38.95), which features scallops, sea cucumber, pork, chicken, and other assorted "treasures" from the land, sea, and sky. And, of course no Chinese New Year's table would be complete without a whole fish (the traditional symbol of abundance), available cooked in several different styles, both spicy and non-spicy.
3. Peony Seafood Restaurant (388 9th St., #288, Oakland)
Peony
is a classic Cantonese
dim sum house
and seafood restaurant located in the heart of Oakland's Chinatown. When I swung by anonymously a couple of weeks ago to pick up a copy of their Chinese New Year's menu, I was told that there wasn't an English version available — but thankfully I was able to call on my personal translator (i.e., my mother) to help me decipher the four banquet options, which range in price from $388 (per ten-person table) to a whopping $888.
The nice thing about Peony is that it offers half-portions for each of the banquets — all ten dishes, but served in smaller portions for just a shade more than half the price, making this a good option if you're only able to cobble together a party of four or five. The restaurant also promises a 10 percent discount to customers who pre-order their banquet at least three days in advance.
The $388 menu includes the following dishes: 1) a cold barbecue meat sampler platter, 2) oysters and hair moss in black bean sauce, 3) a squid and chicken dish, 4) walnut shrimp, 5) fish belly seafood soup, 6) two lobsters, 7) the house special roast chicken, 8) whole steamed fish, 9) longevity noodles, and 10) red bean sweet soup.
And I'll be honest: I don't see much advantage to any of the higher-priced banquet options, unless you
really
like ingredients such as ginseng and swallow's nest (added to the $888 menu's soup course and dessert course, respectively) — even the inclusion of roast suckling pig at the $688 and $888 levels doesn't quite seem to merit the splurge.
Peony's New Year's banquet menus are available from February 14 through March 1. Those of you who read Chinese can check out all the fine print below — let me know if I missed any crucial details!