Kool John and P-Lo's manager told me to meet the rappers for an interview at an East Oakland address on a recent afternoon. While I wasn't sure exactly where I was going, I knew I had made it to my destination when I saw a sticker of a smiley face with shades — the logo of Kool John's party-centric lifestyle brand, Shmoplife — stuck to a parking sign outside the house.
Rapper Ooty Ooo answered the door and said that Kool John and P-Lo were on their way. Ooty was hanging out in the living room with Skipper, an MC from Kool John and P-Lo's music collective, HBK Gang. (HBK's core members also include Iamsu!, Sage the Gemini, and Kehlani — three East Bay artists on the cusp of national fame.) Ooty and Skipper were in a tense discussion about why Bay Area radio stations often ignore up-and-coming local rappers. They compared observations on YouTube plays and Billboard stats, attempting to break down the science of making a hit.
I soon learned that the house is known as the Shmop Compound and serves as Kool John and P-Lo's unofficial headquarters and party spot. Neon, weed-themed posters lined the walls; empty liquor bottles filled the mantle like trophies; a stripper pole was one of the dining room's few pieces of furniture.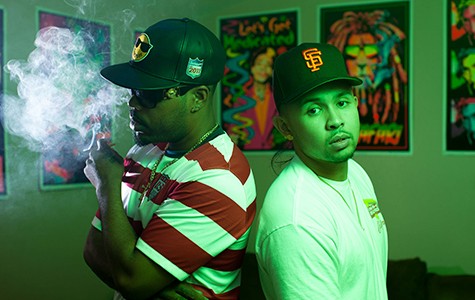 Ooty called Kool John on FaceTime and handed me the phone. "I'm stuck in traffic. Look," he said, flipping the camera around to show me the congested freeway. Sporting sunglasses, a snapback, and a goatee, he looked almost exactly like the cartoon version of himself on the poster in the entryway of the house. Branding is one of Kool John's strong suits: Even though he's still an underground rapper, he already markets himself as an icon.
By the time Kool John and P-Lo arrived, more friends wearing Shmoplife gear had filtered into the living room and our interview now had an audience. Everyone was eager to hear about the duo's recent trip to Hawaii, where they performed to promote their self-released, collaborative album, Moovie!, which came out in late July. People passed around blunts and P-Lo shared stories about riding scooters along the beach and shooting a music video in a forest.
"Coming from where we come from, a lot of people don't really make it that far," explained Kool John (Jonathan Faulk), who is from Richmond. "Being able to tour outside of your city and make it to different places is a beautiful thing." P-Lo (Paolo Rodriguez), who grew up in Pinole, nodded in agreement.
The members of HBK Gang often feature each other on their solo projects, and Kool John and P-Lo were already frequent collaborators when they decided to make Moovie! As one of HBK's most prolific producers, P-Lo made beats for Kool John's previous mixtapes, and songs with both of their vocals had done particularly well. The popularity of their percussive, high energy party jam "Quit Cattin" — which has almost 600,000 plays on SoundCloud — helped the two artists realize their potential as a duo.
Kool John described the creation of Moovie! as a natural evolution of his previous projects with P-Lo. "I was going to his house a lot, so we already had a bunch of other songs together and some of them were unfinished," he said. "So we were just like, 'Let's complete these songs and give the people what they want.'"
Moovie! opens with the song "Shmoplife HBK Anthem," which features P-Lo chanting Shmoplife/Heartbreak Gang over a slow-moving bass buildup. While the concept of Shmoplife is attached to almost every project Kool John is involved in, it still remains nebulous to the uninitiated. It's a clothing brand, a mixtape series, a viral marketing strategy, and a movement all at once. Kool John explained that Shmop — in all of its many forms — hinges on the philosophy of "living every day like it's Saturday night." This upbeat attitude and hedonistic ethos imbues Moovie!'s fourteen tracks.
Though its hyper-sexualized lyrics are somewhat two-dimensional, the album seduces listeners into Kool John and P-Lo's dimly lit, smoke-filled world, which seems to exist somewhere between last call and the after-party. Piggybacking off each other's lines with wordplay aplenty, the two rappers are cocky and exuberant, and their verses offer no shortage of second-hand ego boosts. While hip-hop and R&B lyricists have shifted in recent years toward vulnerability — with artists such as Future and the Weeknd focusing their recent work on drug-induced emotional numbness — Kool John and P-Lo appear to genuinely enjoy the excessive partying they describe. The album takes place at the peak of a bender, sometime before the inevitable crash.
While, in previous interviews, P-Lo cited the hyphy movement as a major influence on his production, in Moovie!, he solidifies his signature style. On the album, his beats are slow and pared-down, with looming, ominous bass lines that lend the danceable tracks a dark edge. He sparingly deploys bursts of laser-beam synths and warbled vocal samples, and Kool John's ample use of Auto-Tune complements the steely, mechanized sounds dominating P-Lo's sonic palette.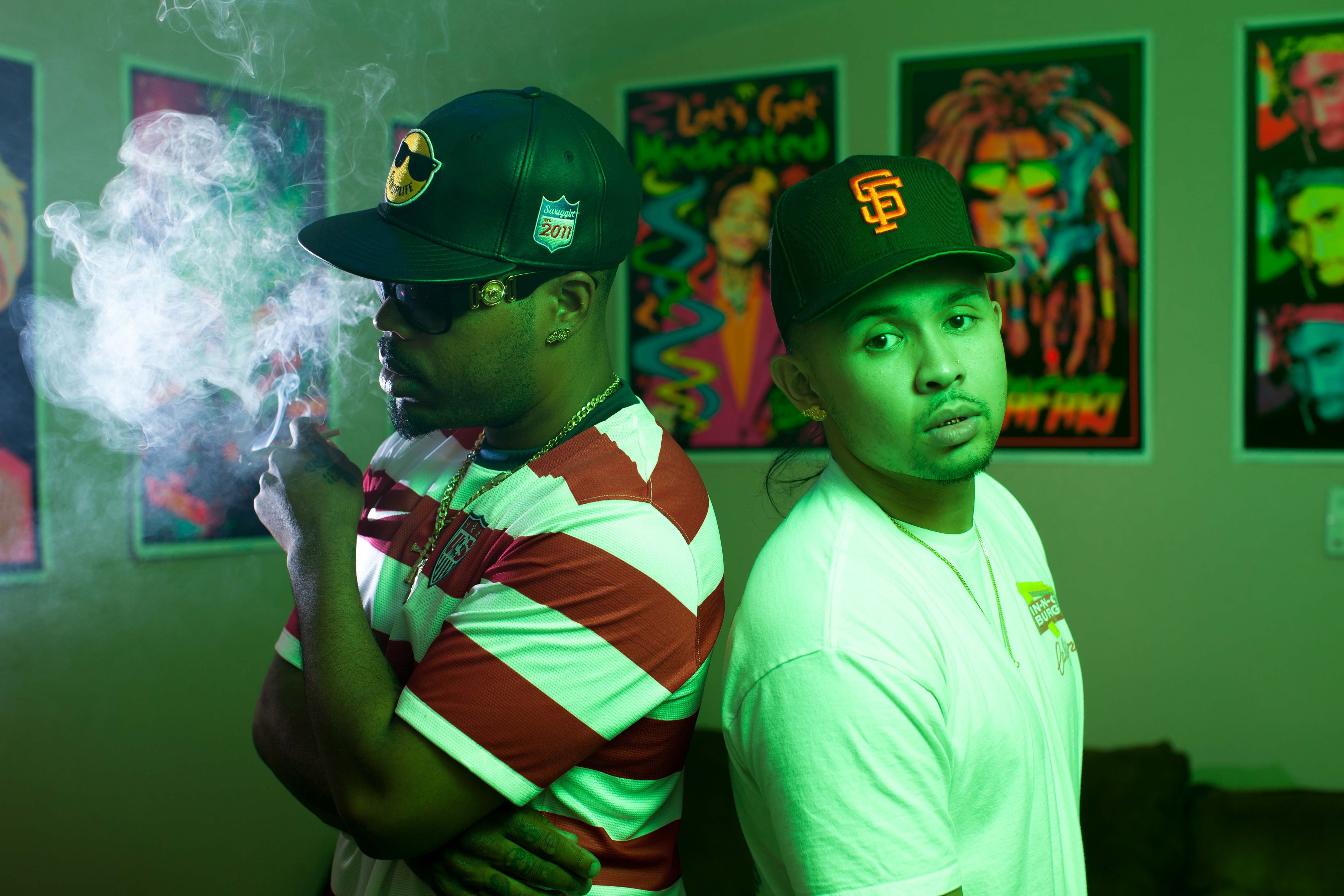 The album's two singles — the slow, simmering twerk anthem "Blue Hunnids" and the up-tempo boast rap "Bitch I Look Good" — enjoyed viral success, inspiring many fan-made dance videos on Instagram and Vine. In lieu of widespread radio play, the songs' online reach (with SoundCloud plays in the millions) exposed Kool John and P-Lo to a national audience and precipitated their Moovie! Tour in August, which included many sold-out stops on the West Coast. Through the end of November, they'll be on the road once again for a US tour with Skizzy Mars.
The rappers excitedly recalled their ardent fans at their meet-and-greets, girls twerking on stage, and the highs of performing for packed concert halls. Much like the endless quest for a good time that defines the plot arc of Moovie!, they seem to view their career trajectories as a series of epic experiences, each one more thrilling than the last. "When something is big and you have the time of your life, we call that a movie," said Kool John. "You can't say, 'That was a great time,' because anything can be a great time. But everything can't be a movie."