Hey party people, it's Friday! Here is our round-up of the five best activities this weekend:
Biketopia
With the opening of the new Bay Bridge bike path, the decision by BART management to allow bikes on trains during rush hour, and the installation of new green "super sharrows" on streets in Oakland, it's been a banner year for bicyclists. Celebrate these accomplishments at the East Bay Bicycle Coalition's annual member party and fundraiser at Venue Oakland. Drink beer and wine from New Belgium Brewing Company and Beaune Imports and enjoy food from Kamdesh Afghan Kabob House while local bike heroes are honored with Platinum Pedal awards. Browse through the silent auction items and score a fancy new ride, or get a jump on your holiday shopping with cyclist-friendly gifts like tickets to the East Bay winery bike tour and the "Party for Your Bike" package, which includes a portable speaker and Monkeylectric lights. Friday, Nov. 8. 5:30-9:30 p.m., $15-$30 for members, $35-$50 general admission. EBBC.org/biketopia — Zaineb Mohammed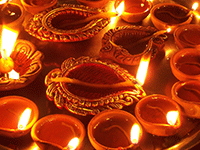 Diwali Dinner
The five-day Hindu "festival of lights," Diwali (aka Divali and Deepavali) is an official holiday in India. Marking the end of the harvest season, it is associated with the wealth goddess Lakshmi and is traditionally celebrated at home by the lighting of small clay oil lamps symbolizing the inner spirit and the victory of good over evil. To mark the occasion, a buffet Diwali dinner in the second-floor dining commons at the
International House
will feature such classic dishes as lamb vindaloo, chicken tikka masala, gobi aloo, palak paneer, samosas, and kheer (sweet rice pudding), plus various types of chutneys. Friday, Nov. 8. 6-8 p.m., $12.50.
IHouse.Berkeley.edu
—
Anneli Rufus
[jump]
6th International Body Music Festival
Some of the most incredible, creative musicians play no instruments at all. In fact, they use their bodies — hands, feet, and voice — to create rhythm and melody. The 6th International Body Music Festival will bring together performers from all over the world — Brazil, Indonesia, Turkey, Greece, the Canary Islands, and the United States — to the Bay Area for six days' worth of concerts, workshops, talks, open mics, school presentations, and more. Locals such as women's vocal ensemble Kitka, a capella group SoVoSó, and hambone artist and clown Unique Derique will also take part in the festival, which will occur in venues in Downtown Oakland and at the SFJAZZ Center in San Francisco. Attendees will have a chance to gain insight into some of the oldest forms of music, some of which have much historical significance — hambone supposedly has its origins in a 1739 slave rebellion, when slave masters took away slaves' drums as punishment — and see how artists have modernized them, incorporating elements such as beatboxing and dance. Tuesday, Nov. 5-Sunday, Nov. 10. Locations and prices vary. For a complete schedule: InternationalBodyMusicFestival.com — Kathleen Richards
Mixto Ceviche Pop-Up Series
Plenty of savvy diners are familiar with ceviche, a raw fish preparation characteristic of the Mexican and Peruvian coastal cuisines. But have you tried kinilaw, a Filipino version of the dish that's seasoned with calamansi juice, ginger, and Filipino vinegars? You'll have the opportunity to do so at Mixto, a new ceviche-themed pop-up dinner series, hosted by the farm-to-table Mexican restaurant Nido, that promises to explore the breadth and depth of this one dish — stretching across multiple cultures and culinary traditions. The series will kick off on Sunday with a four-course Filipino dinner cooked by Tim Luym, who was the chef at Poleng Lounge (San Francisco's long-lamented upscale Filipino fusion spot) and now consults at The Attic in San Mateo. Luym's first course will be a sinigang-style shrimp ceviche — raw shrimp that will be lightly "cooked" by the acidity from the sinigang, a sour Filipino soup. Then Luym will serve two kinilaws: The first, a traditional preparation characteristic of the southern Philippines, will feature mackerel, calamansi juice, and palm vinegar. For the second, a California-fied version of a Cebuano-style kinilaw, Luym will use walu, coconut milk, and coconut vinegar. The third course will be a duo of silog (garlic fried rice) tacos — one with milkfish belly and the other with pig's head sisig, which Luym described as "Filipino carnitas." The fourth course will be a twist on halo halo, the Filipino shaved ice dessert, served with avocado frozen custard. Sunday, Nov. 10. 7-10 p.m., $85. Mixto.Eventbrite.com — Luke Tsai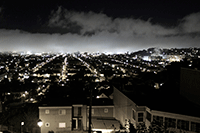 Photo by Andy Black. Courtesy of Sam Green.
A Cinematic Study of Fog in San Francisco
The Bay Area's most defining weather phenomenon gets a close examination in the
Oakland Museum of California's
new video exhibition,
A Cinematic Study of Fog in San Francisco
. Created by filmmaker Sam Green and cinematographer Andy Black (of
The Weather Underground
fame), the ten-minute video explores how we romanticize the wind, air, and water systems. It includes interviews with fog novices, like tourists whose views of the Golden Gate Bridge are obscured, as well as experts like meteorologist Jan Null who explains what fog is. While watching dramatic shots of the climate sensation rolling in over the hills, viewers can let the filmmakers envelop you in its misty haze. Saturday, Nov. 9 through Sunday, June 29, 2014. $15 for general admission, $10 for seniors and students, $6 for youth.
MuseumCA.org
—
Z.M.
Plus… Get your cheapskate on: This is how much we love you guys: Here are our searchable listings of every single free event happening in the East Bay this weekend.
Feed Us: Got any East Bay news, events, video, or miscellany we should know about? Holler at us at [email protected]