It's finally Friday! Time to throw a mini dance party at your desk and read our list of the five best things to do this weekend:
Beast Crawl
Nope, it doesn't have anything to do with animals (nor crawling, at least literally speaking). What it does have to do with, however: books and booze and literary conviviality — something between an uncommonly high-minded pub crawl and an uncommonly rowdy book event, featuring readings by more than one hundred writers over a whopping nine hours at several venues throughout Uptown Oakland. It works like this: The event is split into three legs (plus an afterparty), each of which features the option of seeing one of about a dozen expertly curated, wildly divergent readings. So, for example, Leg 1 offers the choice between hearing Oakland's Youth Poet Laureate finalists read at an art gallery, seeing the folks from the literary fiction magazine Swill spin stories at the upscale Southern restaurant Picán, or catching some of the (self-proclaimed) "sharpest, most intelligent, powerful, and witty as eff writers out there" when the collective known as Sexy Beasts reads at the brand-new Flight Deck — and those are just three of ten options on one of three legs. Come to think of it, "beast" may just be the perfect descriptor. Saturday, July 12. 5 p.m.-2 a.m., free. See website for a full lineup and a map of locations. 
BeastCrawl.Weebly.com
—
Ellen Cushing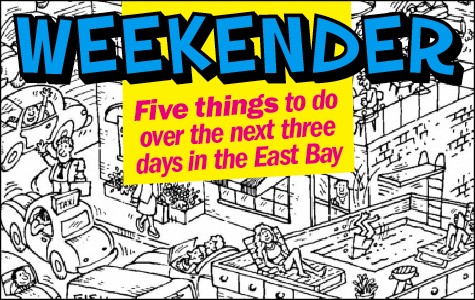 Love Our Neighborhood Day
The organizers behind Love Our Neighborhood Day want you to know that their event is
not
a street fair. While there will be food trucks, the main purpose of the event is not for vendors to sell their wares, but for pedestrians and bicyclists to wield control over the streets, instead of drivers. The festival is part of the open streets initiative Oaklavía, and takes place this weekend in Oakland's Golden Gate neighborhood on Doyle Street and San Pablo Avenue between 55th and 65th Streets. People are encouraged to dance, play, and picnic in the streets, which will be closed off to car traffic. Activities include performances by Destiny Arts Center and Emeryville Taiko, live music by Shake Your Peace and Justin Ancheta, arts and crafts, and a park zone with bike spin art. The event is meant to showcase all of the local businesses, community resources, and organizations people have access to without needing to leave their neighborhood. Saturday, July 12. 11 a.m.-3 p.m., free. 
Oaklavia.org
 —
Zaineb Mohammed

[jump]

Cafetorium Chronicles: Lost and Found
When you picture a cage match, what comes to mind is probably a couple of hulking, sweaty dudes wrestling in a ring. But organizers at the Douglas Morrisson Theatre are offering a literary twist on the cage match tradition by pitting playwrights against each other for the upcoming event, Cafetorium Chronicles: Lost and Found. The playwright competition began two years ago, as part of an effort to add a bit of whimsy to the theater's generally staid programming, and to provide a platform for new writers. The rules for submission are that the plays must be twenty minutes or shorter, have no more than four characters, and be set in a location determined by organizers at the theater. This year, the locale is a cafetorium (a venue that is part auditorium, part cafeteria). Out of the approximately seventy submissions received, artistic director Susan E. Evans will select five plays, which will be rehearsed once under her direction, and then performed for audiences this Sunday at the 
Hayward Senior Center
. Sunday, July 13. 8 p.m., free, $5 to vote. 
DMTonline.org
 —
Z.M.


Bike Life
Oakland's biking movement has been steadily gaining ground for a while now — with new proposed bike lanes, raucous bike parties, and themed-rides — and to celebrate all that, a new art exhibit at 
City Hall
 depicts Oakland's bike culture.
Bike Life
consists of work by three Oakland-based female cyclists and bike advocates, Pamela Palma, Mary Ann Blackwell, and Jillian Betterly. The three artists each capture different parts of Oakland's biking scene in their artwork, which includes black and white portraits of cyclists, brightly colored paintings of riders throughout the city, and color shots of people on group bike rides and bike camping around the Bay Area. The artists' hope is that the exhibit captures the breadth and diversity of the cycling scene and motivates more people to ride. The exhibit's opening reception is this Friday, when the artists will be present to discuss their work and answer questions. Through July 31. Opening reception on Friday, July 11. 5-7 p.m., free. —
Z.M.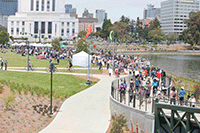 Soapbox
Named for the makeshift podiums used to preach opinions, the 
Berkeley Art Center's
 current juried exhibition aims to offer artists a similar kind of outlet. Jurors Steven Wolf and Boots Riley (yes, of The Coup) chose sixteen artists whose submissions were both visually arresting and politically conscious. The collection of works do preach, but in a way that involves the viewer in contemplative dialogue, asking them to decipher the ambiguities of each piece. A series of three paintings by Nick Randhawa, titled "Think Different," is the most interactive. On the surface, the paintings show cleanly executed iPhone advertisement imagery, yet when the viewer uses red-tinted glasses, the layers below reveal images of factory workers and collaged documents that allude to a darker reality. Nicki Green's sculpture, "The Revolution Will Be Earthenware," is another standout piece. It consists of a collection of ceramic vessels that superficially resemble traditional Chinese vases, but upon closer inspection, reveal paintings of important moments in LGBT history. With a handkerchief stuffed in the top of each — like a Molotov cocktail — the works are simultaneously fragile and dangerous, commonplace and radical. Through Aug. 10. 
BerkeleyArtCenter.org
 —
Sarah Burke


Plus… Get your cheapskate on: This is how much we love you guys: Here are our searchable listings of 
every single free event
 happening in the East Bay this weekend.
Feed Us: Got any East Bay news, events, video, or miscellany we should know about? Holler at us at
[email protected]
.