It's Friday! Celebrate the weekend and all this glorious rain we've been getting with these five events, expertly selected just for you:
Bay Area Derby Girls Season Opener
During the Bay Area Derby Girls' league championship game last July, underdog team the Oakland Outlaws eked out a win against the San Francisco ShEvil Dead by 23 points. This Saturday, at the season opener at the Craneway Pavilion, the Outlaws will try to maintain their heavyweight status in a battle against longtime victors the Richmond Wrecking Belles, who are looking to redeem themselves after failing to make it to the championships last year. The double-header will also include a matchup between the San Francisco ShEvil Dead and the Berkeley Resistance, but that game is more of a wildcard since both teams have almost entirely new rosters this year. For those who haven't been to a derby bout before, expect to see intense competition and impressive athletic maneuvers. If you buy a VIP pass, you'll be able to ask questions to the "Talk Derby to Me" liaisons. Saturday, Mar. 1. 6 p.m., $25-$50. BayAreaDerbyGirls.com — Zaineb Mohammed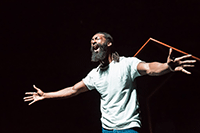 Kegan Marling
Dying White Black and Brown
Black Choreographers Festival
Celebrating ten years of arts, culture, dance, and discourse, the Black Choreographers Festival returns to
Laney College Theater
this weekend with bold-name choreographers who have Bay Area roots and national influence. The two nights' programs vary slightly, but both include
Dying While Black and Brown
, created by San Francisco's extraordinary choreographer-aerialist Joanna Haigood, and Portsha Jefferson's Haitian-inspired
Nasyon Dechennen!
(Haitian Creole for "nation unleashed"), performed by Rara Tou Limen Haitian Dance Company. Friday opens with a pre-show screening of
Upaj: Improvise
, a documentary about Kathak master Pandit Chitresh Das and past BCF participant Jason Samuels Smith, and presents world premieres by Kendra Kimbrough Barnes and Gregory Dawson. Following a soul-food reception and a musical performance by Kev Choice, Saturday's show adds an excerpt from Oakland native Marc Bamuthi Joseph's
red, black & GREEN: a blues
and closes with a ceremony honoring the festival's first decade of achievement. Friday and Saturday, Feb. 28-Mar. 1. Fri. 6:30 p.m., Sat. 7 p.m. (performances at 8 p.m.); $10-$25.
BCFHereAndNow.com
—
Claudia Bauer
[jump]
Bread and Circuses
Impact Theatre is known as the kind of company that puts on Shakespeare productions, but with machine guns as props. So when longtime Impact playwright Steve Yockey approached artistic director Melissa Hillman last year with the idea of exploring the theme of violence in a series of plays, it seemed like a perfect fit for the Berkeley-based theater company. The playwrights — Roberto Aguirre-Sacasa, Prince Gomolvilas, Declan Greene, Lauren Gunderson, Dave Holstein, JC Lee, Ross Maxwell, Lauren Yee, and Yockey — each contributed a unique perspective on the theme. For example, in Yockey's play, Bedtime, the "damsel in distress" who is targeted by a psychopathic serial killer takes drastic measures to kill him herself. Other plays offer a humorous take on violence. In Don't Turn Around by Ross Maxwell, a zombie apocalypse forces a couple to flee to the mall and seek shelter in a janitor's closet. While they hide out, their ten-year-long relationship begins to unravel when the man makes an unexpected revelation. The nine short plays, which will be performed at La Val's Subterranean, do not moralize about violence, but rather raise questions about what we are afraid of and why, making connections between horror movies and issues like feminism and class. Preview shows on Thursday and Friday, Feb. 27-28. 8 p.m., $10. Play runs through April 6. $15-$25. ImpactTheatre.com — Z.M.
The Grease Traps
If you you're a fan of funk, you may have heard of The Grease Traps. Originally formed as an instrumental group nearly a decade ago by guitarist Kevin O'Dea and keyboardist/trombonist Aaron Julin, the local group added a trumpet player and tenor saxophonist in 2010, as well as a dynamic frontman — a vocalist and dancer extraordinaire who goes by the name "The Gata." The Gata is, to put it plainly, wildly entertaining. At the Traps' recent show at The Night Light, he was fully decked out in a polyester outfit and huge Afro, and he leapt across the stage with relentless, infectious energy. The band's classic sound, meanwhile, was impeccably tight and hard-driving. This Saturday at the
Legionnaire Saloon
, the Traps will perform covers of rare funk and soul tunes in addition to their own music, and will be joined by another local funk group, Gene Washington & The Ironsides, to help celebrate the venue's one-year anniversary. Saturday, Mar. 1. 9 p.m., $8, $10.
LegionnaireSaloon.com
—
Madeleine Key
White Elephant Sale
Held in a 96,000-square-foot warehouse with seventeen departments featuring items such as clothing, furniture, jewelry, antiques, sporting goods, art, and electronics, the White Elephant Sale is not your average garage sale. The event began in 1959 as a way to generate funds for the creation of the Oakland Museum of California, and 55 years later, it remains the museum's biggest fundraiser, as well as Northern California's largest rummage sale. Last year, the event raised $1.8 million. The goods, which are all donated, can run the gamut from high-end merchandise to bargain tchotchkes. This year, collections of vinyl records, comic books, and train sets will be among the items being sold. According to organizers, some shoppers buy their wardrobes for the entire year at the sale, as well as wedding dresses, engagement rings, and costumes for Bay to Breakers. Be prepared for a crowd — lines to enter usually go down the block. Saturday and Sunday, Mar. 1-2. 10 a.m.-4 p.m., free. WhiteElephantSale.org — Z.M.
Plus… Get your cheapskate on: This is how much we love you guys: Here are our searchable listings of every single free event happening in the East Bay this weekend.
Feed Us: Got any East Bay news, events, video, or miscellany we should know about? Holler at us at [email protected]