Stories you shouldn't miss: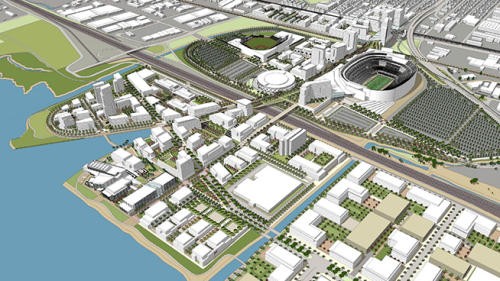 1. The Oakland City Council last night
approved key aspects of the proposed Coliseum City plan
, opening the door for the construction of a mega-development that would include new stadiums for the Raiders and the A's, the
Trib
$ reports. The Raiders, however, have not yet committed to the proposal and A's co-owner Lew Wolff has said that he has no interest in it.
2. The Bay Area Air Quality Management District is moving forward with a plan that would require
property owners to replace their fireplaces
with cleaner wood-burning stoves — or eliminate them completely — whenever a home is sold or changes ownership, the
Chron
reports. Wood-burning fireplaces in the Bay Area produce substantial amounts of pollution and greatly impact people with breathing problems.
[jump]
3. Oakland public schools have hired a private company
to investigate the district's police department and the use of force on campuses
, the
Trib
$ reports. The move comes in the wake of a video that showed two Fremont High School security guards beating up a student.
4. A developer has broken ground
on a 99-unit luxury apartment complex in downtown Berkeley
at the corner of Dwight Way and Shattuck Avenue, the
CoCo Times
$ reports. The project by Olympic Residential Group of San Carlos also will include ground floor retail.
5. Sales taxes went up
to 10 percent today in El Cerrito, Albany, Hayward, San Leandro, and Union City
, the Bay Area News Group$ reports. And sales taxes in Richmond, Pinole, and Alameda County rose to 9.5 percent.
6. And Kaiser has launched a massive study to investigate
the causes of childhood autism
, the
Chron
reports.