Stories you shouldn't miss: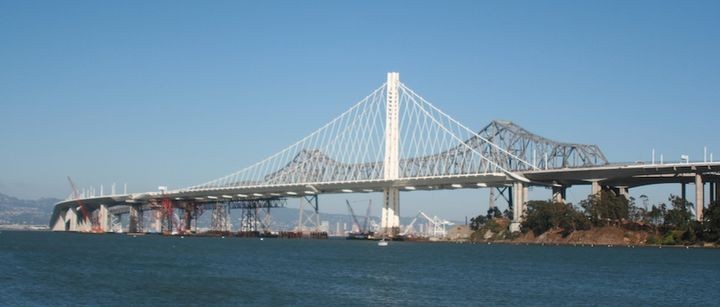 1. Caltrans revealed that nearly all of the steel rods that anchor the tower of the new Bay Bridge
have been sitting in water
, thereby raising serious concerns about corrosion problems on the $6.4 billion span, the
Chron
reports. The revelation is perhaps the most alarming issue yet raised about the troubled bridge project. If the rods have rusted, they cannot be replaced because there is no room in the tower to remove them. Some of the rods lack the proper caulking. It's not clear whether the water came from the bay or from rain.
[jump] 2. Governor Jerry Brown vetoed
a package of ethics bills
that the legislature passed in the wake of public corruption scandals in the state Senate, the
LA Times
$ reports. The legislation would have slashed the amount of gifts that lawmakers can receive from special interests and would have prohibited elected officials from donating funds to nonprofits owned or operated by their family members. Brown said the bills were too complex, and that current law sufficiently deals with ethics issues.
3. As expected, the governor signed legislation
outlawing single-use plastic bags
in the state, thereby making California the first state in the nation to ban them, the
LA Times
$ reports. The plastic bag industry immediately vowed to launch a referendum campaign to overturn the law in 2016.
4. Brown also signed legislation that requires toy and BB guns sold in the state
to be painted bright colors so that police will not mistake them for real guns
, the
LA Times
$ reports. In addition, the governor signed a bill that allows law enforcement and friends of people with mental health problems to petition courts to temporarily take away their firearms.
5. The governor also signed legislation that
tightens regulations on limos
, following the deadly fire on a limousine last year on the San Mateo Bridge that killed four nurses, the
Chron
reports.
6. And the US Secret Service is reeling over a new revelation that an
armed ex-felon rode on an elevator in Atlanta with President Obama
, the
Washington Post
$ reports. It's the second recent security breach. A man jumped the White House fence and burst into the mansion before being apprehended.