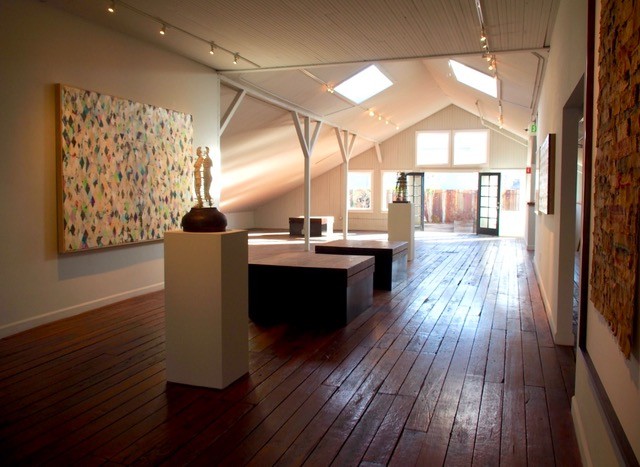 Lonnie Lee sounds remarkably calm about the end of her popular art gallery.
"We are closing our doors," she said. "We have been displaced from this space. Vessel and I will continue serving our clients and working with our artists and taking pause a little bit about what direction we're going to take next."
The beautiful two-story gallery on 25th Street — and arguably one of the central attractions of Oakland Art Murmur every first Friday of the month — will permanently close on Saturday, Nov. 17. Vessel's lease is up, and Lee was not given the option to renew.
"When we arrived [in 2010], I signed a five year lease. When that came up, they asked for a 60-percent increase in rent; we felt we had to agree, to keep the space. At that point we tried for a longer lease, but that was not agreed. I ended up paying 70 percent more of what I paid when I first obtained the space," she said. "I'm not sure the business model can withstand another similar increase like that, so perhaps in the back of my mind, I was preparing. But instead of working on a renewal for an eight-plus year tenant, the landlord is taking his buildings in a different direction, and my space is included; they would not be renewing my lease. I wasn't given the option this time to sign up again."
Vessel is currently holding a
moving sale
through November. There will also be a special
art sale
with 20 percent off selected works on back-to-back weekends, Nov. 9-11 and Nov. 16-18
.
 (While Vessel will be selling items past the official closing date, Nov. 17 is the last day to see an exhibit.) "If people have their eye on some artwork, that's a great time to pick some up," Lee said.
Supporters also have one last First Friday to visit the space. (Even though the First Friday street festivities have been canceled for Friday, Nov. 2,
the art galleries will be open as usual
 from 6 to 9 p.m.) Vessel is showing two concurrent solo exhibitions:
Elsewhere
by Cyrus Tilton and
Together and Apart
by Sanjay Vora. "It's a beautiful show. It's thoughtful," Lee said. "I'm so proud to go out on this incredible high note."
This is not the last Oakland is seeing of Lee, though. She will continue to work with artists, and she still has ongoing client projects. She's contemplating traveling and online shows while she figures out what comes next for Vessel. What's missing is the public-facing, brick-and-mortar space.
Vessel's closure is a worrisome development for Oakland's creative scene, as artists leave for more affordable cities and rents continue to skyrocket.
"There is still a wellspring of creatives here and I hope that with the changes going on that the fine qualities of creative arts enterprises and production will continue and continue to enrich longtime residents and people who work serving Oakland," Lee said. "And that it will be inclusive of the new people coming in, too.