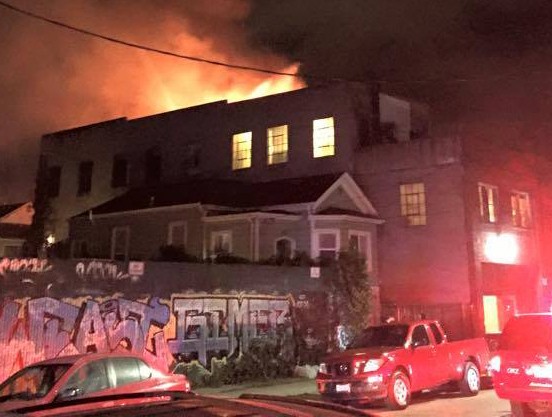 Update: According to AK Press fire relief
webpage
, the building has been red-tagged by the City of Oakland, which prohibits businesses and residents from occupying the structure pending further review.
On Saturday night, two buildings facing 23rd and 24th streets, between Martin Luther King Jr. Way and San Pablo Avenue, caught fire. Two men, the artists Davis Letona, 27, and Daniel "Moe" Thomas, 36, lost their lives, while about thirty individuals were displaced and several vital cultural institutions were severely damaged or destroyed. 
Letona and Thomas lived at 669 24th Street, where the fire started. Flames then crossed into the adjacent building, which housed AK Press, 1984 Printing, and individuals. According to responding authorities, the fire appears to have been accidental. 
[jump]
The distribution center for
AK Press
, a storied radical publisher, endured crippling damage to its stock and premises. For a long-embattled enterprise sustained largely on goodwill and radical principles, the fire is massively disruptive. Its long-term impact can't be gauged entirely, but a
statement
posted to the publisher's website read, "We do know that we've lost a lot, and even in the best of times, we always need your support." Supporters have dropped by since the fire to help clear the wreckage, and the
webpage
 explains how to provide more help. It also emphasizes the plights of other fire victims, linking to several other support funds.
1984 Printing
, a neighbor and ally of AK Press, lost all of its ongoing projects in the blaze. A
fundraising page
 states that the damage amounted to tens of thousands of dollars in losses, though the company's prized 4-color printing press is unharmed. The statement notes, "Our business relies on a lot of fragile and expensive things like paper and machines, but most of all it relies on a huge community of people who care about making the world better."
The apartment of Jason Willer, an employee at Berkeley's Starving Musician and drummer in Hebersleden and Nik Turner's Hawkwind, among other groups, sustained significant water damage. Any contributions that go over the goal of his
relief-fund campaign
will be passed along to neighbors.
The popular metal band Noothgrush quickly announced a 
benefit gig
 to be held at
Gilman St.
in May. 
A
Contra Costa Times article
quoted Jose Palafox, a musician and teacher who lives in the building above AK Press, emphasizing the cultural complex's important presence as a bastion of radicalism in gentrifying Oakland. As Palafox said, "If this building is gone, it's not just the building, it's the ideas of the people who live in the building."