The hidden origins of Oakland's Black Futurist movement
The Oakland Museum of California is returning to active duty with an Afrofuturism exhibit. The exhibit ticks all the expected boxes: Sun Ra's interstellar jazz, Octavia Butler's alternative sci-fi narratives, P-Funk's Mothership, a costume from the global megahit superhero movie Black Panther—even the free-breakfast programs of the actual Black Panthers. To promote the exhibit, OMCA is using the hashtag #BlackFuture.
OMCA's hot take on this cultural phenomenon is sure to widen awareness throughout the mainstream art world and enthrall what longtime residents refer to as "New Oakland." But what the exhibit won't tell you is the story of an organic, multidisciplinary, underground-ish, grassroots collective calling themselves the Black Futurists, who emerged out of Oakland in the early 2010s.
To properly set the stage, one needs to go back a decade—to the time preceding the first reports of Black displacement, the existence of an urban-gentrification map, glowing national write-ups for the Oakland Art Murmur, the establishment of an Oakland tourism organization, the renovation of Lake Merritt, the Golden State Warriors' run of NBA titles, the first public mention of "Black Lives Matter," the Celeste Guap OPD scandal, the Ghost Ship fire and the departure of the Raiders to Las Vegas.
In 2011, Oakland was just beginning to earn cool points from non-residents—many of whom still thought of the Town as San Francisco's hella ghetto little brother. Ex-mayor Jerry Brown, fresh off his "10k Plan" for revitalizing Oakland's downtown, had just been elected governor of California. Occupy Oakland protests were attracting out-of-town anarchists and engendering mass public gatherings, often leading to tear-gas skirmishes with OPD. The city was still able to fund affordable housing projects through its now-dissolved Redevelopment Agency. The upscale Uptown neighborhood had been unveiled—except no one could precisely define its exact boundaries. First Friday, the Art Murmur spin-off, had yet to reach critical mass, but its energy helped to generate talk of an Oakland cultural renaissance.
Amidst this vortex, Black writers, poets, musicians, visual artists, actors, activists, clothing designers and food vendors began to gather around Omiiroo, a pop-up art gallery on 14th Street operated by Githinji Wa Mbire, a Kenyan transplant who was turning heads in the visual art scene with his mixed-media collages in the shape of the African continent, made from found materials and conveying various socially-conscious messages.
Mbire, who now operates another pop-up gallery, on 9th Street in Old Oakland, recalls how Omiiroo became a go-to spot for a predominantly-Black, yet highly diverse, group of culturally-and-artistically-minded folks to hold space in downtown Oakland.
"We hosted very dynamic events," he says, noting that his role was mostly to open up the space for community folks "who just needed space to do their thing." Black businesses frequently donated food, and vendors set up racks of clothing and artisanal wares. Event organizers began producing live events, from community discussions to music and theater performances to poetry readings. "There were a lot of core factors that made the place magical … there was a lot of energy, there were a lot of people who put a lot of energy into making the space really pop," Mbire says.
Multi-disciplinary artist and writer Sasha Kelley, co-founder of the House of Malico, was one of those people. Kelley, a member of a Black Futurist group that also included writer Kwan Booth, visual artists Melanin Buford, Reshawn Goods, Karen and Malik Seneferu, Eesuu Orundide, and DJ/writer Richard Wright, with other Black creatives, started programming the space on a regular basis.
Booth and Buford had founded the Black Futurists group out of both an interest in the aesthetic, and what Buford calls "a gathering of like-minds in Oakland [that happened] at one point. And I would say it started from two people finding commonality and the love of the Broun Fellinis." The Fellinis, a local jazz/hip-hop trio, "answered a lot of questions," Buford says. He recalls being enraptured by "their background" and says, "and also just the way they played their music [were] qualifiers for all of it."
By "it," he means the Black Futurist aesthetic, which he defines as "somebody who looks around corners, someone who's seen the next wave of what's coming up." The term made more sense to him than "Afro-futurist" because of the Bay Area's connection to the Black Panthers and the Black Arts Movement, "So why would I say Afro-futurist? Why wouldn't I just say Black Future? It just felt more natural."
Regarding his artistic practice, Buford says, "I've always been attracted to Japanese-biotech culture, the old Transformers and those robots that shoot their fists and everything. So seeing the way they used to break down their characters, I just applied more of that with the African masks and just kind of progressed from there."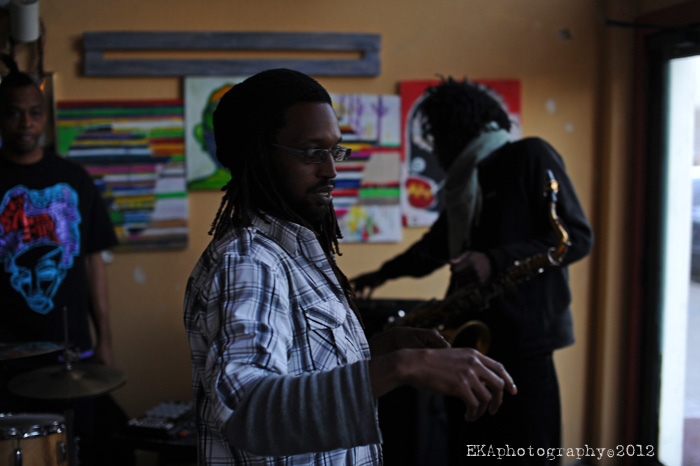 The Black Futurists established a Facebook page and held a few meetings at the Joyce Gordon Gallery, but Omiiroo's accessibility and low-key, high-concept aesthetic made it a perfect fit for the community gatherings Kelley organized. "She was the main coordinator at the time," Buford says. "We sat down and discussed a few things that could possibly happen. And I just remember her doing most of the organizing for that [event space], besides a few events that happened there that were more of musical performances … people were coming through doing the pop-ups and some classes for kids and other things."
Around that time, Booth says, "There were lots of conversations and movement around what the next iteration of Oakland would look like. There was an influx of new people that didn't necessarily understand the culture and communities they were moving into, and POC communities were rightfully wary of what place they'd have in this new vision of Oakland and the Bay Area."
In addition, he says, "There was also a new attention on Oakland as a potential tech hub, both for people who lived here and for techies that were getting priced out of SF. Our folks, along with several other collectives in Oakland, wanted to put our flag down and make sure that Black and Brown creatives, activists and communities had a place in this new vision. And at the moment a lot of those conversations and projects were happening in Downtown and the Lower Bottoms."
Omiiroo presented an alternative to the increasingly-loud gentrification narrative; a place where those at risk of being "othered" could belong. Mbire described it as "a place you can be, and you can be yourself, you can be human. You don't even have to prove who you are, how you are. When you level up a place where humanity is number one, then there's a connection because it means when people come in, they don't stand out, they don't become where they are in the outside of the picture. You become one with what you are."
It also offered an opportunity for the cultural and creative community to intersect—for Mbire, this meant interacting with artists from disciplines other than visual art, and being inspired by what they were doing, as well as making solid connections with community members who might not otherwise interact.
Amber McZeal, a transplanted New Orleans native uprooted in the aftermath of hurricane Katrina, was one of those community members drawn into the Omiiroo space. She remembers "it felt like a community ritual, it felt like community sacred space—folks coming together to spark a radical re-imagining. I mean, of course, positioned within a long legacy of what's already here, but coming from New Orleans, it felt like a microcosm of what I was accustomed to culturally, with the spice and the flare of the deep intellectual flavor that's here in the Bay."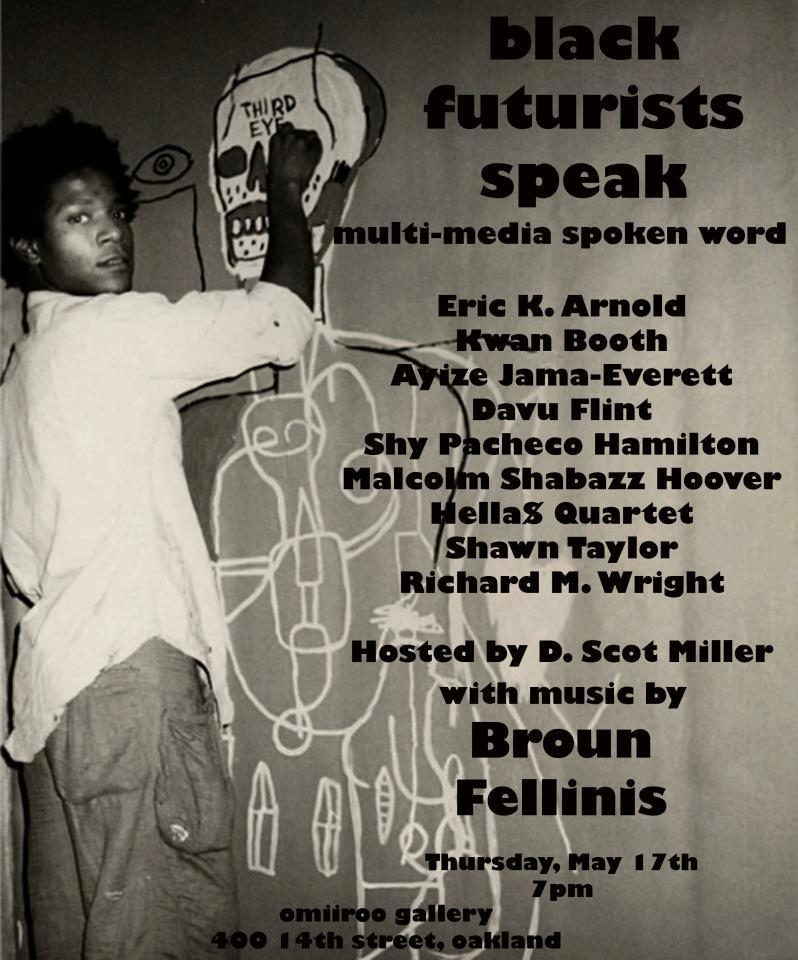 In May 2012, Omiiroo hosted a reading of what eventually became the anthology Black Futurists Speak. The e-book, published in 2013, featured poems, essays and fiction by several members of the unofficial collective—myself, East Bay Express Editor and author of The Afrosurreal Manifesto D.Scot Miller, Kwan Booth, Shawn Taylor, Malcolm Shabazz Hoover, Richard M. Wright, Davu Flint, Shy Pacheco Hamilton, Kaye Kadesh and Ayize Jama-Everett. To this day, the e-book functions as an artifact of that moment in time when Oakland's Black creatives were out in front of the pop-cultural curve.
My personal recollection is that the small space was packed, the Broun Fellinis played abstract jazz from a small corner in the back and the mood was electric. I read part of my essay, referencing Rakim's album Follow the Leader as an example of Black Futurism in hip-hop. I also remember Taylor, Booth and Hoover reading, and marvelling at the range of takes on the Black Futurist concept.
"Both projects—the book and the reading—were attempts to capture the energy that was happening in our pocket of Oakland during that time," Booth says. "One of the jobs of writers is to capture the feelings and ideas of the moment and during the early 2010s there was an interest in the future and speculation on how Black folks fit into it. These issues had been percolating for years online and in small groups, but we were lucky enough to have a loose-knit group of like-minded writers that were all on the same page. We wanted to capture that magic in print and through live events."
"When I think of Black Futurism," Hoover says, "I think of a few different things. I think in a social context of Black people living in a healthy and holistic way in our, on our own terms—not necessarily in our own countries, but in our own spaces and hopefully in our own nations countries, towns, cities, whatever; but in a way that is independent and that allows Black people to be unbound, unburdened and mostly free of white supremacy.
"For the reading, I composed a new poem. What I remember about it most is thinking, 'These are the people who are thinking about what's next. Like, how do we create a system that not only gets us free, but keeps us free?'"
Currently occupied by Black-owned tattoo shop Oakland Ink, the Omiiroo gallery's existence helps to contextualize precisely what came next. The space predated the Betti Ono gallery, the now-defunct Solespace, SuRu, Complex, 310 Gallery, Halftime sports bar and other Black-owned and/or POC-friendly event spaces in proximity to 14th and Broadway. Its dynamic was younger, more raw and more progressive than old-school nightclub Geoffrey's and the Joyce Gordon Gallery. The pop-up also preceded the 2016 City Council proclamation of Oakland's 14th Street corridor as the center of the Black Arts Movement Business District—as well as the emergence of several funky retail shops and galleries along 15th Street.
The gallery only existed for a short time. Yet its vibe not only brought community together, it carried over into future endeavors. In 2013, a second Black Futurists Speak event occurred across the pond, during the San Francisco LitCrawl. For a time, First Fridays extended southward from Grand Avenue, all the way to 15th Street. This section of the monthly event was heavily populated by BlPOC, and included the Grow Sessions, which featured avant-garde acts like the Punk Funk Mob and solar-powered hip-hop shows outside the Fox Theater, by Zakiya "Shapeshifter" Harris. Also part of the expanded First Fridays footprint: DJ sets curated by Michael Orange, an Omiiroo frequenter, founder of the Matatu Festival of Stories and current Oakland cultural affairs commissioner.
McZeal recalls being part of the community group that attempted to program and organize First Fridays prior to KONO assuming the reins, and bringing a Black Futurist framework to those efforts. The thinking at the time was, "Let's take the First Fridays, and imagine this new way of being. We're going to get access to the street and the power of art; we're in the Bay and the history legacy of, you know, liberation: Arts, practice and all that good stuff."
Some may remember the Town Futurist Sessions, a live revue of emerging Black artists, including a pre-"Tiny Desk" Fantastic Negrito, and a pre-"Alphabet Rockers" Tommy Shepard. Others may recall that prior to the current Afrofuturist revival, Boots Riley filmed 2019's Afro-surrealist Sorry To Bother You at local locations, including the Layover bar and Bissap Baobab restaurant. Another event carrying Black Futurist DNA, "Black Women From the Future," was curated by Booth and featured McZeal, Ayodele Nzinga and the Broun Fellini's Kevin Carnes.
Now, it can't be said that all of these cultural flashpoints happened because the Black Futurists spoke. But Oakland's present and future would certainly be different had the Black Futurists not spoken.
Looking back, Buford says, "I would have, like, spent more time developing what was going on with the core group of artists that I was working with, instead of trying to branch out and bring all of Oakland at one time. I think I would have taken more time with that and … maybe reached out to other folks to see if they could help folks be more diplomatic."
He adds, "I think it's beautiful. It's exactly what I wanted to see happen as far as people breaking off and blossoming and doing their own thing with that spirit in mind. …. It had the potential to be anything that you'd consider Black thought. I think there's evidence of that in Oakland, even beyond the group."
The erstwhile collective are no longer active collaborators—although the Facebook group expanded to 200+ members and new posts occasionally appear. But that experience and moment were transformative in many ways. For McZeal, it was an affirmation of the life and career path she would eventually follow; currently she is a practitioner of sacred somatic studies and a faculty member at Goddard College, where she teaches socially engaged art.
Hoover moved to Portland a few years ago, where he now works for a community farm. His Oakland experience, and getting involved with Black Futurism, changed how he looks at his own artistry and agrarianism. "As a creative now, even in my farm, the name of my farm is Black Futures Farm … had I not been pulled into that movement in this collective, my farming would be totally different." Instead of looking at the present, he says, "My entire philosophy about Black Futures Farm is: we're not dealing with what is, we're trying to create what's next, actively trying to push our practices and farming and organizing to what is next and what is best, what can be improved on and what builds on a new community."
Kelley continues to expand on her artistic practice. She's exhibited at Siete Potencias Gallery, Krowswork and Somarts. She features in the permanent collection at Berkeley Art Museum & Pacific Film Archive, contributed to Black Futures by Kimberly Drew and Jenna Wortham, and works as a creative consultant, creative director, content strategist & UX designer.
Other Black Futurists similarly remain highly active. Karen Seneferu curated a series of exhibitions called The Black Woman is God at several different venues, and produced short films. Orundide added urban couture designer to his curriculum vitae. Among Mbire's current projects are a collaboration with author and chef Bryant Terry, and installation commissions. Booth worked at Facebook for a few years, and now works at Pinterest. Taylor teaches, writes, podcasts, parents and reviews everything from music to comic books. Wright relocated to Florida, where he works on initiatives about consent culture and posts on social media about how people of Jamaican ancestry don't like large lizards. Flint has bounced around from Pittsburgh to Berlin to Paris, recording and producing several hip-hop albums in the process. As Mbire succinctly summarizes, "the future is us."
"I'm not surprised that folks have gone on to do great things, it was a dope crew!" Booth says. "But it also had to do with the fact that the ideas we were presenting were timely and extremely relevant to what was happening then and what continues to be relevant now in terms of space, place, representation and reimagining what the future looks like.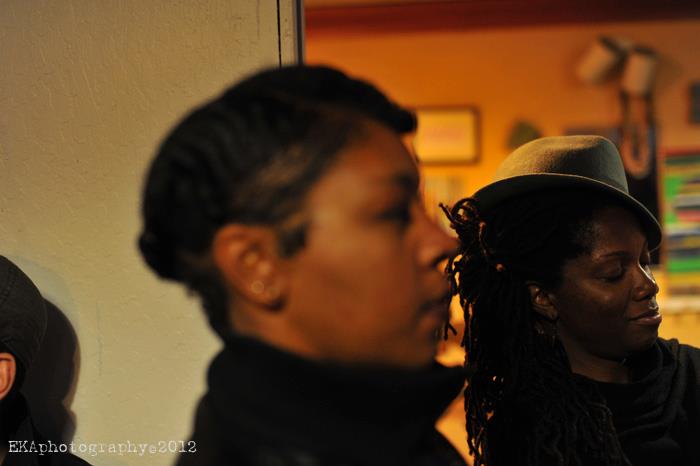 "Oakland has always been ahead of the curve when it comes to Black expression and fighting for liberation. From the jazz clubs along 7th Street in the '40s to Sun Ra's [film] Space is the Place in the '70s to the scene at the Alice Arts Center in the '90s to [2018's] Sorry to Bother You. I think it's the result of having a community of brilliant people being faced with some of the most harrowing circumstances in terms of state and police violence, lack of economic opportunities and negative public perception. Oakland has always felt like 'we have to do it for ourselves cuz no one's coming to save us.' That attitude breeds resilience. And that resilience can spark extreme creativity."