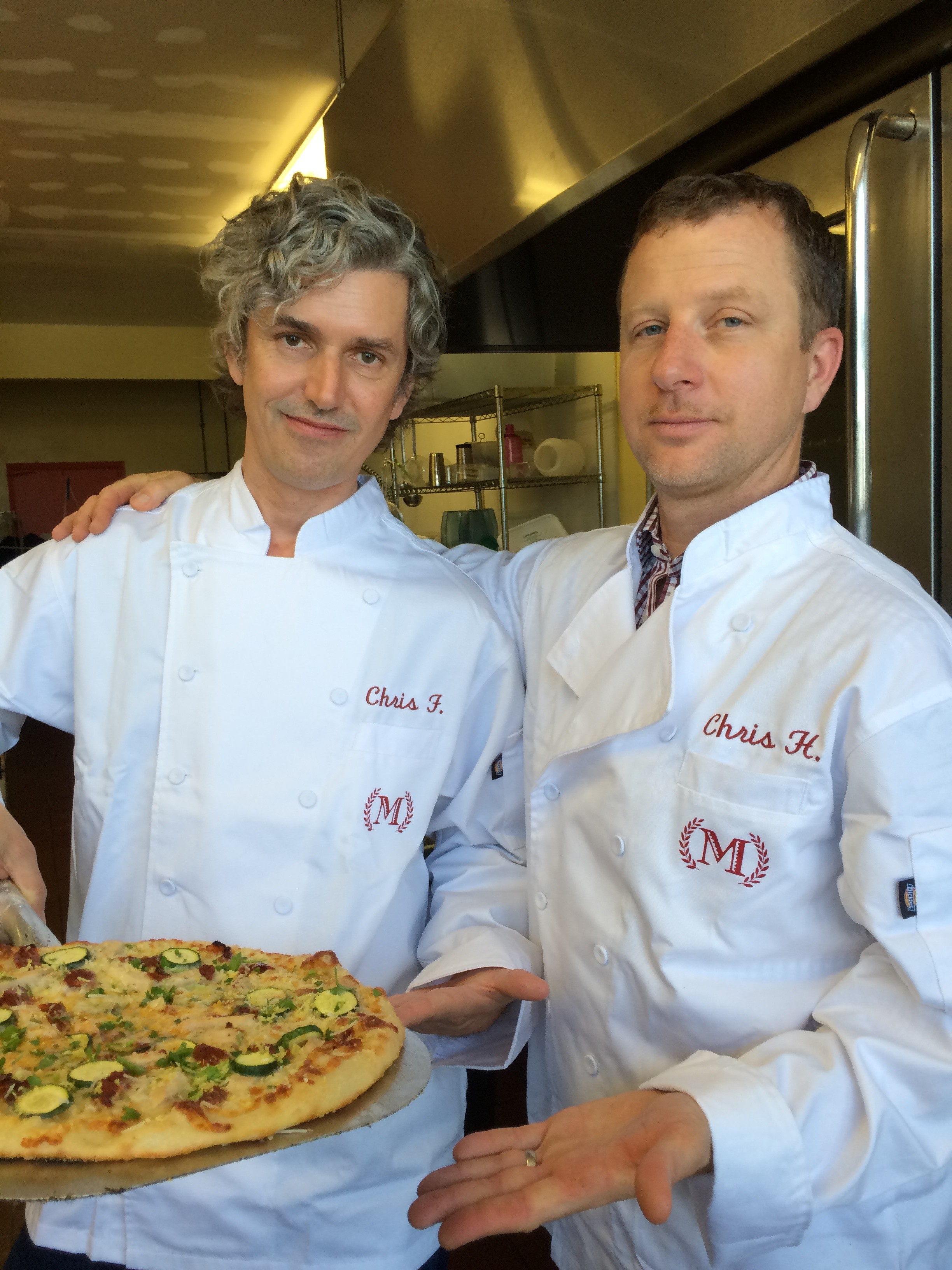 Chris Horvath and Chris Ferreira would like to think they know a little something about delivering pizza. For more than sixteen years, the two worked as delivery drivers for Pizza Rustica, a popular pizzeria in Oakland's Montclair neighborhood, both of them moonlighting to pay the bills while they pursued careers in the arts during their off hours —
Horvath as a filmmaker
, Ferreira as a
musician
.
It made sense that when Horvath and Ferreira decided to go into business on their own, they would start a pizza delivery service, albeit one with a few twists that they developed based on their years of experience.
[jump] The latest in a growing list of Bay Area-based food-delivery startups,
Pizza Matador
has built its entire business model around the premise that a partially baked pizza finished in the customer's oven at home will always result in a hotter, fresher final product than a pizza that has been sitting inside an insulated hot box for twenty or thirty minutes. So that's what Horvath and Ferreira sell, exclusively: eight or nine options that can be pre-ordered prior to 2 p.m. each day to be delivered in time for dinner, at the time of your choosing, as well as a single pizza of the day that can be delivered on demand each evening. The limited, Oakland-only delivery area currently goes from Montclair to the Temescal district.
In an interview, Horvath explained that the company aims to take advantage of a niche market — in this case, customers who want higher-quality pizza delivered to their home. While the East Bay has a wealth of excellent pizza, many of the restaurants that make it lack the means, or the interest, to offer delivery. Of course, there's no shortage of pizzerias that
do
deliver, but most of these tend to be larger chains. With its use of organic ingredients and promise of on-demand delivery within fifteen minutes, Pizza Matador aims to fill that gap.
But in contrast to the bulk of today's food startups, Pizza Matador is refreshingly low-tech. Although customers place orders online, there isn't a fancy, GPS-powered app, and for now, the entire company is a two-man operation: During the day, Horvath and Ferreira assemble and partially bake the pizzas, wrapping them up in parchment paper, and in the evening, they drive around Oakland like madmen. If you've ordered from Pizza Matador, one of the chef-owners is the person who arrived at your doorstep.
Perhaps more than anything, this is what sets Pizza Matador apart. It is a pizza company that was started by, and has at its center, the people who at most restaurants are the most disposable, lowest-tier employees: the delivery drivers. Horvath said that even back when he was just the pizza driver, and not the owner of the pizzeria as well, he loved the challenge of figuring out how to sequence the ten deliveries he might have on a single run — to navigate complex hills and to always,
always
arrive on time. "It's like playing a competitive sport," Horvath said.
As the
San Francisco Chronicle
recently reported, several ongoing class-action lawsuits have brought the plight of on-demand delivery drivers — who don't get the benefit of employee status and are often paid deceptively low wages — into sharper focus. In contrast, Horvath said that even when Pizza Matador's business scales up to the point that he and Ferreira no longer do all the deliveries, he always wants it to be a company that treats its drivers well. After all, they are the literal face of the business.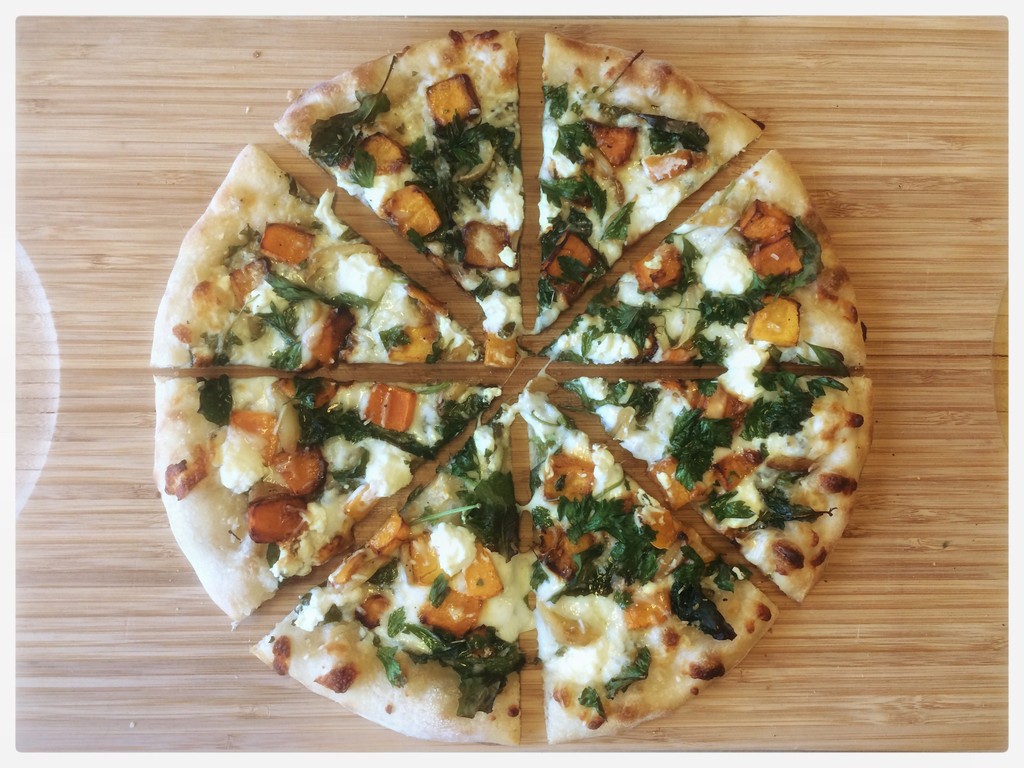 As for the pizza, Horvath described it as being somewhat reminiscent of the California thin-crust style you'll find at places like The Cheese Board and Arizmendi — though, unlike those two East Bay pizza icons, Pizza Matador's three-day-fermented dough doesn't have a sourdough base. If you pre-order from the
full menu
, you'll always find at least a couple of "California-style" pizzas, topped with an abundance of seasonal organic produce and a slather of garlic-infused olive oil. Meanwhile, the company also offers traditional New York-style pies and, most uniquely, "Matador"-style pies that feature a nut- and red pepper-based romesco sauce, manchego cheese, and other Spanish ingredients.
But Horvath explained that the matador theme wasn't the result of any particular affinity that he and Ferreira have for Spanish cooking per se. Instead, the name is equal parts inside joke and divine inspiration of sorts. One night, soon after he started his job at Pizza Rustica, Ferreira had a dream in which he and Horvath were real-life matadors dressed in full regalia. The two chain-smoked Gitanes while waiting to take their turn in the bullring — which, for some reason, was located next to the 7-Eleven on Piedmont Avenue.
According to Horvath, after that dream the two friends formed a romanticized connection between pizza drivers and matadors: "In our irony-warped minds, they were both equally cool, skilled, and dangerous."
So, when it came time for Horvath and Ferreira to name their new delivery business, Pizza Matador was the obvious choice. The name had a kind of "Old World" connotation that was appealing, and perhaps more importantly, it pointed to the deftness and agility that a truly masterful delivery driver needs to possess. If the two have their way, and their driver-centric pizza business continues to thrive, perhaps we'll all start looking at our delivery drivers with newfound respect.