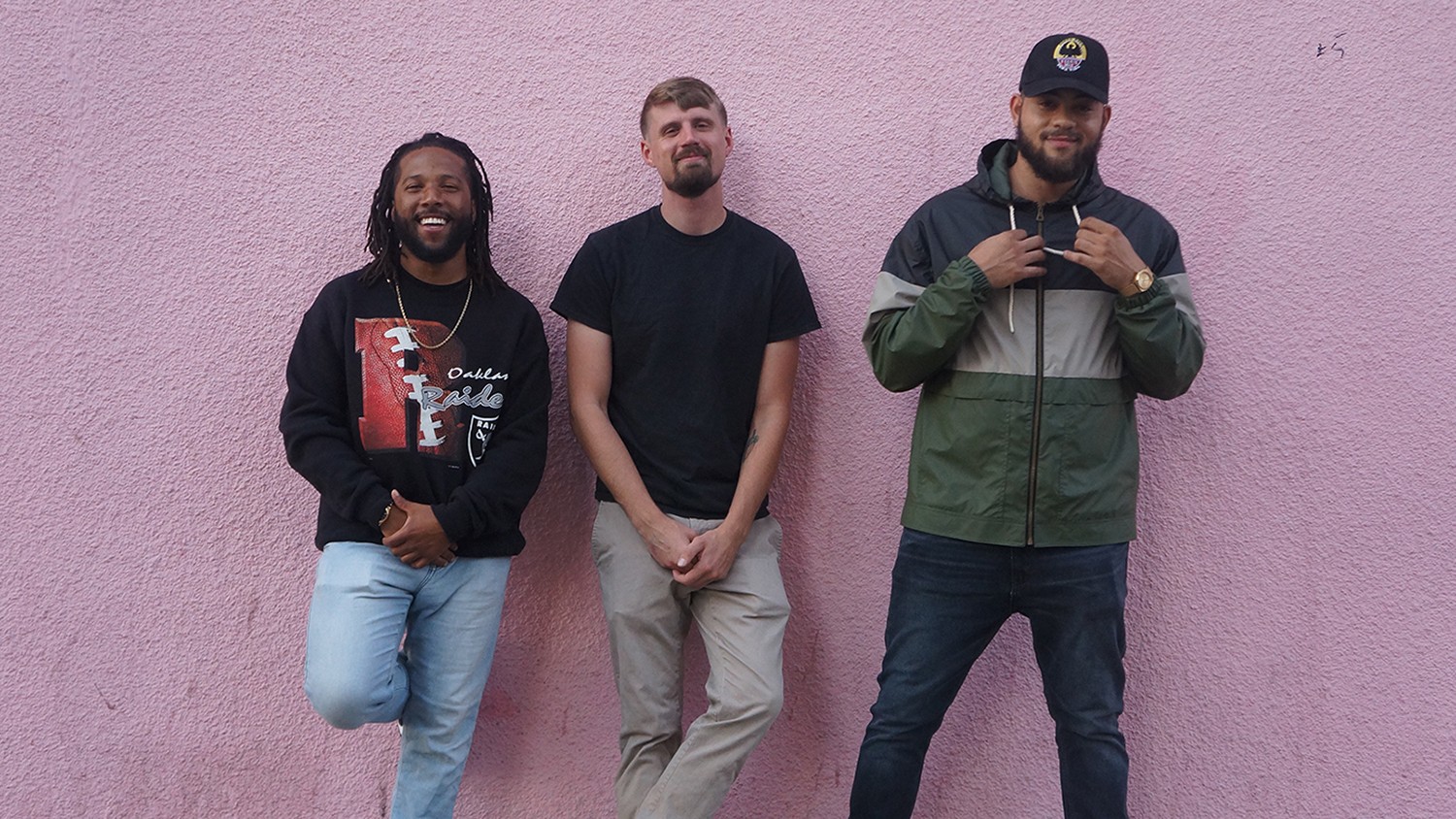 For '90s kids who grew up in the pre-YouTube era, access to music depended on radio, slow (and illegal) dial-up downloads off music sites like Napster, and, of course, underground artists whose notoriety spread mostly via word of mouth. This is the way Oakland natives Philip Lang, Ryan Klenk, and Cameron Moss — who go by Philip Bank$, Rye Mann, and Cam Moss, respectively — found a common interest.
"We had very unique music taste for middle schoolers," Lang recalled of his time at Saint Lawrence O' Toole School on High Street along with Klenk and Moss. "We would dig deeper in trying to find B-sides, rare singles — that really helped us understand what came before us."
Neptunes, Outkast, and Too $hort are some of the artists who shaped their taste in music early on, as well as the sounds they would later produce under the name Trey Coastal. Outkast's single "Da Art of Storytellin'" off 1999's Aquemini influenced the way they viewed music as middle schoolers. The song tells the story of a pregnant drug user named Suzy Skrew — quite a heavy topic for Lang, Klenk, and Moss to dissect while being so young. But the lyrics and delivery by Big Boi and Andre 3000 helped listeners understand and humanize an often exploited and degraded victim of society.
All three of them fondly recall their first meet-ups to record music as teenagers, just using a computer and a microphone at Klenk's house. "For our first song, Ryan sampled the Smurfs," Lang said while Klenk and Moss laughed in the back.
As Trey Coastal, Lang and Moss spit bars, while Klenk creates the beats. Their chemistry is evident the second you get them in one room. "Rye Mann has such a wide fuckin' spectrum of music. We can hear one of his beats and say, 'Yes, that's Trey Coastal,'" Lang explained.
"Some days I come to them with a beat already made," Klenk said. "There's days when I come and sit down with them, and they bring a different mindset for me, too."
They perfectly vibe with each other, and that, in turn, shows in the music they record and produce in Klenk's home studio. Lang takes the lead in conversation, much like his quick and catchy cadence on recordings, which contrasts nicely with Moss's more mellow delivery — yet neither of their voices overpowers the other, nor Klenk's unique beats. The result stands apart from what most Bay Area rap sounds like.
Some people might already be familiar with their music, specifically with their 2017 song "Polynesian Sand." The music video shows Lang and Moss sitting on an inflatable couch floating on Lake Merritt, while their feet are submerged in the murky water. It was this specific beat — and its subsequent catchy video — that gave birth to what is now Trey Coastal.
The creative process for their videos is much the same as their approach to music — the video for the song "R1 R2 L1 L2" shows the hip-hop trio as characters in a '90s-inspired video game fighting cops, riding BART, and hanging out at a sideshow in front of Oracle Arena, with the ultimate objective of playing a show at the Fox Theater. "We wanted to show the perspective of Oakland as a video game, but also incorporate a lot of our everyday experiences," Klenk said.
"One thing we always try to do is for people to be able to watch our videos on mute," Lang added. "Just getting the art of music videos, because a lot of them suck."
Like most independent artists, Trey Coastal enjoys the power of not being backed by a record label. This way, they are able to retain full control of the ideas they have for their music and videos. "We are just as talented as famous people, as people we listen to and were influenced by," Lang said.
They draw the comparison between rappers Wiz Khalifa and Curren$y — both came up around the same time, and yet they've handled their careers completely differently. Wiz Khalifa dipped into recording music with mainstream rock and pop artists like Imagine Dragons and Charlie Puth. Curren$y, on the other hand, has maintained his cult underground following without seeming to worry about being famous.
They also use E-40 as an example on how to go mainstream while maintaining authenticity and creative control. "If we were ever put on a position where we were messing with a major record label, we would try to go the E-40 route," Moss said.
Trey Coastal is not limiting their fan reach with just their music and videos. Last January, they started the Trey Coastal 20For20 podcast and have already recorded 31 episodes. During each episode, the three sit down with a local artist, and like with most podcasts, have a casual and uncensored conversation. Here's the twist: Klenk makes a new beat for each episode, and the guests take turns contributing their musical abilities over the fresh beat. At the end of the episode, they play the newly recorded freestyle song. "This gives listeners a chance to really appreciate what the guest has to offer, and it distinguish why they are paving a way in the industry in the first place," Lang said.
Their immediate plans include releasing a new album, continuing to produce their biweekly podcast, and booking gigs without the help of a manager or booking agent. While the Trey Coastal project is fairly new, the guys are proving they're dedicated to growing as artists.
Saturday, Nov. 17, 3-7 p.m., free, Aloha Club, 952 Fruitvale Ave., Oakland, TreyCoastal.com

[embed-1]